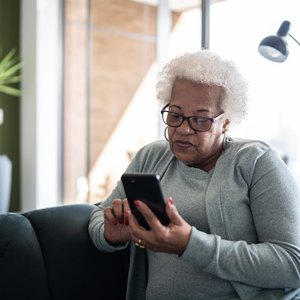 •••
FG Trade/iStock/GettyImages
Many people are familiar with paper checks as a form of payment. Checks can actually be issued or deposited electronically and by phone, without the necessity of a physical check. Issuing a check is a key part of personal finance for many people.
The telephone has been a staple tool for managing financial accounts and payments for a long time before the advent of smartphones. The newer phone technologies have enabled far more convenient ways to manage finances.
Why Send a Check by Phone?
The primary reason to send a check by phone is for convenience. There is no need to be physically present to issue or receive a payment. You can easily make a payment by telephone or receive a check this way thanks to ACH payments, explains Nacha. Paper checks do not go through ACH processing at all.
There are times when an ACH payment is the best option. ACH stands for Automated Clearing House, which relates to direct payments between banks. This means the payment will not go through the processing of a regular check, debit or credit card payment.
The Corporate Finance Institute indicates that ACH transactions are referred to as eChecks or EFT (electronic funds transfer) because they are digital-based payments.
Direct deposit is the best example of an ACH payment. A major benefit of ACH is that they are fast, often settling the same day or up to ​one to two business days​ for processing and settlement. Accepting checks and paying employees quickly and easily is a major benefit to merchants. Employees also enjoy the ease and convenience of knowing their deposited wages are already available.
How Does Check by Phone Work?
ACH debits allow check payments to be made over an old-fashioned landline or from the mobile app on a new Android phone or iPhone. A very modern and common method of using a phone for a check is a mobile check deposit.
There is no need for check printing when a mobile device can capture the check information and route it for mobile deposit accordingly. This is a major convenience for merchant accounts and business accounts, allowing them to receive payment and manage payroll for employees without issuing dozens of physical checks that can go missing.
A common way of sending a check by phone is by calling your financial institution's phone number to make a credit card payment. How it works is that the call center will require you to verify your account information, check amount, account number and routing number using the keypad or speech recognition.
Is Accepting Checks by Phone Safe?
Remember that a check by phone is a binding agreement to pay. This means that you will want to be sure that there is enough money in your checking account or savings account. If you are using a smartphone, be sure to use the correct banking app for mobile transactions.
Since these payments post much faster than traditional check processing, you will want to monitor movement in your bank account. If you currently use mobile banking or online banking, you already know how quick and convenient using such payment services can be.
ACH payments are safe and are governed by the FDIC through the Electronic Fund Transfer Act (EFTA) requirements since its adoption in ​1978​. It is still advisable to carefully double-check the information about your bank account or your payment may not post. If you are speaking into a handset, you will want to ensure adequate privacy for your sensitive data while you are speaking.
References
Warnings
Unlike traditional check writing, the check amount will come out of your checking account instantly.
Writer Bio
Hashaw Elkins is a financial services and tax professional, as well as a project management consultant. She has led projects across multiple industries and sectors, ranging from the Fortune Global 500 to international nongovernmental organizations. Hashaw holds an MBA in Real Estate and an MSci in Project Management. She is further certified in organizational change management, diversity management, and cross-cultural mediation.