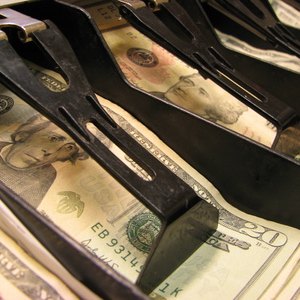 •••
register with cash image by elke peterson from Fotolia.com
Cashiers are people employed to handle financial transactions in institutions other than banks and financial institutions. Predominantly, cashiers work in retail enterprises selling goods, but they may also work in other organizations, such as attractions that charge an entry fee. Cashiers deal with cash, credit card, debit card and check transactions and use registers and electronic scanning equipment. They also have extensive interactions with customers and patrons.
Cash Handling
Cashiers take payment for goods or services rendered and process the transaction. They furnish the client with change as necessary and a receipt that records all the details of the transaction. They also process payment by card and check, validating them by hand or via electronic equipment. Cashiers might also record the total dollar amounts of transactions carried out during a day and check that the recorded totals match the receipts. Cashiers need good mathematical and numerical understanding.
Customer Service
Cashiers must also answer customer questions and give customers any information they require. Cashiers must maintain an equable, professional and friendly attitude throughout their interactions with customers, even in the face of provocation.
Other Duties
Depending upon the nature of their employers, cashiers might be asked to perform any of the following functions. They may need to offer gift-wrapping and carry-out services. They may also be required to organize home delivery for certain goods. Legally, all retail services must provide a refund and exchange policy, and the cashier may be responsible for processing such claims. Cashiers may also need to remove security tagging from items and ensure that stock levels in store remain high.
Pay and Conditions
May 2009 figures from the Bureau of Labor Statistics place the average annual salary for a cashier working in America at $19,030. This figure does not account for bonuses or overtime. Cashiers generally work during business hours, although they may be required to work different shifts, depending on the trading hours that their company operates. They often need to spend long periods of time on their feet and must have a reasonable level of physical fitness.
References
Writer Bio
Dirk Huds has been a writer/editor for over six years. He has worked for bookshops and publishers in an editorial capacity and written book reviews for a variety of publications. He is currently studying for his master's degree.