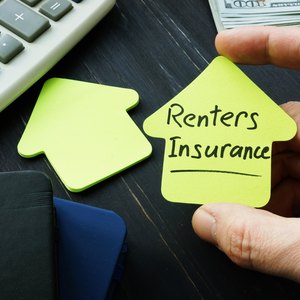 •••
designer491/iStock/GettyImages
Many renters assume that their landlord's insurance coverage will foot the bill if their roof collapses in on them, and this is true to an extent. Their landlord's insurance will pay for the building damage, and probably even for their medical care if they have a bodily injury. However, the landlord's policy will ​not​ replace the tenant's personal belongings and property if the property damage results in a loss. You need renters insurance for that, and it provides other coverages as well as peace of mind.
Yet only two out of three tenants elect to carry this insurance, according to the Adjusters and Brokers of America. Those that do might only have it because their landlord requires it.
Personal Property Coverage
Renters insurance covers what you own. These policies are typically cover damage to their personal property due to extreme weather conditions like lightning or windstorm, fire and smoke, water damage (due to an event like a pipe breaking) and some even cover theft. But two weather events usually aren't covered: floods and earthquakes. In fact, you'll need a separate flood insurance policy. Your car isn't covered if the disintegrating building falls on it – your auto insurance policy would have to pick up that tab.
You can elect actual cash value coverage for your lost possessions, or pay more for replacement cost coverage. Maybe you purchased a laptop, and the collapsing roof lands on it. It's a goner. Your insurance will buy you a brand new one if you selected replacement coverage. Otherwise, you'll get what it's worth after two years of hard use if you chose actual cash value. Your insurance company will deduct depreciation from its value. For much renters insurance, you'll need a home inventory with images as proof when you request reimbursement.
Your personal property coverage typically extends beyond your home. You should be covered if your laptop is stolen from your car, or if extra furniture you stuck into a storage unit is stolen or destroyed. This type of "off-premises" coverage can be limited to a certain percentage of your personal possessions coverage, however.
If You Have to Move Out
Many renters insurance policies will also include "additional living expenses," or ALE, coverage for the loss of use of your home. You don't want to sleep under the stars until your roof is repaired, nor should you have to. Your renters insurance policy will pay for alternate accommodations until such time as you can live in your home again.
This might include a hotel room, dining out because you can no longer cook your own meals or even a temporary rental. But your coverage might only pay for the difference between your usual living expenses and what you must spend living elsewhere until your own rental home is livable again. Your hotel bills will serve as your receipts. However, your insurance claim might be limited to a percentage of your personal property coverage, so check before you splurge!
Issues of Liability
Now let's say that a friend was visiting you at the time the roof came in, and they're injured. Your landlord's property insurance is responsible for dealing with that. But let's take the roof out of the equation and say that your friend is walking across your kitchen when your cat darts across their path and trips them. This is where your renters insurance comes in because your landlord has no liability for damages that arise due to actions taken by you, your family or your pets. These are your personal liability and not your landlord's responsibility.
Renters insurance provides liability protection. It will typically pay for any resulting medical bills if your friend is injured. It will pay to defend you in court if your "friend" decides to sue you over the mishap. It will pay the damages if you lose in court, and it will pay if you, a family member or a pet cause harm to your landlord or to the landlord's premises.
Making a Claim
Notify your insurer of the event to make a claim for a covered loss. They'll send you claim forms to complete and return to them. They have a limited amount of time to do this, and it can vary from state to state.
Don't throw out that deceased laptop, at least not until you've made a claim and the adjuster has come to your rental home to take a look at it. Take photos of it, too. Ideally, you've been keeping receipts for your personal property all along, and you've already created that home inventory so you can itemize what you've lost and what you paid for it.
In cases of theft of valuable items - you might want a separate policy for them - you'll have to provide your insurer with a police report. It would also be a good idea to keep a record of any police officers or detectives who are involved with your case.
In the case of personal property coverage, you'll almost certainly have to pay a deductible when you make a claim – not to your insurer but to replace your possessions. Maybe a new laptop is going to cost you $2,000. You have a $500 deductible. Your insurer will pay you $1,500: the $2,000 replacement cost (if you've chosen this type of coverage) less the deductible amount you agreed to when you purchased the policy.
Creating the Right Policy for Your Needs
So how much will renters insurance cost you each month? It depends on numerous factors, all related to your elected coverage. The National Association of Insurance Commissioners indicates that a basic policy should cost you somewhere in the neighborhood of ​$15 to $30​ a month. But is a basic policy really all you need?
Start by assessing all these available types of coverage, then gauge them against your own personal earnings and property ownership. From there, you can speak to an insurance agent to get a renters insurance quote before you elect coverage to an extent that's right for you. If you have collectibles or other valuables, be sure to ask about them as well.
Protection Limits for Coverages
Take a look at that personal property inventory you created. Figure out how much it would cost you to replace all those items. That should be how much personal property coverage you purchase. A basic policy usually provides somewhere in the neighborhood of ​$10,000​ in coverage. Choosing replacement value coverage will cost you about ​10 percent​ more in premiums.
Some expensive items, such as jewelry, have "caps" all their own. Insurers will only pay up to a certain amount to replace them, regardless of what they're worth – usually somewhere in the neighborhood of ​$1,500.​ But you can buy additional coverage, sometimes called a "rider," a "floater" or an endorsement, to cover them if you own some pricy gems that are worth more than that. This type of coverage will increase your premiums by about ​$75​ a year.
As for that liability protection, how much do you stand to lose if someone successfully sues you and is awarded $200,000 in damages? You may not need $200,000 in liability coverage if the total value of everything you own is $75,000 and you earn a modest salary or wages. But you'll want more coverage if you do own a great deal of value and have high earnings. You can purchase an "excess liability" policy in this case to cover you up to ​$1 million​ or so in exchange for an extra ​$350​ a year or so in premiums. The average renters insurance policy usually provides about ​$100,000​ in liability protection.
Compare price quotes with various companies after you have all this information at your fingertips, citing the same coverage terms to each of them so you can accurately compare costs. Don't neglect to ask about those deductibles – the more you're willing to pay out of pocket for a claim, the less your premium will be. And ask about available discounts. Some insurers will cut you a cost-break if you also insure your auto with them, or if you install certain precautionary equipment like smoke alarms, burglar alarms or sprinkler systems.
References
Writer Bio
Beverly Bird has been writing professionally for over 30 years. She is also a paralegal, specializing in areas of personal finance, bankruptcy and estate law. She writes as the tax expert for The Balance.