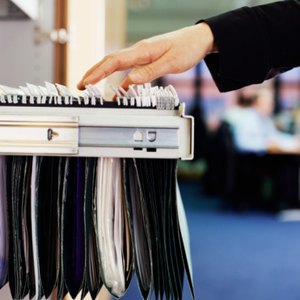 •••
Jupiterimages/Polka Dot/Getty Images
Finding free property tax records is fairly simple, and thanks to online access to many of these records, you can probably do so from the comfort of your own home. Deeds, mortgages and other property-related records are a matter of public record and available to anyone seeking them. The information kept on a given property ranges from the name of the owner to how much taxes paid each and currently owed.
You can locate property tax records for your property and others without having to pay expensive fees. All deeds, mortgages and related paperwork are considered public record, and can be viewed at your local county assessor or auditor's office.
County Assessor and Auditor's Searches
Your county auditor is your first stop in search of free property tax records. The local county auditor is responsible for keeping property history public records of any and all transactions pertaining to a property, such as taxation, ownership and valuation.
A quick stop by your local county auditor's website lets you know whether or not the office maintains an online database of properties. If a database is not available to search online, call your local office and speak to someone who can point you in the right direction; you may also obtain tax records from the office of the county assessor. Like the county auditor, the county assessor's office also identifies taxable properties in the county and publishes annual and supplemental assessments.
Paid Property Tax Searches
An online search for websites pulls up numerous websites that offer "free" property tax searches. Unfortunately, many of these ultimately require you to pay for the search. This information is a matter of free public record, and with a little due diligence, you can easily obtain this information yourself directly from the auditor's or assessor's office in the county in which the property is located.
Property taxes are maintained by a number of offices including city hall, the county courthouse and the county recorder. You may have to put in a little footwork, but it's free and more than likely you can access these records online yourself. If you still find yourself at a dead end, try searching Trulia®, Zillow® or Realtor.com® for comprehensive and free property searches.
Searching Property Tax Records
Once you locate the correct office, you can search for a property using different parameters. You may have to register or read and agree to a disclaimer before you begin searching. The exact address or parcel identification number is all that is required to perform a property search, in most cases.
Depending on your local assessor or auditor's office, you may also search by assessment number as well as partial street address. If you don't know the exact address or parcel number, some sources also let you search by zooming in on a map of a particular area that interests you. Bear in mind, some counties do not allow for searches by owner name or do not display the name of the owner in search results for privacy reasons per local statutes.
Using the Information You've Found
There are many reasons why you'd want to know the information on a property. New homeowners can check public records so they have an idea of what their property taxes may be. Existing homeowners often perform searches on their own properties to ensure they are current on their property taxes.
More than likely, you will also find the parcel boundaries. This information is useful in the event you want to make any improvements to the parcel. Knowing your exact property lines and boundaries prevents you from accidentally encroaching on your neighbor's land.
References
Writer Bio
Tara Thomas is a Los Angeles-based writer and avid world traveler. Her articles appear in various online publications, including Sapling, PocketSense, Zacks, Livestrong, Modern Mom and SF Gate. Thomas has a Bachelor of Science in marine biology from California State University, Long Beach and spent 10 years as a mortgage consultant.