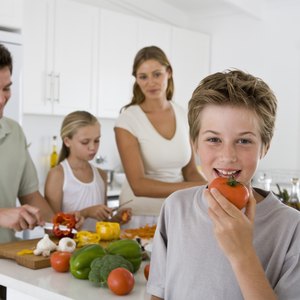 •••
Jupiterimages/Pixland/Getty Images
Each year the U.S. Department of Agriculture calculates the cost of feeding a family based on current food prices and the USDA's dietary recommendations. The amount of money families spend on food can vary considerably. By far, family income is the most significant factor. A study by the Department of Labor in 2012 revealed that families with a higher income can spend up to seven times more on food than a family with a low income. Other factors include the age of the children and how often a family eats out compared to how often they prepare meals at home.
USDA Food Budget Recommendations
The USDA provides detailed recommendations concerning a balanced diet for individuals and families, using its own dietary guidelines and food intake recommendations. Based on these recommended diets, the USDA has devised weekly food plans for families and individuals, with weekly and monthly budget recommendations. The USDA uses four food budgets: a liberal plan, a moderate-cost plan, a low-cost plan and a thrifty plan. These plans assume that all food is prepared at home using USDA dietary recommendations. While the food plans were last updated in 2006 and 2007, the USDA adjusts its pricing every year.
USDA Budget: Family of Four With Young Children
The USDA provides a monthly budget recommendation for a family of four with two adults aged 19 to 50 years and two children, one between 2 and 3 and one between 4 and 5 years old. For 2012, the monthly cost of food for such a family using the USDA's liberal food plan would have been $1,067.30 per month. The monthly cost of the moderate-cost plan for the same family was $861 per month. The low-cost plan totaled $697, while the thrifty plan would have cost $548 per month.
USDA Budget: Family of Four With Older Children
Older children eat more than younger children and this is reflected in the USDA's recommended budgets. For a family of four with two older children, one 6 to 8 years old and one 9 to 11 years old, the USDA recommends a higher monthly food budget than a family with younger children. The liberal plan would cost $1,244 per month, the moderate-cost plan $861 per month, the low-cost plan $821 per month, and the thrifty plan $629.
Household Income and Food Budgets
The Department of Labor's Bureau of Labor Statistics released a consumer expenditure survey in September 2012, showing how families spend their money. Families with household income between $15,000 and $20,000 spend 10.2 percent of their money on food at home and 4.7 percent on food at restaurants. Families with an income between $50,000 and $70,000 spend 7.7 percent of their income on food at home and 5.4 percent at restaurants. Families with an income above $150,000 spend 5.4 percent on food at home and the same amount at restaurants. While these percentages may seem comparable, it's important to note that the combined food spending for a family earning $15,000 is only $186 per month -- $2,235 annually -- while the combined food spending for a family earning $150,000 works out to $1,350 per month, or $16,200 annually.
References
Resources
Writer Bio
A published author and professional speaker, David Weedmark has worked as a technology consultant for many small businesses and was once a professional financial advisor. David has also has written hundreds of articles on money matters for newspapers, magazines and online publications.