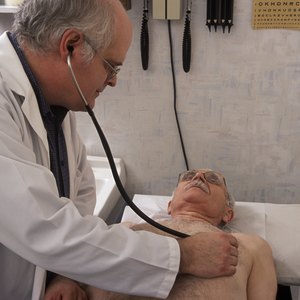 •••
Design Pics/Design Pics/Getty Images
The U.S. health insurance program, Medicare, is for citizens ​age 65​ or older and for people with disabilities. The basic program provides medical and hospital insurance to help defray the cost of treatment. Questions concerning Medicare include concerns about eligibility, coverage, benefits, costs and how to enroll among others.
Who Is Eligible for Medicare?
If you or your spouse paid Medicare taxes or if you are eligible to receive Social Security or railroad retirement benefits, then at ​age 65​, you are eligible for Medicare. People ​younger than 65​ are eligible for Medicare if qualified to receive Social Security disability benefits. Further, if you have received Social Security disability benefits for ​24 months​, then you are automatically enrolled in Medicare.
What Are the Different Parts of Medicare?
Part A is hospital insurance. Part B is medical insurance, and Part D is prescription drug coverage. What is referred to as Part C is coverage provided by private insurers, and these policies are called Medicare Advantage Plans.
Medicare Advantage Plans offer coverage comparable to Original Medicare, the coverage managed directly by the federal government, with the exception of hospice coverage. In addition, these comprehensive polices may offer additional services, which will vary by provider.
What Do Parts A and B Cover?
Medicare hospital insurance, Part A, helps with the costs of inpatient treatment, such as in hospitals, skilled nursing facilities and hospice environments. Part A also covers some costs incurred from home health care services.
Part B, the medical insurance Medicare program, covers outpatient treatment including regular physicians' visits, medical supplies and some preventive services such as mammograms, annual flu shots and checkups.
What Drugs Does Part D Cover?
Private insurance companies offer Medicare Part D, prescription drug coverage, which varies among providers. Use the tool on Medicare's website to compare drug plans that are available where you live or call ​1-800-633-4227​ for assistance with Part D.
Can I Choose My Doctor?
Medicare policyholders choose their own doctors, including specialists. The doctors must accept Medicare payments for patients to receive help with the costs.
How Much Are Monthly Premiums?
Beneficiaries who are receiving or eligible to receive Social Security benefits pay no monthly premium for Part A. The standard monthly cost for Part B is ​$144.60​, as of 2020.
If your annual income exceeded ​$88,000​ in 2020, you pay more for Part B, as premiums for higher income policyholders are based on the individuals' income for the previous two prior. In 2020, the monthly Part B premium was ​$202.40​ for taxpayers with incomes more than ​$88,000​ but not exceeding ​$176,000​ in 2020. Premiums increase for those with still higher incomes.
Is There a Yearly Limit on Out-of-Pocket Costs?
Original Medicare sets no annual limit for how much you may have to pay yourself. It varies among individuals. Medicare Advantage Plans, however, generally set a specific limit on what policyholders are responsible for each year.
How Do I Sign Up?
You may be automatically enrolled for Part A and Part B beginning the month of your ​65th​ birthday if you're receiving Social Security benefits or have been receiving disability benefits for ​two years​. If you're not eligible to be automatically enrolled, contact your local Social Security office or visit the official Medicare website. You can sign up three months prior to your 65th birthday.
How Can I Get Help?
You can get help by logging into your secure online My Medicare account. This will show you the status of a claim, among other things. To speak directly with a Medicare representative, call ​1-800-633-4227​. The official Medicare handbook states to ask for an agent when you call. You can also write to Medicare Contact Center Operations, PO Box 1270, Lawrence, KS 66044. medicare does not support email inquiries at this time.