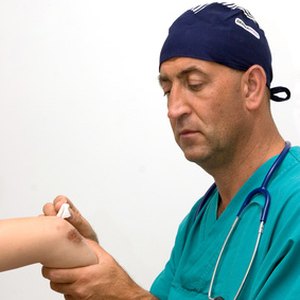 •••
doctor's treatment image by TEMISTOCLE LUCARELLI from Fotolia.com
Seniors on Medicare often report that they are very satisfied with their healthcare coverage, but think the enrollment process is complicated and the plans are somewhat confusing. After all, Medicare features an ever-expanding collection of plans, coverage choices, premium levels and enrollment rules. Part A, for instance, is hospital insurance, Part B is medical insurance, Part C is Medicare Advantage – offered by Medicare-approved private companies – and Part D is prescription drug coverage.
Traditional Medicare in particular, includes Part A for hospital expenses and Part B for doctors, medical equipment and outpatient costs. In that these options require a ​20 percent​ co-pay, Medigap – Medicare supplemental insurance – was created to close that gap. If you're reviewing your options in preparation for the enrollment period, you might begin by understanding what's included in Part B.
Medicare Part B Overview
Part B covers quite a bit of what's considered as health care: doctor visits, tests, injectable drugs (including chemotherapy), medical equipment, ambulances, lab work, physical therapy, outpatient surgeries, preventive care and screenings as well as other non-hospital services.
You're supposed to sign up for Part B when you turn 65 unless you continue to work and rely on health coverage provided by your employer or by your working spouse's employer. Enrollment is managed by Social Security and you can enroll in person, online or by mail. If you began receiving Social Security at age 62 on, you'll be enrolled automatically in Medicare when you turn 65. But if not, you'll receive Medicare coverage only if you complete the necessary forms.
Cost of Medicare Part B
While Part A Medicare is free to those who have worked for ​40 quarters​ and paid Medicare taxes and to those whose spouses have done so, a new enrollee in Medicare Part B pays a monthly premium based on income. The premium is automatically deducted from your benefit payment, assuming you receive a payment from Social Security, Railroad Retirement Board or the Office of Personnel Management. If not, you'll be billed.
Part B Late Enrollment Penalty
Unless you sign up for Medicare Part B when you're first eligible at age 65, you'll pay a late-enrollment premium penalty of ​10 percent​ for each year that you could have enrolled but didn't. That penalty is added to your Part B premium, so you'll pay it as long as you remain enrolled in Part B. If you continue to work past age 65 and have employee insurance coverage, you won't face a penalty until your insurance or work ends.
Medicare Open Enrollment Period
The majority of eligible seniors enroll in Medicare parts A and B when they're eligible at age 65. You can change your coverage during the Open Enrollment Period, which runs from ​Oct. 15 to Dec. 7​.
During this enrollment period, you can make plan changes without penalty. For instance, if your health status or financial circumstance changed, you might want to switch insurers and reevaluate your coverage. Also, you may switch to a Medicare Advantage managed healthcare plan from traditional Medicare. What's more, you can switch your prescription drug coverage provider or, if you've switched to Medicare Advantage, drop it completely.
The choices you make regarding your healthcare and health insurance become more critical to your well-being with each year that passes. Medicare recipients, in particular, should begin looking at health coverage options, including Medicare Part B coverage, before the open enrollment period and, perhaps, intermittently from one enrollment period to the next. To get additional information, go to Medicare.gov, CMS.gov or the AARP Medicare Resource Center.
References
Writer Bio
Billie Nordmeyer is an IT consultant of 25 years standing. As a senior technical consultant for SAP America and Deloitte Touche DRT Systems, a business analyst, senior staff, and independent consultant, Billie has worked across the retail, oil and gas, pharmaceutical, aeronautics and banking industries. Billie holds a BSBA accounting, MBA finance, MA international management as well as the Business Analyst and Software Project Management certificates from the Cockrell School of Engineering at the University of Texas at Austin.