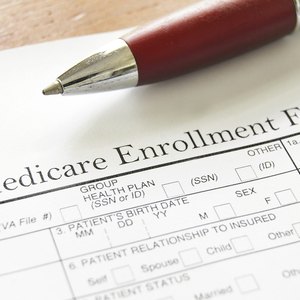 •••
Tom Schmucker/iStock/Getty Images
To identify Medicare providers, the Centers for Medicare and Medicaid Services uses the National Provider Identifier Standard. Prior to the NPI program, the CMS used the Unique Physician Identification Number, or UPIN, directory. It included basic information about physicians who serve Medicare patients, such as their names and locations. The CMS discontinued the UPIN directory in June 2007, replacing it with the NPI system, which includes any doctor that serves Medicare patients.
National Plan and Provider Enumeration System
Any Medicare or Medicaid provider must give its NPI to other Medicare providers, health plans or other companies that need it for billing purposes. Anyone can search for a provider's NPI through the National Plan and Provider Enumeration System, the organization responsible for assigning NPI numbers. You can search using the provider's first name, last name, practicing city, practicing state or practicing zip code. The system also lets you search by organization using the same search criteria. Enter the information you know and the system pulls up that provider's or organization's NPI number.
Other Websites
Several other third-party websites also exist that offer an NPI number search engine. These include the National Provider Identifier Database and the NPI Number Lookup, which allow you to search by provider name, city, state and zip code. Because the NPI is public record, you can also call your provider and ask the office directly to give you the number.
References
Writer Bio
Lindsey Thompson began her writing career in 2001. Her work has been published in the Cincinnati Art Museum's "Member Magazine" and "The Ohio Journalist." You'll also find her work on websites like Airbnb, Chron.com, and USAToday.com. Thompson holds a Bachelor of Science in journalism from the Scripps School of Journalism at Ohio University.