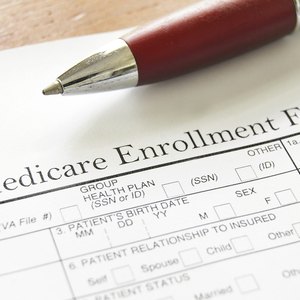 •••
Tom Schmucker/iStock/Getty Images
For individuals, the easiest way to find your Medicare provider identification number is to look on your Medicare card. The Medicare number format typically consists of your Social Security number followed by a special identifying code.
It's also helpful to know what the "A" and "B" on your Medicare benefits signify. The A represents Medicare Part A benefits; these are your inpatient hospital benefits. The B represents Medicare Part B; this is the portion that covers you for outpatient medical benefits.
But what happens if you can't remember your Medicare number? If you misplace your Medicare card at any point, you may be wondering if you can still locate your identification number.
Finding Your Medicare Provider Number
Visit or call your local Security Administration office to ask for a replacement card.
Pull up some recent documentation that you've received from Medicare. Your number should be on the documentation.
Call your Medicare provider to request your number. This will require you to establish your identity. Have your full name, date of birth and Social Security number ready to share.
If you request a replacement card, it will typically arrive by mail ​within 30 days​ of your request. It's very important to always update your address and contact information any time you make a move because the information that is on your file will be used when sending replacement cards. It's much easier to stay current with the Social Security Administration than it is to try to verify your identity in a pinch.
If you're in a rush, your local Social Security office will be able to send you a letter stating your insurance status. It's also possible to print out a copy of your Medicare card from your online Medicare account.
How Do I Find My Medicare Provider Number?
The Centers for Medicare and Medicaid Services (CMS) uses something called the National Provider Identifier Standard to keep track of physicians who serve Medicare patients. As a result, each provider is assigned something called an NPI number. All Medicare providers are required to supply their NPI numbers to Medicare providers and third-party companies for billing purposes.
When doing a Medicare provider number lookup, you can utilize a Medicare provider number database. The primary Medicare provider number database to use for a Medicare provider number lookup is something called the National Plan and Provider Enumeration System (NPPES). You can search using the provider's first name, last name, practicing city, practicing state or practicing zip code. The system also lets you search by organization using the same search criteria.
NPIs are actually public records, and that means that you can use any third-party Medicare provider number database to look up a provider. In addition, you can also simply call up a provider's office to ask to be given the NPI directly. It can be helpful to know the provider Medicare number format to ensure that any NPIs you come across online are authentic. The provider Medicare number format consists of ​nine numeric digits​ followed by a single numeric check digit.
Finding a Medicare Number Is Easy
The bottom line is that obtaining a Medicare provider number is simple because NPIs are public record. That means that you can easily call or look online to obtain this information. However, your personal Medicare number is private. That means that you'll need to supply the right information to verify your identification before you can recover your own Medicare number.
References
Writer Bio
Adam Luehrs is a writer during the day and a voracious reader at night. He focuses mostly on finance writing and has a passion for real estate, credit card deals, and investing.