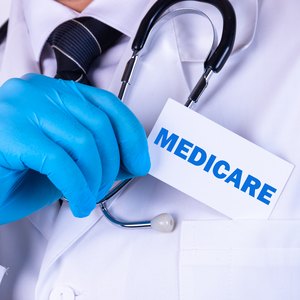 •••
Vadzim Kushniarou/iStock/GettyImages
Used by the elderly and those with certain disabilities or critical health conditions, Medicare serves as a popular form of federal government medical insurance that offers coverage for both hospital visits and outpatient care. The program consists of four parts that differ based on what they cover, who provides the coverage, how much you'll pay and whether they're mandatory or optional. You'll find rules on who can sign up for Medicare as well as when you need to do so. Take a look at some important Medicare basics so you know what you need to choose the right types of Medicare coverage options as well as sign up.
Getting the Background on Medicare
The Social Security Administration provides funding for the Medicare program that has existed since ​1965​ and originally served as a way to help the elderly afford health insurance costs. If you've worked, you've contributed directly through the ​1.45 percent​ Medicare tax (​2.9 percent​ for the self-employed) that comes out of your pay. Monthly premiums people pay for certain parts of Medicare, as well as interest earned and other taxes, cover the rest of the program cost of healthcare services.
Since ​1972​, the program has covered people ​over 65​ as well as those younger people who have end-stage renal disease, Lou Gehrig's disease or a disability that has allowed them to receive Social Security disability payments for ​at least two years​. People who meet these qualifications need to sign up, unless automatically enrolled, within the appropriate enrollment period that usually lasts ​seven months​. Otherwise, they'd need to wait until general enrollment opens up unless they fall under special enrollment. Waiting and enrolling after the initial eligibility period can lead to penalties and higher premiums.
Understanding Medicare Part A and Part B
Known together as Original Medicare, Part A and Part B provide coverage for inpatient and outpatient health services along with certain types of medications administered.
Medicare Part A serves as a mandatory form of hospital insurance that covers inpatient medical treatment and associated supplies and medicines. However, it also covers other care settings such as hospice care, a skilled nursing facility or even certain home health care needs. Medicare Part B, on the other hand, acts as medical insurance for outpatient preventative care as well as doctor visits for illnesses. This coverage is optional. Part B covers extras like some outpatient drugs, durable medical equipment and necessary ambulance rides, too.
In terms of costs, you'll likely get Part A free unless you didn't pay Medicare taxes for at least ​40 quarters​; otherwise, it can range from ​$259 to $471​ monthly as of 2021. If you need hospital care, you can expect a ​$1,484​ deductible and then daily coinsurances ranging from ​$0 to $742​ depending on how many days you need care in the period. You'll usually pay at least ​$148.50​ a month for Medicare Part B premiums unless you qualify for a state-based savings program. The Part B deductible is ​$203​, and you generally pay a ​20 percent​ coinsurance when you need care.
Looking at Medicare Part C Plans
As an alternative to having the Original Medicare, you might opt into getting a Medicare Advantage Plan to have enhanced coverage through a private insurance company. You can find a variety of plans such as Preferred Provider Organization (PPO) and Health Maintenance Organization (HMO) options and benefit from the same types of coverage as Part A and B but with extras available like vision, dental and enhanced prescription coverage. Part C plans can also help you financially since they can provide out-of-pocket limits along with coverage for out-of-network providers.
Medicare Advantage Plan costs, deductibles and copayments will vary by the insurance company and the plan option you choose. You can find some Part C plans that don't have a deductible as well as some that don't charge premiums for the basic plan option. Copayments can depend on the specific service as well as whether the provider is in the network. Some examples of insurance companies offering Medicare Advantage Plan options include UnitedHealthcare, Humana, Blue Cross Blue Shield, Kaiser Permanente and Cigna.
Exploring Medicare Part D Coverage
Available as a supplement to your hospital and outpatient coverage, the Medicare Part D plan provides broad prescription drug coverage for most medicines you'd pick up at a pharmacy to administer yourself. This portion will take over when Part A and B don't provide prescription drug coverage and works for name brand and generic options.
This type of supplement plan often has several tiers that determine your copayment for a certain medication. For example, your coverage will usually have you pay less for generics and preferred brands than for specialty and non-preferred branded medicines.
Like how it works with Medicare Part C, you'll find Part D drug plans available through private insurance companies. These exist either as a standalone supplement or as a part of a Medicare Advantage plan. You'll find pricing will depend on the insurance company and plan, and your income can also affect the price.
Signing Up for Medicare
How you can sign up for your Original Medicare coverage depends on your circumstances. Elderly people who become eligible after starting to receive their Social Security benefits usually get contacted a few months before their 65th birthday to automatically receive Part A and Part B coverage and will see the Part B premiums come out of their benefits payments. Those who qualify due to disability usually get automatically enrolled too as soon as they have received ​two years​ of benefit payments. Other people who don't get automatically enrolled will need to call the Social Security Administration or sign up for coverage online when eligible.
To get the optional Part C or Part D coverage, you can sign up for these at the same time when you're in the initial enrollment period for Original Medicare. You can get a Part C or D plan or change your current plan during the open enrollment period that lasts from mid-October through early December. You'll want to research the different Medicare drug and health plans available in your area, read their benefit guides and determine which will best work for your situation.
Moving Forward With Medicare Coverage
After you sign up for your Medicare coverage options, you should receive a Medicare card that comes in the red, white and blue colors and shows proof of the Original Medicare plans you have. You'd also receive a Medicare Advantage card if you opted for that coverage, and you'd usually provide that card – rather than the Original Medicare one – to providers to prove coverage. Unless your Part D benefits come with your Part C plan, you could receive another card for prescription coverage.
When you need to take advantage of your Medicare benefits, you'll need to know how to find providers that take the coverage. The Medicare website provides you with a tool to find various types of medical facilities and providers that take the coverage and easily compare options. You'll search by location, select a type of care provider and then enter optional keywords if you want to specify something like a specialist type or even a doctor's or facility's name. The results will show you contact information, ratings and other details.
Learning More About Medicare
To learn more about the Medicare basics, determine eligibility, compare providers or get help, you can visit Medicare.gov. You'll find menus on the top of the page that link you to pages that detail all about how Medicare works, what types of plans are available and what you need to know about coverage and care providers.
References
Writer Bio
Ashley Donohoe has written about business and technology topics since 2010. Having a Master of Business Administration degree, bookkeeping certification and experience running a small business and doing tax returns, she is knowledgeable about the tax issues individuals and businesses face. Other places featuring her business writing include Zacks, JobHero, LoveToKnow, Bizfluent, Chron and Study.com.