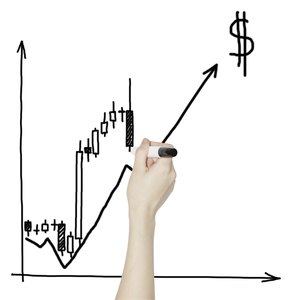 •••
D0nts0v/iStock/Getty Images
Traders on the foreign currency, also called forex, typically make multiple trades in a single session, often on a minute-by-minute basis. Forex traders rely on graphical displays called candlestick charts, which provide key information in an easily read format. One feature of a candlestick chart is the candlestick "wick," which indicates price ranges.
Forex Candlestick Wicks
On a forex chart, trading activity during a specific time interval is represented by rectangles called candlesticks. The time interval covered can be an entire day's trading or a minute for traders buying and selling currency during a trading session. Candle wicks are vertical lines extending above and below the candle. The length of the wicks indicates the high and low prices for the time interval covered. Thus, a wick that is longer than those shown by other candles on the chart signals a larger than usual price variation. Forex traders find a long wick significant because it is often followed by a price movement in the opposite direction. For example, suppose a chart shows a long wick above a candle. That indicates buyers have bid the price up. Typically, sellers then move in to take advantage of the high price. The selling pressure drives the price back down. An alert trader can use a long wick to anticipate a change in the direction of price movements.
References
Writer Bio
Based in Atlanta, Georgia, W D Adkins has been writing professionally since 2008. He writes about business, personal finance and careers. Adkins holds master's degrees in history and sociology from Georgia State University. He became a member of the Society of Professional Journalists in 2009.