How Does an Itemized Deduction Affect a Personal Income Tax Return?
by Chris Brantley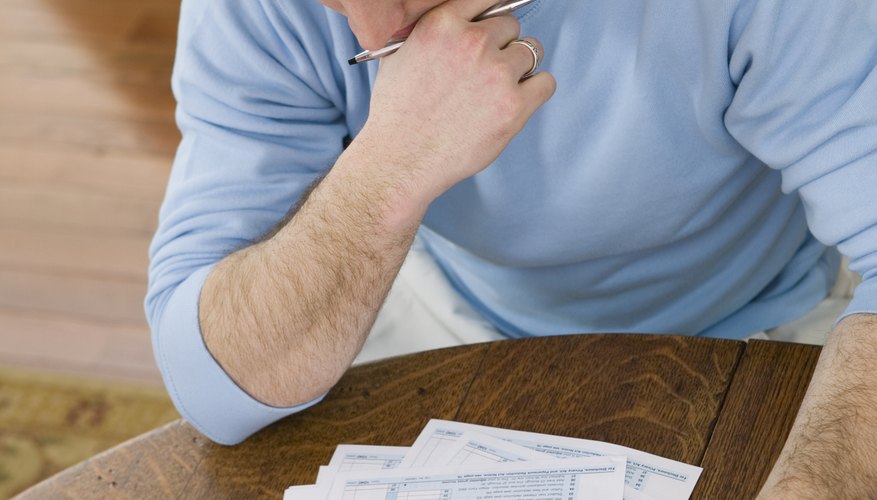 Tax deductions lower your taxable income, which decreases your tax payments. You can either itemize your deductions based on your eligibility for specific tax breaks or take the standard deduction, which is a pre-set amount based on your filing status. You should figure your taxes with both to find out which offers you the most savings on your taxes. However, if you're young, single and don't own a home, you'll likely come out better with the standard deduction.
Standard or Itemizing Deductions
The standard deduction was $6,200 for a single, $9,100 for a head of household, $12,400 for a married couple filing jointly, and $6,200 for a married person filing separately, as of publication. These numbers can vary from year to year, so make sure you verify the numbers for the year you are filing taxes. Unless you have combined itemized deductions that surpass these amounts, you should use the standard deduction. If you choose to itemize your deductions, there are some common deductions to consider.
Itemizing Deductions
Medical expenses -- including the cost of medical and dental treatments to diagnose, heal, and prevent disease – are deductible if they exceed 10 percent of your adjusted gross income, or AGI. AGI is your entire income that's subject to income tax before taking exemptions or standard or itemized deductions. You can only count medical costs for which you aren't reimbursed by your insurance company.
Home-Related Deductions
One deduction that makes itemizing worthwhile is the home interest deduction. You can deduct the interest you pay on your home loan and any prepaid interest, called points, paid when financing or refinancing a home. Newer loans usually include more interest at the beginning of the loan, so this can provide you a substantial tax break if you are a fairly recent home-buyer. You can also deduct real estate taxes paid to local or state authorities, as well as home improvements to accommodate sick, injured or disabled occupants.
Tax and Charity Deductions
In addition to real estate taxes, you can deduct any state or local taxes withheld from your paycheck and your state and local income tax paid the previous tax year. This includes yearly car and boat registration taxes. Charitable donations also qualify for a deduction, including money given to religious organizations, clothes and household items donated to charities, and even travel and mileage expenses related to your volunteer work. Be sure and keep good records and save receipts in case the Internal Revenue Service questions a deduction.
Miscellaneous Deductions
Another category of itemized deductions is miscellaneous deductions, including unreimbursed employee expenses, such as travel, mileage, subscriptions and seminars. You can also deduct fees for tax professionals or software used to prepare your taxes. To take these, the cost of your miscellaneous deductions must exceed 2 percent of your AGI, and you can only deduct the amount above the 2 percent threshold.
Photo Credits
Comstock Images/Stockbyte/Getty Images