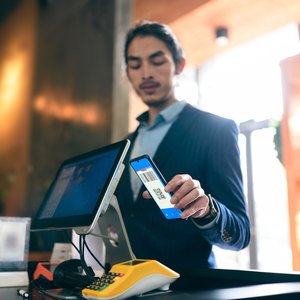 •••
dowell/Moment/GettyImages
Consumers are closer than ever to being able to do everything from their mobile devices. Thanks to solutions like Google Wallet and Apple Pay, that includes paying for goods and services. Although no payment method is 100 percent theft-proof, Apple Pay has security features that put it among the safer ways to pay.
What Is Apple Pay?
Apple Pay is one of the apps that comes with your iPhone, iPad or Apple Watch. Currently, Apple Pay transactions make up ​5 percent​ of all card transactions, with research firm Bernstein predicting that ​one in 10​ card transactions will be through Apple Pay by ​2025​.
To use Apple Pay, you simply let the software capture an image of your debit or credit card, which is then stored in your phone. You can use the card to make purchases online or in person, as long as the merchant accepts it as a form of payment. You can also use Apple Pay to pay friends and family members through the Messages app.
Who Takes Apple Pay?
In addition to being able to pay friends and family, you can use Apple Pay at the cash register or online. But not all merchants accept mobile payments and of those that do, not everyone accepts Apple Pay. You can find a list of some of the most popular stores, restaurants, apps and websites that accept Apple Pay on the Apple website, but this is only a fraction of the merchants that take it.
Currently, the list of shops includes popular retailers like Kohl's, Target, Walgreens and Costco, as well as food and beverage retailers like Chick-fil-A, Starbucks, Subway and Jersey Mike's. You can also use it for public transportation in some cities and on apps like Lyft, Hotel Tonight and Instacart.
How Is Apple Pay Used?
Once your card is stored in your phone, you can start using it. To use Apple Pay within an app or on a website, all you'll need to do is look for the "Buy With Apple Pay" button at checkout. The first time you do this, you'll be prompted to enter your billing, shipping and contact information, then prompted to save it for future use.
For in-person payments, you'll need to verify that Apple Pay is accepted. There may be an icon on the cash register or a sticker near the front door. If Apple Pay is accepted, there are two ways you can pay using your phone:
Face ID: Double-click the button on the right side of your phone. Lift your Apple phone to your face to unlock it. Hold the top of your phone close to the contactless reader. Once it's gone through, you'll see the word Done, along with a checkmark.
Touch ID: Rest your finger on the Touch ID of your phone. Hold the top of your phone close to the contactless reader. Once it's gone through, you'll see the word Done, along with a checkmark.
Setting Up Apple Pay
One testament to Apple's security is the process you go through to add your card to Apple Pay. To get started, you'll go to your Apple Wallet and tap on the plus sign. You'll then be walked through the steps of adding your card. You'll position your card in front of the phone's camera to add it, so there's usually no need to input your card number.
But Apple doesn't just take your word for it. Your bank will have to approve your use of Apple Pay to manage your card before it can be added. This makes it harder for a thief to input your card into their Apple devices, giving you security before you even start using the app.
Apple Pay Security
One of Apple Pay's biggest benefits is its security features. Apple doesn't limit it to just one. Here are some of the ways your payments are secured when you use Apple Pay.
Two-factor ID: Because you're using face ID or your fingerprint to activate Apple Pay, even if your phone is lost or stolen, it can't be used. Your device is likely also passcode protected.
Near-field communication technology: At the register, your device communicates with the point-of-sale system using near-field communication. NFC is a short-range wireless signal that transfers information between devices using electromagnetic radio fields. Your NFC-enabled device has to either be touching or within centimeters of another device that has an NFC chip in it for the information to transmit.
Tokenization: Apple generates a unique token for each transaction, so your credit card data is never shared with the merchant. Your account number is also never stored on Apple's servers, so even if a cyberattack happens, your data won't be there to steal.
Lost or Stolen Devices
If your Apple device is ever lost or stolen, your card number won't be accessible, even if someone else can get past whatever password you've set. All but the last four numbers are obscured. This makes it more secure than even your credit card, which can be freely used if you lose it.
But Apple has a way to easily disable Apple Pay if your device is lost or stolen. Simply go to iCloud.com/Find or go to another Apple device and use the Find My app. When you find your device on the list, click Mark as Lost. At that point, you can lock your device and add a message on the screen with a contact number. Apple Pay will not be functional on that device while it's in Lost mode.
Protecting Your Apple Pay
Yes, there are security features built into your Apple devices, but there are additional things you can do to keep Apple Pay secure. Here are a few recommendations.
Secure your home's Wi-Fi. Good security starts with ensuring that your home's Wi-Fi is as secure as possible. When you connect your card to Apple Pay, a secure Wi-Fi connection will make sure the information can't be swiped. It will also ensure that your credit card information is protected when you use it on websites that don't accept Apple Pay.
Use complex passwords. Choose a combination of numbers that you can remember but that someone else wouldn't be able to guess.
Protect your password. Never give it to anyone and don't leave it on a note that you keep in the same place as your device.
Use two-factor authentication. Features like Face ID and Touch ID are included with your devices. Take full advantage of them so that you're the only one who is able to activate Apple Pay.
Set up Find My. Your device includes an app called Find My. Add all your household's Apple devices. This means any time you lose one of your devices, you can immediately locate it and, if necessary, lock it remotely.
Theft of Private Information
Payment data isn't the only concern when you're inputting your data into a device. White-hat hackers found ​55​ vulnerabilities with Apple's network, with ​11​ of those vulnerabilities potentially putting user information at risk. These vulnerabilities could possibly lead to the theft of personal information, including customer email addresses, files from their iCloud accounts and more.
It's important to note that white-hat hackers are brought in specifically to find those vulnerabilities. By identifying these weaknesses, the hackers were able to point out issues Apple needs to fix, so these problems could be on their way to being resolved, if they aren't already fixed.
Why Use Apple Pay?
Apple Pay is only one of many types of mobile payments. But it's among the most popular, which means you'll find it's accepted at more locations than some of its competitors. Here are some reasons to consider using Apple Pay.
Pay using your phone or watch without having to withdraw your credit card from your wallet.
Have a payment method built into your phone for those times when you don't have your wallet or purse with you, such as when you're on vacation.
Contactless payments allow you to make payments without touching the card reader. You'll only touch your own device, which helps you cut down on exposure to germs.
Easily send money through Apple Messages.
Single-click payments on websites and apps, as long as your information is stored.
If you don't have an iPhone or Apple Watch, you'll want to look into the best mobile payment option for your device.
Apple Wallet and Rewards Cards
Credit cards aren't the only plastic you can add to your Apple Wallet. You can also use it to manage your rewards cards, as well as boarding passes, movie and event tickets. Among the many services supported with the Apple Wallet are Walgreens Balance Rewards, Coca-Cola Vending Pass and Kohl's Yes2You Rewards.
Your invitation to add a service to your Apple Wallet will typically come from the provider itself. When you download the rewards app, for instance, you'll be asked if you want to add the card to your wallet. You can also go into the app and look for Add to Apple Wallet somewhere on your account dashboard. Passes and event tickets will have a link to add them to your Apple Wallet in the email confirmation.
Third-Party Apps and Security
Whether you're connecting to your bank's credit card or saving a movie theater ticket, once you bring a third party into the mix, privacy concerns come into play. You may provide information like your mailing address, phone number and email address to sign up for the rewards program. Apple doesn't use or store this information, but you'll need to check the privacy policy of the rewards program to find out how they protect the information on their end.
But the transactions themselves are protected similarly to payment transactions. When you use your Apple Wallet to earn or cash in rewards, the information will be encrypted. You can elect to have the rewards card automatically presented in certain stores when you're paying with Apple Pay, which is a big convenience. But this is a feature you can easily disable.
Apple Cash and Security
When you send payments through Messages, you use something called Apple Cash. Apple Cash uses your debit card, taking money directly out of your bank account to send to the other party. You can also opt to use Apple Cash for Apple Pay purchases, directing the money to come from your stored debit card rather than your stored credit card.
Apple Cash goes through Green Dot Bank, which is a third party with a separate privacy policy. Your name and address will be securely stored by Apple Payments and Green Dot Bank. As with any lender, your activity may be monitored by Apple and Green Dot Bank to help prevent fraud and cyberattacks.
Apple Pay is a secure, convenient way to pay for purchases. It's important to carefully scrutinize the privacy policy of any technology you're using if you're concerned. But many experts have reviewed Apple Pay and deemed it a safer option than carrying around plastic that you swipe at the register.
References
Writer Bio
Stephanie Faris has written about finance for entrepreneurs and marketing firms since 2013. She spent nearly a year as a ghostwriter for a credit card processing service and has ghostwritten about finance for numerous marketing firms and entrepreneurs. Her work has appeared on The Motley Fool, MoneyGeek, Ecommerce Insiders, GoBankingRates, and ThriveBy30.