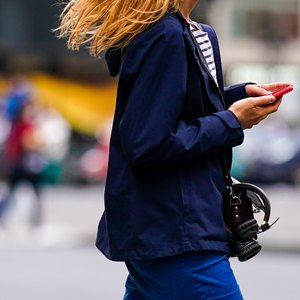 •••
Edward Berthelot/Getty Images Entertainment/GettyImages
As cashless money transfers have become more popular, so have the number of mobile payment apps offering the services. You now have choices for making peer-to-peer, or P2P, transfers ranging from large payment processing apps, like PayPal, to newer apps that have a social twist.
Let's look at six of the most popular P2P apps and evaluate the pros and cons of each one to help you decide which payment system is best for you.
1. PayPal
You probably have used PayPal to pay for your online purchases in the past. However, PayPal also has an effective P2P platform.
Founded in 1998, PayPal is the adult of P2P systems. It was originally created to handle online purchases but has evolved into a major platform for personal money transfers.
Setting up a personal PayPal account is simple. All you need to provide is your name, address, email address and phone number. Be sure to select the personal option, not business, and your account is ready to go.
After you've created an account, you can link to your bank account or credit card. PayPal will verify your bank account by making a couple of micro-deposits and asking you to enter the amounts on the application.
You can send money to any recipient who has a PayPal account. Recipients can be identified by a username, email or phone number.
Transfers are free to friends or family who have PayPal accounts.
Transfers from your PayPal account to your bank are free for availability in one to three days
Offers a debit card you can use to pay for purchases or get cash from an ATM
Buyers for online purchases do not pay any fees when using PayPal for payment
Can invest in stocks by setting up an Acorn account
Offers a credit card through a third-party bank
Transfers using your credit card will cost you 2.9 percent
Fees for instant transfers to your bank account will cost 1 percent up to a maximum of $10
2. Apple Pay
Although Apple Pay has been around since 2014, Apple only started its P2P service in 2017. However, it has already become a major player in money transfer apps.
With Apple Cash set up within Apple Pay, you use iMessage to send money. Simply open a new iMessage to the intended recipient and tap the pay button. Enter the amount, add a message and tap the send button. Confirm the transaction with Face ID, Touch ID or passcode, and you're done.
An alternative to typing everything in is to use Siri. You can say something like, "Siri, send $10 to Monica for breakfast."
If you do not have enough money in your Apple Cash account, funds will be withdrawn from your linked debit card or bank account.
Apple Cash lets you send or receive a maximum of $10,000 in a single message or $10,000 per week
No fees to send or receive money in Apple Cash
Can send up to $10,000 per transaction or a total of $10,000 per week
No fees to send funds to your bank account for availability in one to three days
Uses two-factor authentication for better security
Since a bank handles Apple Cash transfers, your funds are FDIC insured
Can only send money to people who also have an Apple device. Will not work if your friend is using an Android phone
Instant transfers to your debit card or bank account will incur a 1 percent fee with a minimum of $0.25 and a maximum of $10
3. Google Pay
Google Pay is a digital wallet that lets users make purchases and transfer and receive money. It is available to anyone who has a Google account, such as Gmail.
The Google Pay app can be downloaded to Android or Apple devices. You can use it to pay for purchases at retailers if the store has a point-of-sale near-field communication (NFC) reader.
The good news about Google Pay is that it doesn't charge any fees. No debit fees and no bank transfer fees.
You can send money with either your bank account or a debit card. However, if you only have your bank account linked, you can only send or receive money, not make purchases.
Google Pay integrates with other Google services. For example, you can send and receive money through Gmail.
You can transfer up to $10,000, the same as Apple Pay.
Works on both Apple iOS and Android platforms
Can be used at checkout with retailers that have a point-of-sale system with an NFC reader
Can send money directly to the recipient's bank account even if they haven't installed the Google Pay app

You can send money to anyone with an email address or phone number
Does not accept credit cards to use as a source of funds for payment
Can only be used in the United States with a debit card issued by a U.S. Bank
4. Venmo
Although Venmo is owned by PayPal, it is a different type of P2P app. Venmo links your Facebook contacts with your Venmo account to give it more of a social media effect. You can make payments and request money. Both can be livened up with emojis, think pizza, for more of a personal touch.
By default, Venmo posts all your financial transactions on its social wall so everyone can see who you are sending money to and receiving money from. If you want these transactions to be private, you must change the privacy settings to "friends only" or "completely private." Fortunately, the postings do not show the amounts of the transactions.
No fees to send and receive money from friends and relatives
Venmo debit card can be used at any retailer that accepts MasterCard
Venmo Rewards program gives you discounts on purchases from certain retailers
Will work on both Android and iOS smartphones
Can talk directly with a customer service rep when you have questions, unlike Cash App where you have to send an email and wait for a response

Transfers using your credit card will cost you 3 percent
Instant transfers from your Venmo account to your bank account will cost a fee of 1 percent with a maximum of $10
Can only send money to recipients who have a Venmo account
Only available in the United States, not internationally
Funds in a Venmo account are not FDIC insured
5. Cash App
Cash App offers basic sending and receiving money transfers to friends, but also has a few additional features that other P2P apps don't have, such as merchant discounts, the ability to trade stocks and Bitcoin.
Cash App works on both iPhone and Android platforms, and you have the option to create a unique username known as a $Cashtag.
No fees for basic transfers
Transfers to your bank account are free if you can wait for one to three business days for availability

Can use Cash App's debit card at retailers that accept Visa
Can open a brokerage account to invest in stocks
Receive discounts from selected retailers with Cash App Boost program

Free ATM withdrawals if you set up direct deposit, such as your paycheck

Can set up an account to trade Bitcoin
Recipients must have a Cash App account
Transferring money to your friends using your credit card will cost you 3 percent
Transfers to your bank for instant credit cost 1.5 percent, with a minimum of $0.25
FDIC does not insure money in a Cash App account
Does not have a phone number to speak with a live rep if you have problems
ATM withdrawals cost $2 plus network fees if you do not have direct deposit set up
6. Zelle
Zelle is a payment transfer platform created by a consortium of large banks that includes JP Morgan Chase, Wells Fargo, TD Bank and Bank of America. If you have a bank account, you probably already have Zelle features installed. Zelle makes money transfers between different banks and credit unions. You don't have to move the money from another app.
If you have your bank's app downloaded to your smartphone, you don't have to download a separate Zelle app.
With Zelle, you send money to a person by using their email address or mobile phone number. The money will be deposited directly into their bank account and usually takes place within just a few minutes. Each bank sets its own limit for the amount of money you can send in a week. These limits range from $1,000 up to $5,000.
If the intended recipient is not already enrolled in Zelle, they will receive a text with instructions on how to enroll and receive the funds.
Instant transfers between yourself and another person who has a Zelle account are free, unlike the 1 percent fee that other apps charge for instant transfers
No need to install a separate app since it's already on your bank's website
Bank-to-bank transfers are instantaneous

Limited to P2P transfers
Cannot use to make purchases
Can only connect to one bank account
Only works with U.S. banks
Can't use a credit card to send payments
Deciding which P2P app to use depends on your personal needs. If most of your friends use Venmo, then you're probably going to go with Venmo. If they use Cash App, it makes sense to sign up with Cash App. There's nothing wrong with signing up with both apps to cover the options.
On the other hand, you may be already using either Apple Pay or Google Pay for making a lot of your purchases, so it makes sense to send and receive transfers through those apps. You have to look at your own situation and decide which one will work best for you.
References
Writer Bio
James Woodruff has been a management consultant to more than 1,000 small businesses. As a senior management consultant and owner, he used his technical expertise to conduct an analysis of a company's operational, financial and business management issues. James has been writing business and finance related topics for work.chron, bizfluent.com, smallbusiness.chron.com and e-commerce websites since 2007. He graduated from Georgia Tech with a Bachelor of Mechanical Engineering and received an MBA from Columbia University.