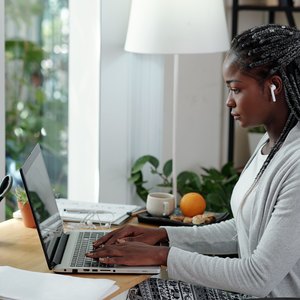 •••
DragonImages/iStock/GettyImages
You are an independent contractor "if the payer has the right to control or direct only the result of the work and not what will be done and how it will be done," as defined by the Internal Revenue Service. Independent contractors making more than $600 for work performed during the year receive Form 1099-MISC. Use this form to file your taxes, but don't forget to offset your tax burden by claiming allowable deductions.
Deductible Office Rent
As an independent contractor, you can deduct the rent paid for your office as long as the amount paid is reasonable, you use the property to conduct business and you are not getting equity or title for the property. If you're using a separate room or an identifiable area of your home for an office that meets the IRS "regular and exclusive use" and "principal place of your business" requirements, you can deduct rent for the business-use percentage of your home.
Utility and Office Expenses
Direct business expenses are those used exclusively for business purposes, while indirect expenses are those used for both business and personal purposes, such as with a home office. Independent contractors can deduct the full amount paid (up to set limits) for direct expenses, such as utilities, repairs, insurance premiums, taxes, maintenance, security systems and interest paid. Those using a home office can deduct the business-use percentage of these expenses that benefit their whole home. Determine your office's total square footage and divide this amount by the total square footage of your home to get your business-use percentage.
Equipment and Supplies
The money an independent contractor spends to do her can often be claimed as a deduction on her taxes. This includes office equipment and furniture, such as printers, computers, laptops, chairs, file cabinets and desks. You can claim the full amount as a 179 deduction, depreciate these costs over a number of years or break up the expenses between both. You can deduct smaller business supplies, such as paper, pens, ink cartridges, folders and mailing supplies from your total income.
Travel, Entertainment and Car Deductions
If you must travel or entertain to perform your service, to meet with customers, to distribute your product or to attend an educational class pertaining to your business, you can deduct these expenses. Acceptable travel and entertainment expenses include transportation to and at the destination, business communication, baggage fees, tolls paid and parking fees, as well as meals and accommodations. If your car is used for business, you can deduct either your actual car expenses or log your mileage and deduct car expenses using the IRS' standard mileage rate.
References
Resources
Writer Bio
Diane Dilov-Schultheis has been writing professionally since 2000. She is a food and travel writer who also specializes in gaming, satellites, RV repair, gardening, finances and electronics. She is a member of the Society of Professional Journalists and has been published online at the Travel Channel and Intel.