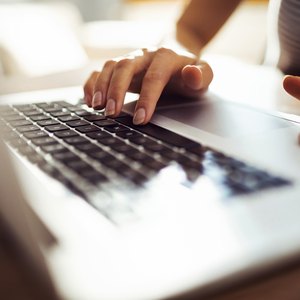 •••
Marko Geber/DigitalVision/GettyImages
Working from home became the new normal in 2020, and some people found that they really liked it. You got to skip the commute and work in your sweatpants or jammies in peace and quiet, assuming that your homeschooled children weren't howling for attention in the background.
You might be thinking about making the situation permanent and going full-time freelancing to make money from home even after your workplace is up and running again. Or maybe you're considering picking up a part-time e-commerce side gig in addition to your regular job to heal some of the financial pain of the last year. According to a 2020 Payoneer survey, the average worldwide hourly pay for a freelancer is ​$21​. While you're likely to have at least one skill that will allow you to make money online from home or can pick up what you need with an online course, it can come down to how hard you want to work at making money online with your internet connection.
Affiliate Marketing
Affiliate marketing can be a good deal for persuasive types who also tend to spend a few dollars and cents trying out new software, apps and retail products in general. Companies and manufacturers will pay you a commission to chat up their products online. Why not turn your time to your advantage if you're spending some of it on social media anyway?
You'll be paid when anyone clicks on a purchasing link on your post, which makes this passive income that can bring in good money. You can also sign up with a dedicated affiliate marketing program, such as Amazon Associates, eBay Partner Network, Solvid Affiliate or LikeToKnowIt. You're not limited to just one product or company. Segue on to another if one stops bringing in the bucks.
The concept has been around for years. Amazon, Uber, FabFitFun and Shopify all use affiliate marketers. Many companies in a variety of markets use affiliate programs to help them grow. Just be honest and stick to recommending products that you've actually used and enjoy. Intuit indicates that you can earn anywhere from ​$100 to $10,000​ a month as of ​2021​, depending on how much time you want to devote.
Be an Influencer
Making money as an influencer goes hand-in-hand with affiliate marketing, but in this case, you're also marketing yourself, not just a product. You're setting yourself out there as someone who really has reliable information on certain products. Think athletes who promote deodorants.
Unlike affiliate marketing, you'll need your own following for this role. Your followers will think, "Should I buy this? Maybe I should check to see what Mary says about it first. Mary knows everything, and she's never let me down before." You can set up your own website if you're tech-savvy, create a YouTube channel for video content or use Instagram or YouTube.
You'll also have to set up a way to get paid. You can receive payments through a PayPal account and use links such as you would with affiliate marketing, or find websites that will pay you to post.
Writing and Proofreading
Opportunity abounds on the internet if words are your thing. Not only can you use them in roles like influencing or affiliate marketing, but you can also dedicate yourself to working as a copywriter, blogger or freelance writer. Scour the internet using different search engines for sites that will pay you for your words. You might have to send them samples of your work or links to your freelance work that has been published. You'll do best if you have a niche – an area such as sports or personal finance – that you have experience in and knowledge of. If English is your first language, you may also be able to get work as an editor for researchers and others publishing academic papers.
Making money from your own blog will require not only hard work but that you solicit and gain advertisers who want to catch the attention of your readers, so you'll need to put in some work here to get up off the ground. You'll have to spend some time establishing a following of subscribers before you ask someone to pay you for posting an ad on your site. You can then monetize your blogging through services such as Google AdSense. And you may have some startup costs as well, such as establishing your domain name and hosting, but these can be minimal. Bluehost can help you out here.
Many of the sites that will pay you for writing words will also pay for your proofreading and editing skills. These can be paid-by-the-hour gigs. You can set your own hourly rate and post your availability on sites like Upwork. Or maybe you want to write resumes, not full-blown internet copy. You can solicit work for these options as well.
Data Entry
Maybe you're not the creative, chatty type. You'd rather just sit yourself down and plug through more mundane assignments on your computer. If this is the case, data entry might be for you. You might also find work doing user testing for products and tutorials created by small businesses.
This typically involves working with land-based businesses and companies. Think medical offices and law firms, places that must organize and keep track of a lot of patient and client information. Some will pay you by the hour to type the data into their online databases from home. Intuit says that this gig can pay up to ​$30 an hour.​
You must be at least 18 years old in most cases, and previous similar experience can help. You can reach out to local firms and offices, or take the easy way and access a freelance broker site such as Clickworker or Lionbridge.
Be a Virtual Assistant
This gig also falls under the umbrella of how to make money online with office work. It's actually a very popular option, particularly with online businesses that don't maintain a physical location, and with real estate agents who are always on the go and don't have time to take care of pesky details themselves.
Your job will be to essentially run someone's office or business from afar. You might process orders for a retailer, answer phone calls that are forwarded to you via the internet, schedule appointments for a client-based business, get the business name out there in social media, deal with customer or client emails, or even do some bookkeeping.
Again, you can pound the internet pavements to find clients of your own, offering your services on Facebook, Twitter or LinkedIn. Or you can access a website that's already set up to find you this kind of work. Upwork is one such site. You might also look into sites like Fiverr, Zirtual, Virtual Assistant Jobs and Indeed. You might be able to earn as much as ​$100 an hour​ after you've been doing this for a while, have built a solid reputation and carry more than one client. Intuit puts pay for this gig at a more modest ​$40 an hour​, but that's not bad at all for something you can do from your sofa.
Do Research
This gig is something of an offshoot of the virtual assistant role, but it's much more focused. You'll be dealing with one task, and one task only: digging up information online. Research gigs are based on gathering necessary data and feedback for businesses such as economic info on certain industries and markets or even feedback on their own business. It can be ideal for those who like to read and learn, and Intuit indicates that it can pay as much as ​$80 an hour​, depending on how much time you want to dedicate to your mission.
You can also complete online surveys on survey sites that pay you to help others doing research. Or, use your know how to offer online tutoring.
TaskRabbit can help you find clients if this sounds like something you'd enjoy. You can advertise your availability on their site to get started.
Offer Your Unique Skills
You can offer your services in just about any area on TaskRabbit if you don't mind leaving your home and your computer to perform side gigs elsewhere. Do personalized grocery shopping for the homebound ­– who needs Instacart? – or home maintenance tasks, or even cosmetology or hairstyling. Just make sure a license isn't required for a particular gig in your area, or make sure that you have one if it's necessary.
If you want to stick close to home and your internet, you can still turn to TaskRabbit as well as sites like FlexJobs and Fiverr for help. Maybe you don't want to launch all the way into a virtual assistant role. You just want to write for, maintain and monitor someone's blog for them, offer your graphic design skills or take care of someone's accounting tasks. Just put whatever it is you're willing to do out there, cite your experience and what sets you apart from others, and wait for someone to bite.
The idea here is to take an existing skill, anything you're good at and have experience in, and advertise it online. You're effectively taking your workplace skills and selling them one-on-one to clients. You might not earn the equivalent of a full-time job, but it could help loosen up your pinched budget after a long, hard year.
Dropshipping
Dropshipping is a hugely popular way to make money on the internet. Oberlo reports on an individual who earned ​$6,687​ in just eight weeks by engaging in this gig.
This is hands-off selling. You'll sell the products online, but you're not going to go grab them from your garage, package them up and send them off to buyers. You'll build your own online store and stock it with products, and the supplier will take care of the rest after you sell an item. They'll literally package it up and send it off for you.
All you really have to do is maintain your website, advertise – again, social media is good for this – and collect your money. Oberlo provides a dropshipping platform. And, of course, Amazon, eBay and Shopify all offer selling platforms as well.
Sell Your Own Stuff
Of course, you can always empty your own cupboards, closets and drawers in addition to or in lieu of entering into a dropshipping gig where somebody else does the shipping for you. You could sell your own high-quality clothing, gadgets and miscellaneous stuff for extra cash. This will require a bit more elbow grease on your part, but it might be a nice option if you're just looking for some extra money in addition to what you earn from your regular job. Amazon, Etsy, Craigslist and eBay await to help you out. Just take some pics of whatever it is you're selling and post them.
You might even create your own product to sell if you're particularly innovative. Or purchase merchandise at a deep discount, maybe from a store that's going out of business or a pawn shop, then resell it for some significant dollars online.
The Bottom Line
There's money to be had out there without turning your spare room into an Airbnb or creating elaborate cashback schemes with your credit cards if you have skills, talents, or even just interests, along with working internet. But you'll want to be cautious and smart, as with any business endeavor. The internet is filled with work-from-home scams. Think twice – or maybe even three or four times – before you part with your own money to set yourself up with an online side hustle, unless it's with a reputable, well-known entity.
And remember that you'll need a way for your clients and customers to pay you. Think PayPal here. Sign up for an account if you don't already have one. Some sites actually require that you do.
References
Writer Bio
Beverly Bird has been writing professionally for over 30 years. She is also a paralegal, specializing in areas of personal finance, bankruptcy and estate law. She writes as the tax expert for The Balance.