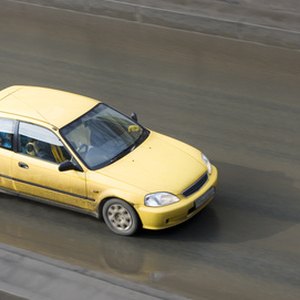 •••
yellow car, a Honda Japanese sport car model image by alma_sacra from Fotolia.com
Traditional car leases start at 24-month commitments, but there are plenty of times a lease of this length just doesn't fit. Maybe you are being sent on a six-month temporary job assignment, or maybe you simply don't want to commit to a car because you aren't sure where life is going to take you. Finding a six-month car lease requires a little outside the box maneuvering, but it is possible to find a solution that works.
Contact car dealerships. Normally, car dealerships only deal with leases starting around the 24-month mark, and often they require an even longer commitment. That doesn't mean it is inconceivable that they can work with you. Explain your requirements and you may find that they know of a customer trying to get out of a lease or that they have long-term rental programs that can put you in a car for six months.
Take over someone's lease. There are a number of online services, such as Swapalease.com, that match people interested in taking over a lease with people trying to get rid of theirs. The leases on these sites vary in the amount of time left on them, but you can narrow your search to leases expiring in six months. Under this kind of deal, the current leasing company would need to approve the transaction, but after they agree, you would assume the lease and takeover payments until it ends. Some lease swap services will deal with the leasing company on your behalf, but if they do not, the current lease holder should contact the leasing company to find out their procedure for transferring a lease. There may be a lease-transfer fee involved, depending on the leasing company.
Sign a long-term rental agreement with a rental car company. You could simply rent a car and continue to renew the rental for six months, but the more cost effective way of keeping your wheels for the required amount of time is to negotiate a long-term rental agreement up front. If you negotiate a long-term rental, the agreement will function in the same way a lease would: you would keep the car from a specific date to a specific date, the price is locked in and the agreement cannot be modified in the interim unless both parties agree. Most rental car services offer long-term rentals, so shop around for the best deal.
References
Writer Bio
Lily Welsh is a freelance writer from North Carolina, though she has spent much of her adult life living abroad. She is the About.com Guide to Music Careers, and her work appears frequently in other Web-based and print publications. Welsh has worked in the music industry for 15 years and counting and holds B.A.s in international studies and economics.