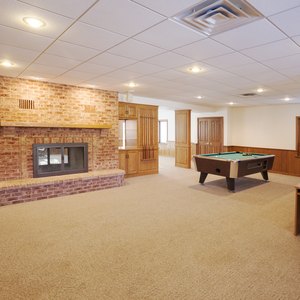 •••
James Brey/iStock/GettyImages
You have that big, yawning space down there beneath the main level of your home – an unfinished basement. The possibilities are endless if you want to turn that basement space into something useful. Maybe you work from home, so it would make for an ideal home office area. It could be a playroom or home theater, or even an extra bedroom for guests or an in-law suite for family members.
A basement remodel doesn't have to cost you a fortune if you're the do-it-yourself type, and various loans and programs are available if you're not. And, yes, it will add value to your home that you'll appreciate when you look at the resale value. The National Association of the Remodeling Industry puts basement finishing in the top 10 remodeling projects. A look through remodeling magazines at finished basement spaces is a good first step. What then?
Soften Up the Flooring
The floor is a slab of cold, hard concrete if your basement is like most. No one wants to walk on that. There are some easy fixes that will give you a good return on investment. For instance, Bob Vila, the home-remodeling guru, suggests laying down some foam floor mats. They can add a little decorative pizzazz, they're more comfortable and you're not stuck with them. You can move them to a different part of your home if they no longer serve a purpose downstairs.
Area rugs offer the same perks, but they won't be as kind to your feet. Consider vinyl tile if you're thinking more long-term but don't want to commit to the price tag of ceramic tile. But you might want to avoid covering up that concrete with wood flooring because, well, this is a basement. It can be prone to moisture issues, and wood will warp if it's consistently exposed to dampness. And, while you're at it, be sure to do any necessary waterproofing.
Light Things Up
The average basement is a bit gloomy and dim because it's underground. Adding natural light in the way of some windows is ideal and would have the most effect on home value, but don't overlook the merits of overhead lighting as part of your basement remodeling. This can illuminate more space than a single plug-in lamp. Think ceiling fixtures and string lights.
And don't forget the stairs. They are important to the functionality of the space and you'll want to make sure they're well-lit also. This might be just a matter of installing a fixture at the top or midway up the steps.
About That Ceiling
The aesthetics of your overhead living space can be improved considerably by simply creating a canopy ceiling with some fabric. Just be careful if you're stringing lights up there as well. You don't want to create a fire hazard. Paint any beams that remain exposed to dress things up even more.
Tiles can work well up above as well, as can sheetrock, but this is a pricier improvement. A drop ceiling might work, too, to accommodate any ductwork, but check your local building codes before going to the expense. Many municipalities require at least seven feet from floor to ceiling, and some require even more.
Walls and Partitions
Adding walls will require construction and drywall, but partitions can be a much easier and less expensive fix. You can use curtains to segregate areas and create a little privacy, depending on how you want to use your basement after you've spiffed it up. Install a track or some wiring along the ceiling space from which to hang your fabric "walls."
You probably won't need a permit to add solid partition walls if they're temporary, but ask yourself if you really want to. Depending on the size of your basement, you might be making a cramped space appear even smaller.
As for those still-visible outer walls, a can (or several) of paint can go a long way. Foam boards can be installed without much of a headache, too. This fix-up can allow you to install some insulation between the concrete and the boards to warm things up in the winter if you live in a cold climate.
Making Major Improvements
Most of these minor tweaks will make your basement look more appealing to would-be buyers if you decide to sell, but they're more decorative touches than improvements. You'll have to dig deeper into your pocket if you want to make changes that will boost the value of your home.
Creating a "walk-out basement" might be the best investment you can make in your basement project, although it's only possible if it isn't completely underground. This might be the case if your home is built on a hill. You can install a door and entryway to the outside so anyone who's taking up residence downstairs can get in and out of their own private quarters without traipsing through your upstairs family room or kitchen.
Consider adding windows if you can't add a door. In fact, you'll have to do so if anyone is going to be living downstairs so they can get out in an emergency without going upstairs. Ideally, you already have some of those small rectangles built into the concrete walls. They can be enlarged and egress panes added without the higher pricing that installing windows from scratch can require.
Check for any leaks and incoming moisture, or have a professional with a trained eye do so for you. Any potential profit you realize will begin spiraling downward if you have to repeatedly tear things out and reinstall due to water damage. Install a sump pump while you're at it. Adding a dehumidifier can be a big help, too. And again, be sure to attend to any necessary waterproofing.
Who's Going to Do All This Work?
The cost of these improvements is going to come down to whether you're comfortable with – and capable of – a DIY job. A good many of these fixes require minimal physical labor, but adding or improving on windows, an entry, walls, plumbing or electric fixtures is most likely best left to a professional.
The U.S. Department of Housing and Urban Development recommends checking out the credentials and reputation of anyone you're thinking of hiring for your basement renovation, such as with your local Chamber of Commerce or Consumer Protection Agency.
The Government Can Help
The federal government has your back if you do decide to pay someone else. The Federal Housing Administration offers the HUD Title I Property Home Improvement loan program. The FHA won't actually lend you the money, but it will insure your loan through a bank or other lending institution, just as it would with an FHA mortgage. These loans cover a wide range of home improvement costs, including finished basements, although you can't use the funds to do what HUD refers to as "luxury-type items." This means things like adding an inground swimming pool to your back yard.
The Effect on Home Value
Your chances of snagging willing home buyers increase if your home shows well, and an attractive basement as opposed to a dank, dark space underground can go a long way in this regard. But what does a finished basement do in dollars and cents?
Most appraisers don't include a finished basement in the total square footage of a home, but this can depend on state and county laws. Some will include the space if it has a walk-out, which more or less establishes it as its own living area. But even then, appraisers can typically only include the area of your basement that's ground level.
The National Association of the Remodeling Industry has indicated that you should expect to get back about two-thirds of what you spend, although that was pre-pandemic and its effects on the economy. But other sources are more generous: about ​75 cents for each dollar​ you spend. A finished basement might not increase an appraisal, but it can still affect how much a buyer is willing to pay for your home.
References
Writer Bio
Beverly Bird has been writing professionally for over 30 years. She is also a paralegal, specializing in areas of personal finance, bankruptcy and estate law. She writes as the tax expert for The Balance.