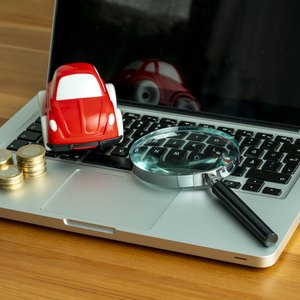 The internet is changing the traditional method of buying a car. It's no longer necessary to spend hours at a dealership trying to find the car you want and negotiating a price. You can now buy a new car online and, in some cases, never have to even visit a dealership.
Step 1 – Set a Budget
Before you start shopping for your next car online, you need to know how much you can afford to spend on a car payment and expenses. To find that figure, you need to make a budget.
Everyone's budget is different. People spend different amounts on rent, mortgage payments, utilities, entertainment, clothing, internet and health insurance. Some of these expenses are fixed while others are discretionary. If you review your expenses for the past several months, you'll learn which expenses you must pay each month and which expenses you can control or cut back. The balance will be the amount you can spend on a car.
According to U.S. News, a good guideline is to limit your car payment to no more than limit your car payment of your take-home pay. In addition, your total car expenses – including fuel, repairs, maintenance and insurance – shouldn't exceed ​22 percent​ of your net income. You can use this calculator to find the suggested budget for car expenses for your particular monthly cash flow.
Your affordable monthly car payment will vary according to the amount of a down payment and the value of your trade-in, if you have one.
Step 2 – Arrange Your Financing
You'll have an advantage over the dealer if you have your car loan preapproved before you start negotiating with the salesperson. Getting a loan approved also establishes a limit on how much you can spend.
By applying in advance, you can shop at several banks, credit unions and other lenders to learn your financing options with the best interest rates and loan terms and the amount of down payment you'll need. You can also use your preapproved loan to negotiate better terms if the dealer is offering financing. Auto loans are another source of profits for the dealer, so they're anxious to sell you on their financing terms.
Online car-buying makes it easier to find the exact vehicle you want without having visit multiple dealerships and haggle over prices.
Step 3 – Do Your Research
Give it some thought and decide in advance exactly what type of car you want, even down to the exact color and trim level. You can go online to get new car rankings and reviews from publications, such as U.S. News.
Step 4 – Check for Deals
Car manufacturers will often offer special incentives when sales aren't moving as fast as expected. You may find deals that offer cash rebates or below-market interest rates on loans.
Step 5 – Search Dealer Inventories
After you've determined the exact model and specifications that you want, you can search the inventories on multiple dealer websites. In the past, you had to spend hours physically going to each dealer, and your choices were limited to the inventory they had on hand.
Online shopping gives you the opportunity to go through the inventory of all dealerships from the comfort of your home rather than having to visit each one to find the model you want. The internet also gives you the ability to search dealers' inventories outside your immediate area. If you're looking for a hybrid, for example, you might find a local dealer in a rural area where electric vehicles are not in demand, and they might be willing to sell a model for a lower price.
Step 6 – Contact the Manager
The next step is to get in touch by email or online chat with the dealers' internet sales department. Most dealerships recognize this change in traditional car buying methods and have designated salespeople to handle internet calls. These internet sales specialists usually have exceptional skills in dealing with potential buyers who have done extensive research and are more knowledgeable about what they want.
Buying a car online doesn't eliminate the process of haggling and negotiating a price, but it does remove the face-to-face competition that often results when you're in a showroom across the desk from the salesperson. Price negotiations will take place through an exchange of emails, which reduces the stress considerably. You can take your time to study the dealer's offers without feeling the emotional pressure from a salesperson.
The goal is to have the purchase price and all fees and charges finalized before you go to the dealer to take a test drive, get your trade-in appraised and sign the documents.
Step 7 – Schedule a Test Drive
Arrange with the dealer to take a test drive for the exact vehicle you are looking at. Unfortunately, not all new automobiles are in perfect condition, and you'd rather find this out before you sign the papers and drive off the lot.
Some dealers will even go so far as to bring a vehicle to your home for a test drive. This will give you the opportunity to drive on roads you normally use to see how it performs.
Step 8 – Close the Deal and Take Delivery
In most states, you'll still have to go to the local dealership to sign the paperwork. At this point, you should have a firm and final sales price with all taxes and fees and the paperwork needed to complete your financing. You don't want anything left open to further negotiation that could increase the cost of your vehicle.
If you have a car to trade in, the dealer will want to do a final appraisal on your vehicle. Here again, do your homework at sites like Kelley Blue Book and have a very good idea about the value of your used car. Knowledge can save you money.
Buying a Used Car Online
As with new cars, the internet has also made the online car buying process easier to buy a used car. When you know the exact model and specifications of the vehicle you want, you can search the inventories of sites such as Carvana and Vroom to find the vehicle, whether it's a Tesla or a Honda.
There is no negotiation of price with these sites, so you avoid this hassle. The price is fixed, and you can either accept it or not. If you've done your homework and researched used car prices, then you'll know if the price being offered is the best price or not. The good news is that you won't be facing any pressure from a salesperson to accept the deal.
Although you won't have the opportunity to take a test drive, these used car sites generally give you seven days to try out the car and return it if it doesn't meet your needs. Both sites only sell vehicles that are accident-free and will provide a CarFax report with the vehicle history to back up their claim.
If you have a trade-in, buying a used car through Carvana or Vroom is slightly more complicated. Both sites are willing to purchase and pick up your used car, depending on a final inspection.
References
Writer Bio
James Woodruff has been a management consultant to more than 1,000 small businesses. As a senior management consultant and owner, he used his technical expertise to conduct an analysis of a company's operational, financial and business management issues. James has been writing business and finance related topics for work.chron, bizfluent.com, smallbusiness.chron.com and e-commerce websites since 2007. He graduated from Georgia Tech with a Bachelor of Mechanical Engineering and received an MBA from Columbia University.