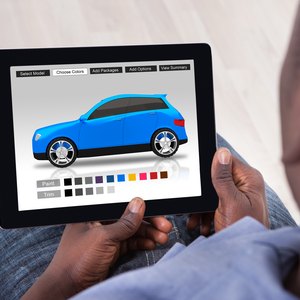 •••
AndreyPopov/iStock/GettyImages
The internet has made it easy to buy a car from the comfort of your sofa. But whether you buy from a dealership, a private owner or a used car lot, car buyers have a few things to consider when buying their next car through an internet sale. When buying a car online, it's important to conduct thorough research and take measures to protect yourself from online car-buying scams.
Buying a Car Online
Buying a car online has its benefits. The biggest is that you won't have to worry about being hassled by a salesperson while you shop. If you know the car you want, you can easily look at all the available options. In some cases, you can even have a car shipped from an out-of-state lot to one nearby.
But online car buying does come with more than a few risks. If you're buying from a private owner, you need to be extra cautious to avoid car-buying scams. You need to see plenty of pictures, and it's a good idea to test drive the vehicle before handing your money over.
But even if you're buying from a lot, it's important to understand the limitations of viewing a car online. If you can't see the car in person before sending the money, you may be missing some important details. What if the car has a pungent odor or the engine makes a horrendous noise when you start it?
Why Buy a Car Online?
Traditionally, if you wanted to buy a vehicle, you'd traipse from car lot to car lot, looking at prices, evaluation add-ons and narrowing down your options. If you were buying a new car, you were often limited to a handful of car dealerships within a drivable distance. For used cars, you might be limited to only the makes and models available at car dealers nearby.
A bigger selection, especially if you can expand your search outside your immediate area
Comparison shopping to help you find the best price possible
Freedom to shop without dealing with salespeople
An easier, faster buying experience
The ability to make side-by-side feature comparisons for multiple vehicles
How to Buy Cars Online
Whether you're buying a car online or in person, there are a few steps to take before you get started.
​Set a budget.​ If you're planning to take out a loan for your purchase, determine what your monthly payment will be. Otherwise, look at the cash you have to spend.
​Get preapproved.​ Shopping online reduces the temptation to rely on the convenience of getting a loan through a car lot. Look around for the best auto loan rates and get preapproved for an amount before you start shopping.
​Decide on a type of vehicle.​ You may have already done this part. If you aren't sure of the exact make and model, do some research and narrow it down to at least a few options.
​Research the vehicle's value.​ Kelley Blue Book tells you what a car's exact value is so you can use it to negotiate on the price. You should also use this resource before accepting a trade-in offer or selling your car yourself.
​Start shopping.​ It's important to take advantage of being able to search multiple sources for the car you want. If you're able to travel to test drive a car, expand your search to those areas. You may also find that local dealerships will get the exact car you want shipped at little or no expense to you.
​Interact with the seller.​ If you're buying from a dealership, you can launch an online chat with the internet manager. But you can interact by email, phone or text with private sellers and used car lot salespeople to ask any questions and line up a test drive.
​Schedule a test drive.​ If at all possible, inspect the vehicle in person. In some cases, dealerships will even bring the car to your home. You can also require that a used car go through an inspection at a trusted repair shop before you agree to purchase it. This is especially valuable when buying from a private seller.
​Complete the deal.​ If going through a car lot, you can visit their location or check for other options. Some lots will complete deals at a place of the buyer's choosing. With a private seller, you may be asked to meet at the seller's bank to ensure your payment method is a reliable one.
Paying for Online Car Purchases
If you're completing your entire car purchase online, payment will likely be electronic. Sites like Carvana let you pay your down payment or the entire cost through an electronic funds transfer or a cashier's check. If you're financing your purchase, you just need to provide information on your loan, and your monthly payments go directly to your lender.
In many cases, you may do your initial car search online and then finalize the transaction through a local dealership or car lot. If you're doing a trade-in, this makes it easy to drive your car in and handle the final leg of the purchase as you would if you'd done everything in person. If you're financing, you need the dealership to have the information on your lender.
It's in this area that buying through a private seller can complicate the car-buying process a little. Your seller will probably require a cashier's check or cash, but make sure you get everything you need on your end before you hand that money over. Ideally, you'll meet at the seller's bank and have the keys and title in hand while the seller deposits the funds.
Buying From a Private Owner
You can save serious money by buying a used car from a private seller. But in doing so, you're at risk of an online car-buying scam. If you're buying a car online from a private seller, here are some steps to take to protect yourself.
​Ask to see the title before agreeing to purchase.​ The title, which will be turned over to you when you finalize payment, should list the seller as the owner. If a financing company is listed, the seller should be able to show you a lien payoff document proving the title has been transferred.
​Bill of sale.​ Either you or the seller should draw up a bill of sale to make the transfer official. The bill should document the car year, make and model; the vehicle identification number; the sale price and date of sale; the name and address of both parties involved in the deal and any other guarantees, such as if the car is being sold "as is."
​Emissions documents.​ If your municipality has laws that require emissions testing, ask to see the most recent documentation showing the vehicle passed.
​Set aside emergency funds.​ You won't get a warranty with your purchase. If you can, set money aside for any repairs that might come up.
​Test drive the vehicle safely.​ Before meeting the seller for a test drive, research the person and make sure you take a friend along. Meet in a public place and be prepared to leave some collateral – like your existing car – with the seller before you drive off with the seller's car.
Car buying can be an unpleasant experience, but online shopping makes it easier. You can either complete the entire process online or use the internet to research before heading to the dealership. Whichever route you go, make sure you know as much as possible about the vehicle, as well as any documents you sign, to avoid losing money on a bad purchase.
References
Writer Bio
Stephanie Faris has written about finance for entrepreneurs and marketing firms since 2013. She spent nearly a year as a ghostwriter for a credit card processing service and has ghostwritten about finance for numerous marketing firms and entrepreneurs. Her work has appeared on The Motley Fool, MoneyGeek, Ecommerce Insiders, GoBankingRates, and ThriveBy30.