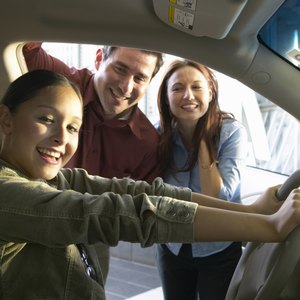 •••
Barry Austin Photography/Photodisc/Getty Images
Buying a new car is exciting, but dealing with salesmen and banks and finding the right car is not a lot of people's idea of fun. Before you head off to a dealership to buy your new ride, you need to do a little homework if you want the right deal and interest rate. Never rely on a dealership for upfront information. Instead, perform a little due diligence to avoid buying a lemon.
Recalls
Manufacturers are required to issue recalls and pay for repairs on faulty vehicle equipment. Before purchasing a new or used car, research the manufacturer and model of the car for pending and past recalls. If you are buying a used car, make sure the dealership has proofs of repair on recalled items. You can find a complete list of recalls from the National Highway Traffic Safety Administration, as well as how to contact the manufacturer and find out the exact details of the recall.
New Cars vs. Used Cars
You may want a new car, but when you reach the dealership, you find a variety of used cars that are not only cheaper but also offer the same features as a new model. Cars.com recommends looking at the advantages of both sides. New cars have fewer maintenance needs, are covered with warranties and often come with roadside assistance. Used cars, on the other hand, provide you with more negotiating room on price, low-mileage options and dealer- or manufacturer-sponsored warranties. If a budget is your biggest concern, a used car offers affordable pricing and sometimes more features than a new car.
Establishing the Value
Dealerships do not sell cars at cost. Although a sticker price is offered below the manufacturer's suggested retail price, the dealership is able to go a lot lower. New cars do not have as much negotiating room as used cars, but you are able to find a little room to wiggle. If you have a make and model in mind, do a little research on websites such as Kelley Blue Book or the National Automobile Dealers Association to find the value of the car you want.
Cash vs. Financing
Once you find the right car and right price, you need to determine how you are going to pay for it. Cars.com states that 70.5 percent of people finance, while 18.5 percent lease and 11 percent pay in cash. Buying your car in cash not only eliminates your monthly payment altogether but also reduces the amount of money you would have paid in interest for financing your car. If bad credit is an issue for you, paying in cash eliminates the worry about being approved for a loan. By paying cash, you need to have a substantial amount of money saved up or a way to access a chunk of cash, such as removing funds from a money market or brokerage account. Financing a car allows you to make monthly payments on your new purchase without having to come up with a large amount of cash. You lose money to interest each month, especially if you have less than average credit and are stuck with a higher interest rate. You are also required to put a down payment on your loan, depending on your credit and the amount financed.
Trade-Ins
Trade-ins are always a factor when purchasing a car. Bankrate.com reminds you to never negotiate the purchase price of your car with your trade-in. Many dealerships negotiate both at the same time, ultimately leaving you paying the same price as if you had not negotiated at all. Before negotiating on your trade-in, know the value of your car by researching it on sites such as AutoTrader, NADA and Kelley Blue Book. If your trade-in has dings, dents or worn paint, spruce it up before trading it, since these are things the dealership will dock from your purchase price. Present your maintenance records to the dealership and make sure you get the credit for them when it comes to a higher trade-in value. If the dealer is not willing to budge or does not have a demand for your type of trade-in vehicle, sell it privately and then purchase a new car.
References
Writer Bio
Shailynn Krow began writing professionally in 2002. She has contributed articles on food, weddings, travel, human resources/management and parenting to numerous online and offline publications. Krow holds a Bachelor of Science in psychology from the University of California, Los Angeles and an Associate of Science in pastry arts from the International Culinary Institute of America.