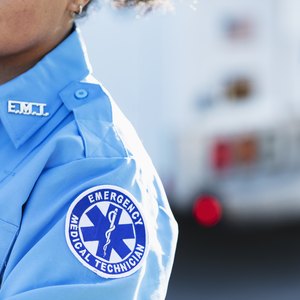 •••
kali9/iStock/GettyImages
Becoming an EMT or paramedic is a rewarding field. You have the opportunity to help people in a time of need and perform an important community service. To enter this field, you will need specialized training to meet the requirements of the job. Fortunately, a few resources are available for grants and scholarships to help you become an EMT or paramedic.
Find Grants for EMT Training
EMTs are at the forefront of the emergency medical care team. They are often the first ones on the scene of an accident or injury and are responsible for saving lives. To begin your career, you will need to attend an accredited certification program. Before you do, you might want to explore these grant opportunities to complete your training.
The National Association of Emergency Medical Technicians offers educational scholarship opportunities for members. It is also an excellent resource for job opportunities and recertification information. This registry is an excellent source for examinations and preparation too.
The Michael J. Latta EMS Scholarship Foundation also assists those who are training for emergency services. The scholarships differ according to need and available funds. Applicants are evaluated on their work ethic, dedication and enthusiasm for the job.
EMT Training Scholarships
The National Association of EMS Physicians offers several grant opportunities and scholarships throughout the year. The NAEMSP/Stryker Fellowship Grant has been known to award up to ​$80,000​ over 12 months for qualified candidates. NAEMSP/GMR Foundation grants are also available that can provide up to ​$20,000​ toward direct costs of the program.
Many local and state scholarships and grants are available for those who want to become emergency personnel. Some of these include the:
Rockingham Regional Ambulance Association
N.C. Association of Rescue and EMS
Brian Jenneman Memorial Scholarships
Iowa Emergency Services Association
College of Southern Idaho's Paramedic Program
Oakland Community College EMS Academy
These are only a few examples of the types of local and regional programs that are available for those pursuing certification to become an EMT, paramedic or firefighter. You should contact your individual state licensing agency or local emergency responder association to find out about the opportunities that might exist in your area.
Discover Grants for Paramedic School
The Bound Tree Medical Legacy Scholarship is an excellent resource for those who are sons and daughters of EMS, firefighters, and police officers who are launching their own careers in the field. Funds are available for those working toward their initial training and for recertification.
Does the FAFSA Cover EMT Courses?
If you attend a traditional college to pursue a degree, you might be eligible to receive federal financial aid. According to the IRS, the FAFSA will usually not cover you if you are attending an EMS or paramedic certification program that is not part of a degree program at a college or university. Even if the course is offered at a college or university but is not a regular degree program, the FAFSA will not help you cover expenses.
You have several options for finding assistance for funding your EMT or first-responder training and certification. The best option is to try to find grants that you do not have to pay back. You can find many local and state grants and scholarships available if you know where to look.
The best place to begin your search is by contacting schools in your area that offer a certification course. They are often aware of many local resources and special foundations for this purpose. You can also contact the registering agency in your state, as many of them have resources available. Another option is to contact your local EMS services on the nonemergency number and ask.
References
Writer Bio
Adam Luehrs is a writer during the day and a voracious reader at night. He focuses mostly on finance writing and has a passion for real estate, credit card deals, and investing.