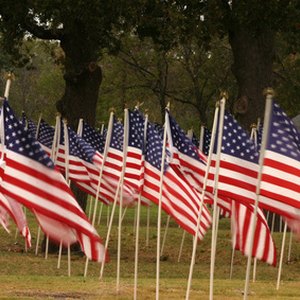 •••
american flag image by George Wada from Fotolia.com
The United States government offers a helping hand when you need financial assistance. Government grants are monetary awards issued by the federal government. Typical recipients include non-profit organizations, schools and local and state government agencies. Grants are available for a variety of tasks, including paying for college and funding charitable activities. When you're informed about government grants, the easier it is to find and apply for legitimate opportunities.
Government Grants and Your Safety
You might see advertisements online, in magazines or in newspapers promising to provide access to federal grants for a fee. The advertisements often say you can use the money to pay bills, buy a car or use for any personal expense you want. The advertisements are false on two accounts. First, the federal government never charges a fee to provide information or applications for grants. If anyone asks you for money in conjunction with a government grant, then you know it's not a legitimate opportunity. Second, no government grants exist for paying personal expenses. The Federal Trade Commission reports the federal government never awards grants to individuals for expenses such as paying debts or buying personal goods. Your vigilance is necessary because the government tries to stop these illegitimate offers but that doesn't stop con artists from creating new opportunities.
Grants.Gov
The federal government uses the Grants.Gov website to inform citizens of government grants. The website is free to access, and anyone can search for opportunities. Grants.Gov requires you or the organization you represent to complete a registration process. You cannot apply for grants on Grants.Gov until your registration is complete and approved. Registration normally takes three to five business days but will take longer if your application has errors. The majority of grants available are for local and state governments, special district governments, official Native American tribal governments, non-profit organizations and education institutions. A smaller number of opportunities exist for small businesses and individuals. Individuals normally benefit from federal grants indirectly by way of programs funded by government grants.
Government Grants for Students and Educators
The Federal Student Aid Program offers government grants for students and educators. As of 2011, the following grants are available through the program: Teacher Education Assistance for College and Higher Education Grant, Federal Pell Grant, Academic Competitiveness Grant, National Science & Mathematics Access to Retain Talent Grant, Institutional Grants and Iraq and Afghanistan Service Grant. You cannot apply for any of the grants before applying for and receiving federal financial aid. The school you attend or plan to attend also must participate in the Federal Student Aid Program. You can discover if your school participates in the program by visiting the school's financial aid office.
Application Process Tips
When applying for government grants, you must submit a grant proposal along with any other documentation the grant program requires. The United States Environmental Protection Agency suggests learning all you can about the federal agency sponsoring the grant. You should understand the goals of the agency, and what it's trying to accomplish by offering the grant. You can find this information by carefully reading proposals or announcements associated with the opportunity. Federal agencies award grants to projects that best fit the criteria of the grant; therefore, it's best to make sure your project meets all of the requirements. You're free to modify your project in order to qualify for a specific grant. However, you must present your project truthfully in the proposal. When the federal government awards a grant, you must use it as instructed. Some federal agencies keep close watch on recipients to make sure awarded funds are not misused.
References
Writer Bio
Michelle Strait is a professional writer with over five years of experience. She has written for several publications, including "Writer's Digest." She has also created logic puzzles for "Penny Press Magazine." Strait graduated from the University of Alabama with a bachelor's degree in journalism and English.