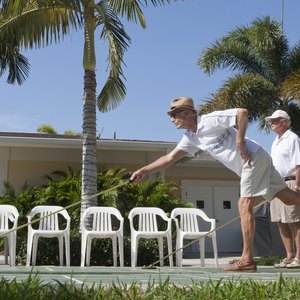 •••
Huntstock/DisabilityImages/Getty Images
When looking at the demographics of the Sunshine State, nearly ​40 percent​ of the massive Florida population is over the age of 50. What makes this state particularly appealing for senior citizens? It could be the mild weather or the beautiful golf courses that attract senior citizens, or perhaps it's the many Florida senior benefits that the state offers. The state takes care of its elderly in numerous, generous ways that other states may not.
Age Requirement for Senior Citizens
Although the senior citizen age in Florida is 60 or over, the state offers some benefits for those aged 55 or over. The Department of Elder Affairs in Florida has an extensive website that has programs and services available for seniors. With each assistance program, there are age requirements that individuals must meet in order to apply.
Housing Benefits Available
Although the cost of living in Florida is not that far off from the national averages for monthly housing costs, the state has many programs in place to assist with housing. The Directory of Centers for Independent Living offers a website for seniors to locate a contact in their region to assist with housing needs. These include Public Housing Agencies where you can be placed in a suitable home or you can be awarded a housing choice voucher that can cover your rent at specific homes in the area.
An additional resource for housing aid is the Florida Housing Finance Corporation. Although this is not specifically a senior benefit, the elderly are encouraged to apply for help through this housing agency. They have been helping individuals with burdensome housing costs for almost 40 years.
Senior Community Service Employment Program
The Senior Community Service Employment Program, or SCSEP, helps individuals who are over 55 find and hold a job. The program includes training opportunities and helps individuals to be independent with financial stability. This program is subsidized by the state and the federal government. It is mostly for individuals who need a transition into retirement who don't have the best employment opportunities.
Medical Transportation Services
The state of Florida has a system of transportation available to the senior community to enable them to remain connected to their communities. The Statewide Medicaid Managed Care Plans provide enrolled members with further transportation opportunities. The SMMC program is easy to enroll in through the Department of Elder Affairs website. In addition, you can get a glimpse at the covered services in the plan before enrolling.
Availability of Resources
The Sunshine State is also appealing to senior citizens because of the availability of resources. From countless independent living options such as 55+ communities to every level of assisted living, the state is jam-packed with housing options. The nursing home facilities abound for later in life options and the assisted living homes offer a wide variety of services and affordability. If you're a loved one taking care of an aging senior citizen, there are even adult daycare facilities to help with dementia and Alzheimer's patients while you work.
The Florida Senior Living Statistics page has a great list of areas that are high on the list for retirement communities. You can even plan ahead and choose a community that is close to a hospital with good ratings for potential future emergencies or treatments.
A Few More Resources
There are countless programs and benefits for senior citizens in Florida but these additional few are worth mentioning. For those in need of heating or cooling assistance, Florida has an emergency home energy assistance program for the elderly.
When you're in need of a good resource for nutritional information, the state offers nutrition programs at most senior citizen centers. Furthermore, Florida truly cares about those who have the responsibility of caretaking for aging individuals by offering support groups to give community to those in the thick of caretaking duties.
References
Writer Bio
With over seven years of freelance writing experience across a variety of genres, I have quite a bit of education and research to share with those looking for financial guidance. My personal experiences, including two house purchases, two paid off car loans, home refinance, and a Home Equity Line of Credit process, give me the practical knowledge to assist with large financial decisions. Meanwhile, budgeting everyday necessities for a family of seven focuses my expertise on daily savings. In addition, I have written financial articles for a top ranking finance site, Go Banking Rates.