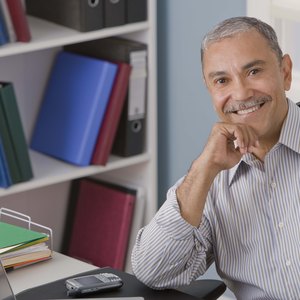 •••
Jupiterimages/Stockbyte/Getty Images
If you overpaid your taxes or qualify for some tax credits, you are likely to get a refund. But your refund status depends on various things, such as how you filed your tax returns, your current address and the method of refund payment you opted for.
If you live in Arkansas, you are likely to find all the information that you need on the Arkansas state tax website. But it would be helpful to understand the factors that affect your refund status at both the state and federal levels.
Factors Affecting Your Refund Status
How long does it take to get Arkansas state tax refunds? Well, it depends. Below are some of the factors that affect your federal tax refund status as well as your state refund status.
1. How You Filed Your Tax Returns
You can either file your state taxes electronically or use paper tax returns. The processing time varies for each method and directly influences when you can begin receiving your refunds.
If you filed a paper return, it will take up to ​10 weeks​ to process it. On the other hand, if you filed an electronic return, you should wait for ​21 business days​ to elapse beginning from when the return receipt was acknowledged.
2. Refund Payment Method
How you intend to get your refund matters. If you choose to get paid via a paper check, it must be mailed to your current address first. So, until you receive that check in the mail, your IRS refund status shall remain pending. Therefore, expect to wait up to ​eight weeks​ after your return is accepted.
But those who choose a direct deposit after the electronic filing of taxes tend to get their refund within ​21 days​ after the tax return has been received. However, if you file electronically and prefer a check, it may take ​four weeks​. And when direct deposit is used, you could get a refund on the same day it is sent or within a few days if the bank delays processing it.
3. Your Current Address
If you filed your tax returns using an address different from what you currently have, it will delay your refund check. That's because your check will be forwarded to the state. And you must complete and sign the Individual Income Tax Name and Address Change Form to make the change in address official, so your refund can be sent to where you currently live.
4. The Errors You Made
When you file a tax return and make common mistakes, such as using the wrong bank information, performing incorrect calculations and forgetting your SSN or signature, it will delay your tax return processing time. And that, in turn, will affect your tax refund status.
5. You Owe Money to Federal or State Agencies
Some kinds of debt can cause your refund to be intercepted and possibly decreased, thus affecting your tax refund status.
For example, if you are subjected to the Treasury Offset Program (TOP), your refund could be intercepted to pay for delinquent debts, such as the child support payments you owe Arkansas state agencies.
Also, if you have received UI benefits overpayments, the TOP will take effect and your tax refund will be intercepted. And you could experience Arkansas tax refund delays of up to ​nine weeks​. However, if what you owe is more than the amount of your refund, you may end up with nothing.
How to Track Your Arkansas State Refund
You can check your refund status using the Where's my Arkansas refund tool available on the official state website.
The Where's My Refund tool only requires two important pieces of information. The first is your nine-digit Social Security Number, which must be similar to what you used on your tax return. The second is the whole dollar value of your expected refund. Once you input those values, the online tool will provide you with the status of your state refund.
Arkansas Tax Refund Contact Information
If you need to reach out to government staff concerning your tax refund, the local Arkansas state tax refund phone number to call is: ​(501) 682-1100​.
You can also use the Arkansas Individual Income Tax Taxpayer Assistance Office's toll-free number: ​(800) 882-9275​, and choose the first option for refund queries. Ensure you call within the business hours (8 a.m. until 4:30 p.m.) from Monday through Friday.
References
Writer Bio
I hold a BS in Computer Science and have been a freelance writer since 2011. When I am not writing, I enjoy reading, watching cooking and lifestyle shows, and fantasizing about world travels.