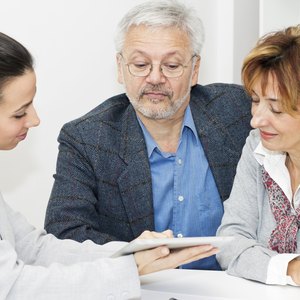 •••
BakiBG/iStock/Getty Images
Insurance is traditionally available through local agents responsible for marketing, meeting with prospective customers, submitting applications to insurance companies and providing service after policies are in force. Although the agent-based model is still widely used in insurance, direct writing is an alternative to purchasing certain types of insurance through a local agent.
Company Vs. Agent
Direct writing is the practice of providing insurance directly through a company, rather than through a local agent. You may obtain quotes, make down payments and policy payments, make policy changes and request documents online or via telephone. Direct writing insurance company employees assist you with choosing policy features and purchasing coverage. These companies sometimes also employ adjusters to manage claims. Private passenger auto and term life are among the most common types of insurance offered through direct writers.
Advantages
The primary advantage of working with a direct writer is that you can obtain insurance quickly, without having to leave your home. You can shop for and purchase insurance when it is convenient for you, instead of having to make an appointment with an agent or broker's office. In some cases, insurance purchased through a direct writer may be less expensive than through a local agent, because direct writers do not incur the expenses involved with maintaining agencies.
Disadvantages
Unlike working with a broker who can help you compare quotes and coverages offered by several insurance companies, working with a direct writer only gives you access to a single company's coverages and rates. This means you may not get the most cost-effective coverage for your money. Also, when you purchase a policy with a direct writer, you will not have access to a dedicated agent who can explain policy provisions, help you make coverage changes and file claims on your behalf.
Evaluating a Direct Writer
If you choose to purchase insurance through a direct writer, there are strategies you can use to determine if a direct writer will treat you fairly and adequately cover claims. Contact your state's Insurance Department to inquire about complaints filed against the insurance company by policyholders and claimants. You can also obtain insurance company reports from the National Association of Insurance Commissioners, as well as rating agencies such as Standard and Poor's and A.M. Best, to determine a direct writer's ability to pay claims.
References
CPCU 510: Fundamentals of Risk Management, Insurance and Professionalism; AICPCU Society
Writer Bio
Owen Pearson is a freelance writer who began writing professionally in 2001, focusing on nutritional and health topics. After selling abstract art online for five years, Pearson published a nonfiction book detailing the process of building a successful online art business. Pearson obtained a bachelor's degree in art from the University of Rio Grande in 1997.