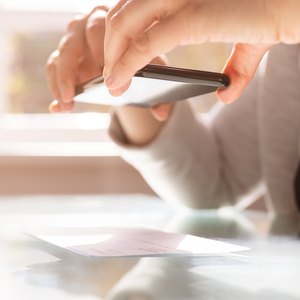 •••
AndreyPopov/iStock/GettyImages
Thanks to the increase in the number and types of digital finance apps, you can easily add money to your bank account – even when you don't have cash. Depending on your bank, you can use a variety of credit products and apps to make a deposit or transfer funds.
By keeping accounts, like checking accounts, with enough money in them, you can avoid overdraft fees, bounced checks and other problems that can damage your credit.
Visit an ATM
A convenient way to deposit money into your bank account and avoid lines is to use an automated teller machine. Have your cash ready and your checks signed. Insert your ATM or debit card into the machine and enter your PIN. Select "make a deposit" from the menu. Choose "cash deposit," "checks" or both, based on the next prompt. Enter the amount of money you will be depositing.
Put your cash and/or endorsed check(s) into the correct slot and wait for the ATM to process the deposit. You'll be asked to verify the amount of your deposit. If it's correct, select "yes" and wait for the transaction to finish.
Deposit Money in Person
If you have a bank branch near you, you can visit the location and deposit cash into your account. You can use one of the deposit slips you received when you opened your account or use a counter deposit slip. If you use a counter deposit slip, you'll need your bank account number.
Using a deposit slip, fill in the amount of money you want to deposit, writing the cash amount and check amounts separately. For example, if you are depositing ​$100​ in cash and two checks for ​$20​ and ​$40​, you'll enter ​$100​ under the cash heading, then ​$20​ and ​$40​ under the heading for listing checks.
Next, list the total amount of cash you are depositing – in this case, ​$160​. If you are depositing checks only and want cash back, you will write the amount of cash you want back. For example, under the "checks" heading, you'll put ​$20​ and ​$40​. On the cash-back line, you'll write ​$15​ if that's the amount of cash you want back. You'll need to sign the deposit slip if you're getting cash back.
Depending on your bank, you might be able to do a drop-box deposit, using a deposit slip, your money and an envelope. This option is usually used by people who don't have an ATM card and want to make a deposit after hours, or when an ATM at a location isn't working.
You can also mail in a deposit, following the directions on your bank's website. It can take ​five to 10 days​ for your money to get into your account, based on how fast the mail is and how fast your bank can process your transaction.
Use Online Banking Options
Most bank accounts have a mobile banking app you can download and link to your account. You can use it to transfer money from one account to another or to deposit checks. When depositing checks, you'll check that option from the app menu, then take a picture of the front of the check and the (signed) back of the check. Follow the rest of the prompts to finish your deposit.
You can also set up an online account to make deposits, transfer money between accounts and perform other transactions on your computer. Visit your bank's website and follow the directions to set up your account. Once you do, you should have immediate access to your account.
Using digital banking, you can add money to your account using a credit card or a personal finance app like Zelle, PayPal, CashApp or Google Pay. You can add money to one account (for example, your checking account) by transferring money from another (your savings account). You can also allow others to transfer money from their accounts into yours. You'll need to coordinate with the other person and provide them instructions for doing this via your bank.
Use a Credit Card
Credit card companies allow you to transfer balances not only from other credit cards, but also into a savings or checking account. For example, if you have a credit card with ​$2,000​ worth of available credit, instead of transferring ​$2,000​ worth of balance from another card, you can transfer ​$2,000​ into your checking or savings account.
If you do this using a balance transfer, you'll pay a fee of ​3 percent to 5 percent​ and pay no interest on the amount transferred for a specific time period (often ​six to 18 months)​. Or you might pay no fee, but pay interest on the amount you transfer. If you do a cash advance, interest rates can be very high.
Contact your credit card company to see if you have this option – a phone agent can often perform this transaction for you. You might also be able to do this online. You'll need your bank account routing number and account number.
References
Writer Bio
Steve Milano has written more than 1,000 pieces of personal finance and frugal living articles for dozens of websites, including Motley Fool, Zacks, Bankrate, Quickbooks, SmartyCents, Knew Money, Don't Waste Your Money and Credit Card Ideas, as well as his own websites.