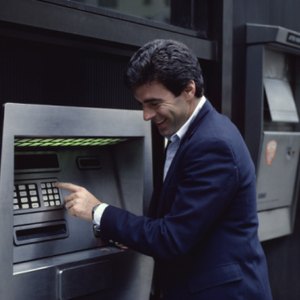 •••
Jupiterimages/Photos.com/Getty Images
If you work a regular day, it may not be easy to deposit cash with a teller at your local bank. You can deposit cash in an automated teller machine (ATM) any time of the day or night. You must have a checking account and a debit card with a bank to deposit money in an ATM. The deposit may not be registered for up to three business days, depending on when you deposit the money and the policies of your bank. Never deposit money in an ATM that isn't directly associated with your bank.
Go to an ATM at your bank or one that is directly affiliated with your bank. The option to deposit cash won't appear unless you're at the correct ATM. Most major banks have an ATM locator on their websites.
Remove an envelope from the slot on the machine. Write your name and the amount of your deposit on the envelope. Place your cash in the envelope. If there are no envelopes available, the machine may offer an option to accept cash without an envelope. The ATM at Bank of America allows this, for example.
Put your card into the machine and key in your personal identification number (PIN) to activate the system.
Enter the amount of your deposit, if prompted. Machines without envelopes may calculate your cash deposit amount without you entering it.
Finish your transactions and take your receipt. Save it as proof of your deposit.
References
Writer Bio
Melly Parker has been writing since 2007, focusing on health, business, technology and home improvement. She has also worked as a teacher and a bioassay laboratory technician. Parker now serves as a marketing specialist at one of the largest mobile app developers in the world. She holds a Master of Science in English.