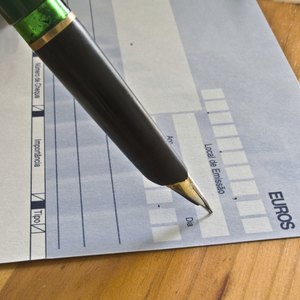 •••
ManuelSousa/iStock/Getty Images
Mobile banking and online banking have become popular due to convenience, but there can also be some limitations to that convenience. For example, you may have a paper check that cannot be a direct deposit or a mobile check deposit to your online bank account.
Suppose you have a ​$5,000​ check to deposit, but your mobile deposit limit is ​$3,000​ and your online bank has no physical bank branch. What can you do? Do not worry if you cannot deposit a check in person or online. Knowing how to send check deposits by mail can provide a valuable alternative.
Why Mail a Check Deposit?
There are a few reasons why you might have to deposit your check by mail. Maybe you want to contribute to one of your accounts and physical mail is more convenient. Or, perhaps the amount of the check is too large for a mobile deposit from your banking app. Many banks have a mobile deposit limit on the dollar amount per check, while some accounts do not have the option for mobile deposits at all.
Banks and credit unions will often enforce deposit limits on the dollar amount of each check that can be uploaded via mobile app. Some banks also enforce limits on total monthly deposits. Allowable deposit amounts can vary and depend on the financial institution and the account. Your account agreement will contain those details and requirements for check deposits by mail.
Mobile deposits do not always work as intended. They will always require uploading check images of both the front and the back of the check. A technical issue that prevents clear images from being photographed and uploaded from your mobile device may necessitate a mail deposit.
How to Send a Deposit by Mail
Banks and credit unions will allow customers to mail in checks for deposit into a deposit account. A deposit account is an account from which money can be withdrawn or deposited. Common examples of a deposit account would be a checking account or savings account. Other accounts that accept mail deposits include retirement accounts or brokerage accounts.
Personal checks should be entirely filled out to help prevent fraud in case the check is lost or intercepted. In addition to most checks, you can deposit money orders by mail. Keep records of the check in case it needs to be replaced. Do not send cash for deposit by mail.
You can mail your check with a deposit slip to your bank for deposit as you would typically send mail, including by overnight delivery if you are in a hurry. It may take a few extra business days for the deposit to post. Each bank will have specific policies on the account agreement or a related FAQ.
Will Banks Deposit a Mailed Check?
Your deposit by mail will be posted to your account after all bank requirements are met and the check clears. Each bank will provide its mailing address and deposit slips for receiving and processing mail deposits. Be careful to address your deposit to the correct address, even if it seems to be a post office box. The mailing address is often a lockbox, which is a PO box specifically for receiving bank payments.
You will need to mail the endorsed check along with a deposit slip with your account information. Endorsing a check is signing the back of it to verify the information filled out by the issuer. Most banks require checks to be endorsed before deposit. It is also advisable to write "For Deposit Only" underneath your signature on the back of the check for additional security.
Include the deposit slip as it is specifically required by your bank or credit union. A deposit slip will identify you as the payee, your account details and any other instructions to the bank for deposit. Not all banks mandate a deposit slip for mail deposits; U.S. Bank only requires the account number to be written on the check. Double-check the account number and all personal information before sending a check deposit by mail.
Is it Safe to Mail a Check?
Mailing a check is a safe way to make a deposit if you follow all guidelines from your financial institution and take a few precautions. If you are concerned about mailing a check, visit the United States Postal Inspection Service (USPIS) website for tips on mail safety. If you have been the victim of mail theft or fraud, you can file a claim with USPIS.
Exercise caution when mailing checks through the mail. Some banks will provide postage-paid envelopes. If your bank does not offer envelopes, using a security envelope is an excellent way to make it harder to identify the contents or account information.
Your account number is mandatory for all check deposits by mail. If your account number is not written on the check or the deposit slip, it increases the likelihood that the check will not deposit successfully. Including your bank account number on either the memo line or under your signature will further restrict the endorsement.
If you have any sort of unique situation, contact the financial institution ahead of time to inquire about your options for depositing the funds. For example, suppose you have a stale-dated check or a check requiring multiple signatures. Unsuccessful deposits to member FDIC institutions will become unclaimed property that can be reclaimed by directly contacting the FDIC.
References
Writer Bio
Hashaw Elkins is a financial services and tax professional, as well as a project management consultant. She has led projects across multiple industries and sectors, ranging from the Fortune Global 500 to international nongovernmental organizations. Hashaw holds an MBA in Real Estate and an MSci in Project Management. She is further certified in organizational change management, diversity management, and cross-cultural mediation.