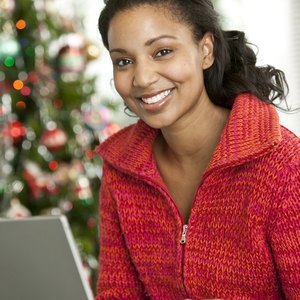 •••
Comstock Images/Comstock/Getty Images
If you're about to apply for a loan, it would be good to know where lenders might get information about your creditworthiness and the information that is included in those files. Your consumer files contain information about your payment habits and even your employment history. You can contact the credit reporting agencies directly if your files contain incorrect information.
Credit Information
Lenders usually get as much credit information as possible on a borrower. They typically pull credit reports from the three main agencies, Equifax, Experian and TransUnion. Of the three scores, they usually use the one in the middle. Another important thing to know is that if one credit report has an error, the other two may well have the same problem. If you find an inaccuracy in a report, contact the agency to dispute it. They will investigate the item at no cost to you. Also, check the other two to ensure that they don't contain the same error.
Equifax
One of the three key reporting agencies used by creditors is Equifax. It's a company based in Atlanta, Georgia, but its activities span 17 countries. This company collects data on a huge number of people. According to its 2011 Annual Report, Equifax had records on more than half a billion consumers and more than 80 million companies all over the world. It has a specialized consumer information business unit which can provide creditors with data relating to a person's credit, employment and income and other relevant information such as wealth and utilities.
Experian
Experian is another noteworthy reporting firm that aids creditors. Dublin, Ireland is home to its headquarters while it has key offices in Brazil, the United Kingdom and the United States. It has around 17,000 employees scattered across 44 countries. According to its half-year financial report for 2012, Experian earned revenue of roughly 4.5 billion dollars in the 12 months leading up to March 2012. The company seeks increased access to sources of information on consumers, such as publicly available records and rental data. It also offers BusinessIQ, which is a product that advises creditors about recent developments related to the credit standing of companies.
Trans Union
Trans Union has been around since the late 1960s. It's based in Chicago but has operations in more than 30 countries. This company can provide creditors with a risk model which predicts whether certain people are likely to file for bankruptcy over the coming year. Trans Union partnered with Experian and Equifax, and together they develop a product called VantageScore. This product advises creditors about whether a person is likely to fall behind on payments over the next two years.
Other Agencies
The three main reporting agencies offer free credit reports once every 12 months. However, it's important to know that they are not the only firms that can do this. There are other credit reporting companies. Many of them specialize in certain fields or industries. For example, Clarity Services focuses on payday loans, and the Insurance Information Exchange provides reports on traffic violations and accidents. Additionally, the National Consumer Telecom and Utilities Exchange gather information on requests for utility connection, payment track records, defaults and fraud.