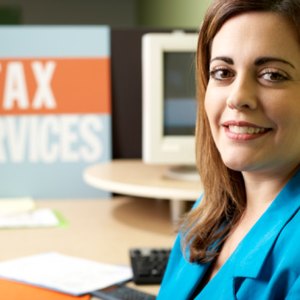 •••
Creatas/Creatas/Getty Images
Approximately 80 percent of Americans get their tax refunds by direct deposit, according to the IRS. You can set this up yourself or have your tax preparer do it for you. If you use H&R Block to prepare your taxes, make sure you instruct them to set this up for you. If you have any questions about whether H&R Block is going to do this, you can visit an H&R Block location, start an online chat or call them at their toll-free number (​800-472-5625​) to verify your instructions.
What Is Direct Deposit?
If you have a refund coming from the IRS, the IRS can mail you a paper check through the U.S. Postal Service or deposit the money electronically, directly into your bank account. If you want to be paid quickly and not have to wait weeks for your refund, you can supply your bank account information to the IRS or your tax preparer can do it for you.
You'll need to provide your Social Security number, bank routing number and your bank account number. You can have your money deposited into your savings or checking account. Once you're set up and you've filed your taxes, you can track the status of your refund using the IRS Where's My Refund? tool.
Why Use Direct Deposit?
The quick answer is: you get your money faster – and not only your tax refund. As one way to help Americans deal with COVID-19-related unemployment, the U.S. government, during the Trump and Biden administrations, sent stimulus checks to Americans, which were cash payments citizens could use as they pleased.
Americans who had filed taxes and given the IRS their bank account information received their checks first – often in a matter of days. Those who mailed in their taxes and paid or received their refunds with a check often had to wait weeks for their stimulus checks.
Contacting H&R Block
You can contact H&R Block about direct deposits in one of three ways: you can stop by one of their brick-and-mortar locations, you can visit the H&R Block website and start an online chat or you can call the H&R Block number (​800-472-5625​) to check the status of your refund or ask other questions.
If you've already worked with the company and had them prepare and submit your taxes, be prepared to give them your H&R Block information, or your name and Social Security Number. If you use them to file your taxes, ask about the H&R Block direct deposit schedule to see when you might get your refund.
If you'd like to get your refund money even earlier, ask about H&R Block's early refund payment option. You can get up to ​$3,500​ the same day you file your taxes. You will need information, including a government-issued ID, such as a driver's license or passport.
References
Tips
You can also click the "Check e-file status" in the H&R Block email message to determine if your filed taxes were accepted by the IRS.
Writer Bio
Steve Milano has written more than 1,000 pieces of personal finance and frugal living articles for dozens of websites, including Motley Fool, Zacks, Bankrate, Quickbooks, SmartyCents, Knew Money, Don't Waste Your Money and Credit Card Ideas, as well as his own websites.