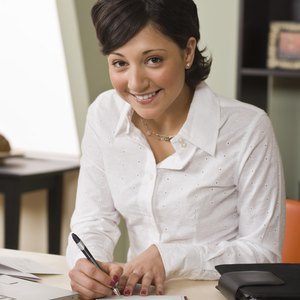 •••
Jupiterimages/Stockbyte/Getty Images
An abrupt loss of earnings or unexpected expenses can stretch your finances to the breaking point, forcing you into overdrafts, which may trigger a significant amount of additional charges.
Overdraft-related fees are an important source of bank revenues. The Center for Responsible Reporting notes that in 2017 alone, overdraft fees provided about $11.45 billion in revenues for banks with assets greater than $1 billion. By 2019, The New York Times reported that figure had grown to $11.68 billion.
If you are one of the nine percent of account holders who paid 84 percent of those overdraft fees, it's likely you carry an account balance of only a few hundred dollars. It's also likely that your bank is not one of the very few that waive overdraft fees. Familiarizing yourself with some facts about these fees can help.
Account Overdraw Basics
In a theoretical sense, a bank account overdraft is a reflection of an individual's overall financial well-being over time. It's an indication of a consumer's ability to pay their bills on time with their regular earnings.
In a practical sense, when your account balance falls short of your expenditures – bank account credits – you overdraw on your account. For instance, assume your bank account balance is $35. If your bank allows a $40 purchase for which you pay using your debit card, you overdraw your account by $5. This event is a clear indication that you are, by definition, struggling financially.
Based on your bank's policies, an overdraw may lead to an overdraft fee.
Effects of Overdraft
In 2020, the average overdraft charge of $32.11 was applied to a bank account each time a transaction was executed on that account if it had a less than zero balance. According to the FDIC, that fee, in addition to the amount you are overdrawn, is immediately deducted from the account's next deposit.
This deduction occurs regardless of the source of the deposit as soon as the deposit is debited to the account. Let's assume that you overdraw on your account in the amount of $5, that the bank's overdraft charge is $32.11 and your next deposit is $100. In this case scenario, your account balance following the deposit will equal $100 minus $37.11 ($5 plus $32.11) or $62.89. What's more, if you live paycheck to paycheck, the unplanned $37.11 fee will make you more likely to incur an additional overdraft fee in the future.
Reordering of Transactions
If a bank processes transactions from high to low rather than in the order they occurred, it reduces the account balance more quickly and results in more overdrafts than other methods. Some banks apply this approach to maximize overdraft fee income.
The high-to-low reordering approach is a simple one; for example, on a $500 checking account balance, a $600 rent payment would be processed before two smaller transactions of $80 each, even if the two $80 debits were received first. In this case, the reordering leads to three overdraft fees, rather than one, which would occur if the transactions were processed in chronological order.
Typically, a bank discloses transaction reordering in the fine print of its deposit account agreements, so the high-to-low reordering approach can be difficult to spot.
Correcting an Overdrawn Account
Once you are aware of an account overdraw, contact your bank immediately. If the source of the overdraw was beyond your control, such as a problem with the system of a vendor for which you've authorized an automated deduction, the bank may waive the overdraft fee. In this situation, deposit the amount of the overdraw only.
If the overdraw was due to an accounting error on your part, deposit additional cash to cover the amount of the overdraw and the associated fee. Then, commit to taking more care in monitoring the balance of your account.
Overdraft Countermeasures to Know
You can take a few measures to avoid overdraft fees, including:
Banking With an Organization That Waives Overdraft Fees. If your bank is a large one, it may offer an overdraft fee waiver on a discretionary, case-by-case basis. To determine if your bank offers an automatic overdraft fee waiver, ask a bank representative directly or ask for the portion of the bank's revenues that overdraft fees represent.
Using Tools That Banks Provide. These tools encourage customers to track balances, accumulate emergency savings and avoid overspending. For instance, use a manual or online check register to track your bank deposits and withdrawals. Also, remember to document ATM withdrawals and deposits as well as debit card purchases in the register.
In addition, you might avoid overdrafts by linking your checking and savings accounts. When you do so, you effectively maintain a cash cushion to prevent unintended overdrafts. In this case, should an overdraft occur, the bank would transfer funds from your savings account to your checking account to cover the amount of the overdraft. Also, you can opt in to debit card overdraft coverage and low-balance alerts.
If you live paycheck to paycheck, the frequency with which you may overdraw your account depends in part on the whims of fate. But regardless of their origins, overdraft fees and the sequence in which a bank processes your transactions can make a drastic difference in your well-being and that of your family. To make the best of this bad situation, take the appropriate preventative measures, and when an account overdraft occurs handle it quickly and appropriately.
References
Writer Bio
Billie Nordmeyer is an IT consultant of 25 years standing. As a senior technical consultant for SAP America and Deloitte Touche DRT Systems, a business analyst, senior staff, and independent consultant, Billie has worked across the retail, oil and gas, pharmaceutical, aeronautics and banking industries. Billie holds a BSBA accounting, MBA finance, MA international management as well as the Business Analyst and Software Project Management certificates from the Cockrell School of Engineering at the University of Texas at Austin.