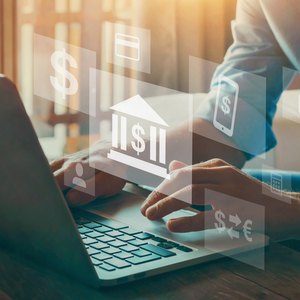 •••
anyaberkut/iStock/GettyImages
An overdrawn checking account is frustrating and embarrassing, and it can leave the account holder feeling hopeless and anxious. Because most banks charge reoccurring fees for overdrafts, getting an account balance out of the red can be challenging. Fortunately, communicating with the bank or credit union and your creditors can help you clear things up.
What Is an Overdrawn Account?
An overdrawn account is one that has a negative balance due to things like withdrawals, debit card transactions or outstanding checks that drive the available balance below zero. If you have overdraft services, this transaction might be covered by the bank, resulting in an overdraft fee. You must opt in for overdraft protection, according to the FDIC.
If there is no overdraft coverage and the bank declines to cover a transaction, you can still be assessed a non-sufficient fund fee, or NSF fee. Transaction reordering can be a major contributing factor to an overdrawn account.
You might mentally track available funds after debit card purchases or ATM withdrawals, but your bank may not process them in that same order. According to CNBC, your bank could be processing transactions from the highest dollar amount to the lowest through transaction reordering. As a result, you will incur even more overdraft fees than if the transactions had been processed in chronological order. This also means that your posted balance may not reflect all pending transactions, making it hard to keep your checkbook balanced.
What Happens If You Go Overdrawn?
If you have overdraft protection, the bank continues to pay certain types of transactions, sending you further and further into debt and increasing your overdraft fees. As soon as you realize your account has insufficient funds, call merchants with which you have automatic bill payments or future ACH payment agreements and cancel them, suggests the Consumer Financial Protection Bureau. They may be willing to waive additional fees if you pay when the situation is under control.
If you cannot clear the overdraft quickly, your bank may close your account, send it to collections or threaten legal action. Overdraft fees can be charged both per day the account was overdrawn and per transaction after that. Reducing the fees may offer the overdraft option to cover the negative balance with cash.
Fortunately, many banks are willing to work with individuals who are in this situation, especially given the global pandemic of the past few years. Some banks have even reduced their overdraft fees as a result.
Fixing an Overdrawn Bank Account
The fastest way to clear an overdrawn account is to deposit enough money to cover the overdrawn amount, overdraft fees and applicable transfer fees. Deposit it as quickly as possible to restore a positive balance. You can also get a cash advance from a credit card and use it to cover your overdraft.
Be aware that deposits may not post to your account immediately, warns the CFPB. This means that the fees might not stop immediately upon depositing additional funds.
Some banks reverse one-time overdraft fees for loyal customers who don't overdraw accounts often. Even if you have overdrawn your account before, communicating with your bank may get at least some fees waived. In many cases, creditors and bankers are willing to work with you if they know you're trying to resolve the situation.
Preventing Overdraft Charges
Prevention is the best remedy when dealing with banks. A good way to avoid overdraft and NSF fees is to ensure that there is a cash buffer in the account, just in case. You can also link another account, often a savings account, to create automatic overdraft protection transfers from the linked account into your checking account if spending goes overbalance.
If you use mobile banking, you can also set up balance alerts that will send a notification when your balance dips below a specific dollar amount.
References
Writer Bio
Hashaw Elkins is a financial services and tax professional, as well as a project management consultant. She has led projects across multiple industries and sectors, ranging from the Fortune Global 500 to international nongovernmental organizations. Hashaw holds an MBA in Real Estate and an MSci in Project Management. She is further certified in organizational change management, diversity management, and cross-cultural mediation.