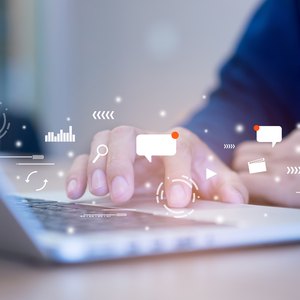 •••
Chainarong Prasertthai/iStock/GettyImages
Thanks to the internet and more digital personal finance tools, scamming consumers is becoming easier and easier. Some scammers use personal or nonprofit tricks, while others pose as legitimate companies.
Even companies that regularly do business might not be as professional as their websites or advertising makes them look. Using a variety of tools that protect consumers, you can find out if a company is legitimate or not.
Find the Company's Website
Any scammer can create a professional-looking website for free or at a low cost. Scammers won't create many pages, however, and add things like staff bios, product catalogs, blog posts, customer testimonials and other content. Look for a privacy or terms of service page.
Look for the company's contact information, particularly a street address. Using the street address, you can do a Google search to see if the address is real, if it's a commercial building or if it's someone's house.
Another way to find out if a company is legit is to look for online reviews.
Call the Company's Phone Number
A simple way to research a business is to call its phone number. Ask whoever answers several questions, such as who the CEO or president is, what their address is and if you can speak to their HR or IT or marketing director.
Ask if the company will give you any references from vendors, suppliers, distributors, its bank or other stakeholders. If the person refuses to give you any basic information about the company, that's a red flag. If someone is calling from a hidden phone number, that's a red flag.
If someone claiming to represent a business calls you, ask for his name and phone number and ask if you can call him back at the company's main number so you can have the receptionist put you through. After you hang up, do a Google search of the phone number to see if there are any complaints associated with it.
Use the BBB Website
The Better Business Bureau is a government agency that tracks consumer complaints against businesses and provides business ratings. Navigate to the BBB's business search page and look up the company you're researching. Read any reviews and see if the Bureau has assigned an A+ to F grade for the business.
Visit the FTC Website
The Federal Trade Commission is another consumer watchdog agency. You can visit its website and look for cases filed against businesses. You might find that a business legitimately exists, but has had one or more brushes with the law in the past. Visit the website's "Looking for Something?" page to see where to go on the site to find the information you're seeking.
Check Online Reviews
Another way to find out if a company is legit is to look for online reviews. Sites such as Yelp, Angi, Glassdoor, Google My Business and Amazon customer reviews can help you see what experiences other consumers have had with a company. You can also use your social media sites, such as Facebook, LinkedIn, Twitter and Instagram for help from your networks and followers.
Check Your Secretary of State's Website
If you're checking out a local company, visit your secretary of state's website and do a corporation search. Not all businesses are incorporated, but this is one more tool you can use to see if a business you're researching has taken the steps to incorporate, who the officers are and how long they've been in business.
References
Tips
If a company is demanding a large amount of money upfront without much explanation of services, this could be a red flag, according to the FTC. Always thoroughly research a company before giving it money.
Warnings
Don't neglect to do research about companies abroad. The FTC also collects information about cross-border complaints. If you have a problem with an international business, you can also make a complaint with the FTC.
Writer Bio
Steve Milano has written more than 1,000 pieces of personal finance and frugal living articles for dozens of websites, including Motley Fool, Zacks, Bankrate, Quickbooks, SmartyCents, Knew Money, Don't Waste Your Money and Credit Card Ideas, as well as his own websites.