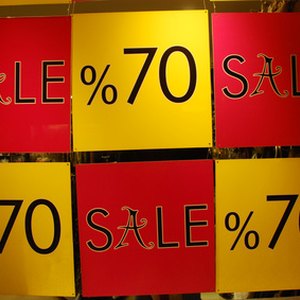 The consumer is the person or entity who purchases, attains or invests in a product or service. Consumer education refers to the process of a buyer learning about the products or services she is considering to attain. Learning can be as quick as reading a label or as in-depth as taking a course in a subject, such as personal finance. Consumer education is the answer to the common phrase found in the business world, "buyer beware."
Using Available Data
Consumer education consists of two parts, having the information available and the buyer reading or learning about it. There is much information online and in books about pyramid scams and how to identify untrue promises with certain jobs, yet many people fall for old lies.
Finding Government Help
Companies are not allowed to give the consumer false information. City, state and federal agencies are tasked with ensuring business do not lie and willfully deceive. Entities such as the Federal Trade Commission and state consumer-protection agencies serve as excellent sources of information where consumers can learn about products, companies and services.
People can also use these resources to file complaints and possibly pursue legal action against companies that deceive the buyer. Many times, it is only when companies are threatened by legal action that they become truthful and other consumers can now educate themselves about the issues.
Considering the Better Business Bureau
One organization that is helpful in consumer education is the Better Business Bureau or BBB. By visiting online or calling, a person can check a company or business field and see records of consumers who filed complaints, the reason why a complaint was filed and if it was resolved.
Likewise, if you have been cheated, treated poorly or feel you have a legitimate complaint against a business, you can file your complaint, so others may learn about the company's reputation. Since sales can be affected by a low BBB rating, many times, a company will work with you to resolve the problem.
Become an Educated Consumer
Many times, information is right at the consumer's fingertips. Businesses often feel an educated consumer has more confidence in buying a product and re-ordering it. It is not only up to the company to provide the information, the government to regulate it, but the buyer must be willing to take time and read the information. Packaged food items sold in the United States must have a label that lists ingredients in order of their amount within the product.
Information on vitamins, calories per serving and diverse nutritional information must be clearly written on the product for people to learn about it before they buy. Any public company must detail information such as its annual revenue, assets and debt. An educated consumer is a buyer who takes time to learn before buying.
High schools often add consumer education to their curricula. This includes teaching students about credit cards, student loans, warranties, simple contracts, grocery shopping and other aspects of personal finance.
Learn Before You Buy
Proper research into a product or service means viewing the available data from a few different sources and comparing what you learn. You may enter an electronics store site to purchase a computer. Read all the details and specifications, product reviews from others who have bought it, then exit the site and look for that particular computer on a site that isn't trying to sell you the product. Look for defects, complaints and any information about the company and other products they have sold.
References
Writer Bio
Daryn Edelman, a professional writer/lecturer in spirituality, mysticism, business ethics, culture and politics since 1999. He has written scripts for "The Chabad Telethon" and diverse articles featured in "Farbregen Magazine" and Chabad.com. He graduated from the University of California Los Angeles with a Bachelor of Arts in religious studies and the University of Liverpool with a Master of Arts in English.