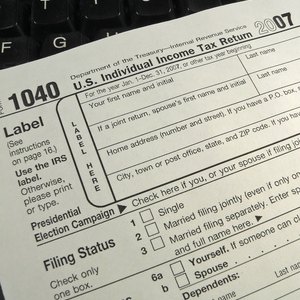 Learning to prepare taxes will enable you to prepare your own and others' taxes, as well as be employed by a tax preparation company. While you don't need any special training to prepare taxes, if you work for a company you will need to adhere to their requirements. Companies may have both educational and experience requirements. In Michigan, to become a tax preparer you will want to take classes.
Step 1
Determine if you want to become a tax preparer for yourself and friends and family, as an independent contractor, or for a company. The requirements to become a tax preparer for a company will depend upon that company's requirements. A company such as H&R Block will have their own training procedures. If you want to learn how to prepare taxes so you can help out family and friends or enlist your own clients, the process will be what you want it to be.
Step 2
Take as many tax preparation classes as you can. If you are going to work for a company, the firm will have its own training program, testing and requirements. To prepare taxes indepedently, enroll in tax preparation classes at a local community college. Most will have financial classes, accounting classes and even advanced tax preparation classes. Take as many of these as you can. And, once you are comfortable and preparing taxes, continue to take classes to brush up on your knowledge and any changing trends. This will familiarize you with specific information such as amendments and tax credits specific to Michigan and relevant to the current year, as well as working with W-2s, and Forms 1099 and 1040.
Step 3
Visit the Department of Treasury website. This page that will walk you through how to become a tax preparer in Michigan. The site is Department of Treasury: Michigan Taxes (see References). This site will answer any questions you may have while preparing taxes including: making a payment to the treasury, any tax updates, earned income tax credits, voluntary contribution information, and how to claim city income tax and homestead property tax credit information.
Step 4
Learn the ins and outs of the Internet since many people want to file their taxes electronically.
Step 5
Take the IRS certification exam. It certainly won't hurt to have this under your belt and will increase your confidence and the confidence of those who ask you to prepare their taxes.
Step 6
Take classes related specifically to tax preparation in Michigan. An example would be a class in "Michigan Tax Deductions."
References
Writer Bio
Sarah Estlund is a freelance writer based out of Kansas City. Originally from the Hawkeye State, she received her degree in journalism from the University of Iowa. Estlund writes a dating column as well as more than 15 blogs ranging in topic from celebrity, fashion, pets, self-help and alternative medicine. She has a love of animals and shares that passion in her writing.