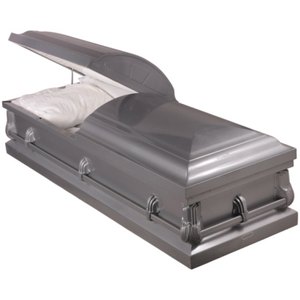 •••
PhotoObjects.net/PhotoObjects.net/Getty Images
Morticians are also referred to as undertakers or funeral directors. A typical mortician job consists of embalming, dressing, casketing and cosseting the bodies of the deceased, preparing obituaries, arranging funeral ceremonies and overseeing the performance of the last rites. The job also includes the arranging of the burial or cremation of a loved one.
While the job involves witnessing some of the saddest moments in most people's lives, it is also pretty rewarding. You can go home each day knowing you helped people in their worst moments and gave them excellent last memories of their loved ones.
And not only is being a mortician psychologically rewarding, but it also pays well too if you choose to work in Indiana. A typical licensed funeral director salary is ​$75,410 a year, or $36.25 hourly​. So, it doesn't hurt to learn how to become a mortician in Indiana since funeral director requirements by state usually vary.
How to Become a Mortician in Indiana
Below are the steps you should take to become a mortician in Indiana.
1. Meet the Basic Criteria
First, you must ensure you meet the basic criteria that will enable you to start your journey toward becoming a mortician in Indiana. That means you should be at least 18 years old and have a high school diploma or its equivalent. You must also have some college education, part of which must be related to funeral services.
2. Get the Relevant College Education
The national body is responsible for college and university programs in funeral service and mortuary science education. So, any mortician programs Indiana institutions offer should be overseen by the board.
And you can use its website's search tool to find accredited schools and programs in the state. Examples include:
The Ivy Tech mortuary science program offered via an associate of applied science degree – distance learning is unavailable.
Vincennes University mortuary science program offered via an associate of applied science and associate of science degrees – distance learning is available.
Mid-America College of Funeral Service programs offered via an associate of applied science and bachelor of science – distance learning is available.
You must complete at least ​30 semester hours​ of college credits over four academic quarters in an accredited mortuary school or complete a ​21-month​ accredited mortuary science program to qualify. So, expect to spend a few years studying.
3. Complete an Apprenticeship
Once you do at least one year of college in a mortuary science or related course program, you must undertake an apprenticeship or internship program lasting one to ​three years​ in a funeral home. There is a license for an internship that will then be followed by a practicing license.
To be on the safe side, you may want to perform a funeral director license lookup online to ensure the professional you are apprenticing under is licensed. Otherwise, your apprenticeship experience may not count.
4. Pursue State Licensing
To take the licensing test, you must apply to the board through your MyLicense.IN.gov account and submit the relevant documentation. Ensure you apply early enough because it will take ​four to six weeks​ for your application to be processed. And have your debit or credit card ready because you will need to pay.
5. Meet Post-Licensing Requirements
Your mortician license is valid for ​two years​, after which you must apply for a renewal. And to continue practicing in your chosen field, you must undertake ​10 hours​ of continuing education every ​two years​ so your license renewal can be approved.
References
Writer Bio
I hold a BS in Computer Science and have been a freelance writer since 2011. When I am not writing, I enjoy reading, watching cooking and lifestyle shows, and fantasizing about world travels.