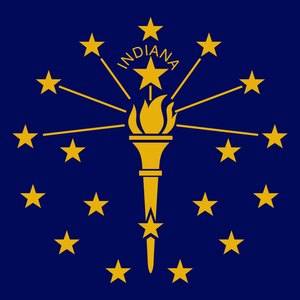 Whether you hire someone or file your taxes on your own, it's important to know some tax basics. Indiana has a flat income tax rate. That means that no matter what your adjusted gross income (AGI) is, you still pay the same tax rate. Indiana's income tax rate is​ 3.23 percent​.
Who Must File Indiana Income Taxes?
According to the Indiana Department of Revenue (DOR), full-year residents must file an income tax return if their gross incomes are more than their total exemptions. But if their income is less than or equal to their total deductions, they don't have to file. For instance, if your gross income is $10,000 and your exemptions are $10,000, you will not be required to file a state income tax return.
There are other stipulations on who needs to file. For instance, if you had income from Indiana but were a part-time resident, you will need to file. The same goes for individuals who were full-year nonresidents who received an Indiana income.
Residents of Michigan, Ohio, Kentucky, or Wisconsin who received income from Indiana, will also need to file.
What Are the Forms to Use?
The form you use to file your Indiana tax return depends on your filing status.
​You are a single, full-year Indiana resident​: Use Form IT-40.
​You are married, filing jointly and you both were full-year Indiana residents​: Use Form IT-40.
​You are married, filing separately, and were a full-year Indiana resident​: Use Form IT-40.
​You are a single, part-year Indiana resident​: Use Form IT-40PNR.
​You are a full-year nonresident​: Use Form IT-40PNR.
​You are filing a joint return, were an Indiana resident during some or all of the year and your spouse was a part-year or full-year nonresident of Indiana​: Use Form IT-40PNR.
​You are a full-year Indiana nonresident and receive taxable income from Indiana​: Use Form IT-40PNR.
​You are a full-year resident of Kentucky, Michigan, Ohio, Pennsylvania or Wisconsin and the ​only​ income you received from Indiana was from wages, salaries, tips or other compensation​: Use Form IT-40PNR.
There are other forms for unique circumstances on the miscellaneous form page of the Indiana Department of Revenue website.
Also keep in mind that the filing status you use for your Indiana state tax return should be the same as the status you use to file your federal tax return.
What Are the Filing Deadlines and Extension Process?
The due date for Indiana state tax returns follows the federal deadline. Tax returns are typically due by midnight ​April 15​. In 2022, however, this date is observed as a holiday for many taxpayers, so returns are due by ​Monday, April 18, 2022.​
All extensions must be filed by April 18, 2022, but if you have a federal tax extension, then you automatically receive a state extension. If you file a tax extension, you can then e-file your taxes until ​October 17, 2022​ without a late filing penalty.
If you don't have a federal extension, you can still ask for an extension on your state taxes by filing form IT-9 by April 18. Send the form to: Indiana Department of Revenue, P.O. Box 6117 Indianapolis, Indiana 46206-6117.
Military personnel stationed outside the United States or in Puerto Rico, automatically receive a ​60-day​ extension.
What Are the Penalties for Late Filing and Underpayment of Taxes?
Not filing your taxes on time or at all can result in Indiana Department of Revenue financial penalties. Even if you have an extension, you can still be penalized if you haven't paid what you owe by the due date.
If you don't file your tax return, there is a ​20 percent​ penalty. There is a ​100 percent​ penalty for failure to file a tax return with the fraudulent intent to evade tax. And if you file a return without the payment due, the penalty is ​10 percent​ of the unpaid tax liability or ​$5​, whichever is greater. This penalty is also applied if you are required to pay online and fail to do so.
It will cost you ​$10​ for each failure to file a timely return, up to ​$25,000​ in a calendar year. This penalty is also for those who fail to file electronically if required.
Where Do I Mail/E-file My Indiana Return?
There are several ways to send in your Indiana tax return. One way to file is to mail it in. The address for mailing a return that includes a tax payment is: Indiana Department of Revenue, P.O. Box 7224 Indianapolis, IN 46207-7224.
If you are mailing in a tax return and requesting a refund, then you will mail it to: Indiana Department of Revenue, P.O. Box 40 Indianapolis, IN 46206-0040.
You can also file e-file. Indiana has a free service for those qualified. The service is called INfreefile. A filer can also go through an approved online filing company. A tax professional from one of these services can help you with online tax preparation.
How Do I Pay Taxes Due?
You can mail a check or money order with your income tax return. You can also make an online payment. Credit cards and electronic checks are accepted. This can be done through INTIME. MasterCard®, American Express® and Visa® credit cards are accepted, but there is a fee. There isn't a fee with an electronic check.
If you have a letter or a warrant for your Indiana taxes, you can also pay those through INTIME.
The Indiana DOR offers payment plans for those individual taxpayers who cannot pay the full amount. They have monthly payment plans over a fixed period. These periods range from ​12 months to 36 months​, depending on the amount owed. For instance, if you owe $101 to $1,000 you have up to 12 months to pay in full. Manage your payment plan and make payments on INTIME; a down payment may not be necessary.
Where Can I Check My Indiana Refund Status?
To inquire about your state income tax refund, go to my refund on INTIME. You'll be able to find refund information from 2017 to the current year. You'll need your Social Security number and your tax ID to fill out the form.
You can also check the status of your refund by calling ​(317) 232-2240​ to access the automated refund line. You should allow ​2 to 3 weeks​ before calling.
What About Indiana Taxes if You're Self-employed?
Flow-through entities, which include S-corporations, limited liability companies, sole proprietorships and partnerships, do not have to file business tax returns. Instead of filing a business income tax return, the owners or members of these entities only file their individual state income tax returns.
What About Indiana Taxes if You're a Business?
Some businesses need to file income tax returns too. Corporations must file business tax returns. The AGI tax rate for a C-corporation is ​4.9 percent​. A corporation may also set up a payment plan. The payment requirements are different from the individual taxpayer requirements. Corporate payments can be made and managed on INTIME.
References
Writer Bio
Anne attended University of Akron and went on to have a career in television sales. Working as a commercial property and casualty insurance agent for nine years allowed her to learn about different businesses' needs. She has also owned an advertising agency where she created marketing capaigns for various clients. Anne has written for several publications. She currently resides in Charleston, SC.