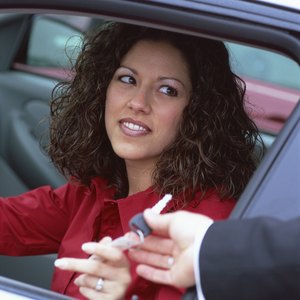 •••
Jupiterimages/liquidlibrary/Getty Images
Americans are willing to spend as much as $27,500 or more to purchase a used car. Therefore, selling the vehicle you own is an excellent way of raising cash for financial emergencies and to finance other projects.
However, you need to be very careful when selling a car in Texas. The last thing you want is for the new owner to get into legal problems that will then be passed on to you because the authorities think the car is still yours.
Thankfully, the Texas Department of Motor Vehicles (Texas DMV) provides clear instructions for conducting proper car ownership transfers. If you follow them, there is no way authorities will hold you accountable for any taxes, liens, tickets and accidents that take place once the sale goes through.
Vehicle License Plates
Your car's license plates are yours to keep once the Texas DMV issues them to you. So, you can transfer them to your new car instead of leaving them to the buyer because doing so protects you.
Transferring your license plates is usually free. You can obtain the help you need from the county tax assessor's office in your locale, which will be responsible for issuing you a new registration sticker. Also, remember to remove the stickers from your old vehicle before you hand it over.
Texas Vehicle Bill of Sale
You need to create a bill of sale to show that your motor vehicle has been sold legally. The legal document should contain information about you and the buyer, including both your names and addresses, the description of the vehicle such as make, model and vehicle identification number, the purchase price, sale date and your signature.
On the back of the title, ensure you include the odometer reading and then date and sign it.
Texas Vehicle Title Transfer
The agreement to sell your vehicle is not enough. The authorities must be aware of it. For that reason, the buyer must download and complete Form 130-U, which is an application for a Texas title. Ensure you include the vehicle's sale price and sign the application form in the section designated for the vehicle seller.
Once the form is completed and signed, you need to file it at your local county tax office so it becomes an official record of your transaction. At this point, you must also submit insurance information, vehicle description documents, the bill of sale, smog certification, registration fee, your state ID or driver's license and any other documents associated with the car you have sold, such as an additional liens statement.
Texas Vehicle Transfer Notification
The vehicle buyer has 30 days within which to submit an application for a title transfer. So, they may delay doing so for their own reasons. But ideally, you should accompany them to your local county tax office and watch as they file the forms.
When you file the notification at your local DMV offices, the Texas DMV will note that your car has been transferred. You can also mail the DMV release of liability form to the address specified within it.
The former acts as DMV release of liability online. And be sure to specify the month and year the sale transaction took place.
Always keep all the physical and digital documents concerning a vehicle sale. There may come a time when you need them to get yourself out of legal trouble.
References
Tips
Writer Bio
I hold a BS in Computer Science and have been a freelance writer since 2011. When I am not writing, I enjoy reading, watching cooking and lifestyle shows, and fantasizing about world travels.