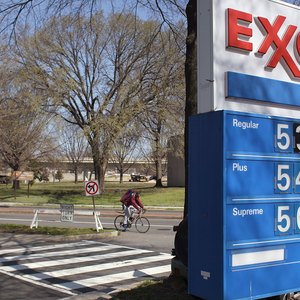 •••
Mark Wilson/Getty Images News/Getty Images
Signing up for gas cards not only makes it convenient for you to pay for gas, but you can also get rewards and rebuild poor credit. Some chains, such as ExxonMobil, only offer credit cards issued by a third-party bank that offer perks to their customers. You can apply for an Exxon gas credit card online, or by picking up a form at an Exxon or Mobil station.
Gas Cards vs. Gas Credit Cards
For many years, gas station chains offered gas cards that could only be used at their stations. These cards made it convenient for consumers when they didn't have cash or a credit card and needed to refill. The cards offered perks, such as gas discounts.
One of the big benefits of these types of cards for people with bad credit is that they are easier to qualify for than regular credit cards, but your use of them still gets reported on your credit reports. If you make your payments on time, you can improve your credit scores.
More and more gas station chains are going to gas credit cards, issued by third-party banks. You can use your credit card anywhere you can use a credit card. These cards provide more non-gas rewards and perks because the bank issuing them offers its rewards and perks (along with the gas company's discounts) to users.
ExxonMobil Smart Card
Exxon offers a smart credit card through Citibank that gives you discounts on gas purchases at Exxon and Mobil stations. As of November 2021, Exxon was running a signup bonus that offered ​30 cents​ off per gallon at Exxon and Mobil stations and ​$6​ cash back if you paid for your gas using your new card in the ExxonMobil Rewards+ phone app three times during the first two months after you opened the account. You then received a ​6 cent​ per gallon discount, along with other perks.
You can review the benefits and sign up for the card at this link.
Apply For The Card Online
The quickest way to apply for Exxon credit cards is to visit the online application page. You'll need to provide the same information you do for most other credit cards. Citibank, which issues the cards, determines your Exxon credit card approval or not. Be prepared to provide:
Your full, legal name
Your Social Security number
Your street address
Your phone number
Apply Using the App
The only other way to apply for an Exxon gas card, according to the company's website, is to download the ExxonMobil Rewards+ app at the Apple Store or Google Play. Once you activate the app, you can apply for a card. Visit this link and scroll about midway down the page, looking for "You can also apply for a Smart Card in our app" and the Apple Store and Google Play icons to the right.
Apply for a Fleet Card
If you are a small-business owner (say, a landscaper with several trucks and crews), you can get ExxonMobil fleet cards. These cards allow you to track fuel purchases, set up different payments options and earn gas discounts and rebates. They are intended for fleets of 1 to 15 vehicles, according to the ExxonMobil fleet web page.
Buy an Exxon Gift Card
You can purchase Exxon and Mobil gift cards, which load a set amount of money (that you determine) to the card. Each time you use the card, the amount of the purchase is deducted, until you run out of money.
These cards work just like other gift cards and you can buy them for yourself or give them to friends. They do not offer any fuel discounts or other perks. You can apply here for a gift card, where you can also check your card balance or find an Exxon or Mobil station.
References
Writer Bio
Steve Milano has written more than 1,000 pieces of personal finance and frugal living articles for dozens of websites, including Motley Fool, Zacks, Bankrate, Quickbooks, SmartyCents, Knew Money, Don't Waste Your Money and Credit Card Ideas, as well as his own websites.