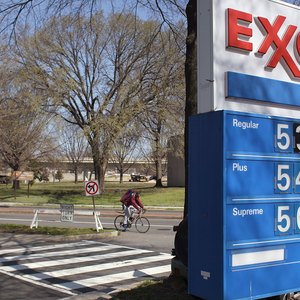 •••
Mark Wilson/Getty Images News/Getty Images
When you apply for and receive an ExxonMobil Smart Card, you can save 6 cents per gallon at an Exxon or Mobil station after purchasing 45 gallons in a month. Card users also get a Speedpass key tag they can use at a pump instead of getting out their credit card. You can apply online or in person at a station.
Apply Online
To apply for the card online, visit the Exxon Mobil credit card website and click on the link to the online application. You must be at least 18 years old and a citizen of the United States to apply. Fill in your personal information including full name, email address, home address and home phone. The application also asks for your annual pay, whether you own or rent your home, and your monthly rental or mortgage costs. Add your date of birth, Social Security number, a driver's license or other photo ID number, and the state of issue of your photo ID. Accept the terms and conditions and submit the form. You'll either be instantly approved or receive notification within 30 days of your approval.
Sign Up in Store
You can also fill out a paper application at an Exxon or Mobile station and turn it into a cashier. The paper application asks for the same information as the online application. For both methods of applying you have the option of adding an authorized user for the card by including his full name. The application also asks for how many Speedpasses you want attached to your account and whether you would like your bill at the beginning, middle or end of the month.
References
Writer Bio
Lindsey Thompson began her writing career in 2001. Her work has been published in the Cincinnati Art Museum's "Member Magazine" and "The Ohio Journalist." You'll also find her work on websites like Airbnb, Chron.com, and USAToday.com. Thompson holds a Bachelor of Science in journalism from the Scripps School of Journalism at Ohio University.