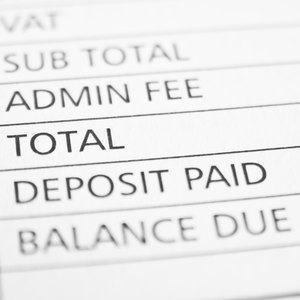 •••
ZoltanFabian/iStock/GettyImages
As the fifth-largest bank in the country, US Bank services a good chunk of the population. The bank's overdraft fees are in line with the rest of the industry, but there are a few features that protect members against those fees. If you have a US Bank checking account, you can link to a variety of other accounts to cover you if you ever overspend your balance.
US Bank Overdraft Fees
Overdraft fees at US Bank are in line with the industry average. You'll pay $36 per overdraft at US Bank, compared to the national average of $33.36, according to Bankrate. This $36 fee is charged on every item US Bank pays on your behalf, with a limit of four overdraft fees per day.
But US Bank does give a little leeway with those charges. As long as you don't overshoot your account balance by more than $5, US Bank covers it without charging you a fee. If your account balance remains overdrawn by $5 or less at the end of the business day, you will not be charged an overdraft fee.
Extended Overdrafts
Although overdrafts can happen to anyone, lenders expect you to keep a positive balance every day. If your balance remains negative for seven consecutive calendar days, US Bank charges an extended overdraft fee of $36 per day, starting on the eighth day.
If you have an overdraft on your US Bank account, it is your responsibility to deposit the funds to take care of the charges and the fees immediately. This applies even if someone else on the account was responsible for the overdraft. As stated in your Deposit Account Agreement, US Bank has the right to cancel an account for any reason.
US Bank's Transaction Posting Order
Overdrafts often happen because account holders incorrectly guess the order in which transactions will go through. You may pay your rent, for instance, assuming your paycheck will go through before your landlord processes the payment. Avoiding overdrafts starts with understanding the order in which financial institutions process incoming payments.
At US Bank, transactions are processed in the following order:
All deposits received by the daily cutoff time are processed before any withdrawals go through.
Non-check withdrawals go through next. Those include debit card transactions and ATM transactions. These are processed in the order in which they were presented to US Bank for payment.
Checks go through last. Checks are processed in order of the number on the check, starting with the lowest first.
US Bank's Overdraft Coverage
US Bank separates overdraft coverage and overdraft protection in its account information. Every account comes with standard overdraft coverage. Overdraft coverage simply applies to the way the bank handles payments that come through if an account balance is lower than the debit coming through.
With this standard coverage, US Bank pays any incoming debits on your behalf, then charges you for the amount along with a $36 overdraft fee. This does not include ATM transactions or debit card transactions, unless you've opted in to overdraft coverage on those events. With a few quick steps, though, you can set up overdraft protection to reduce, and in some cases eliminate, all fees and ensure all payments are covered.
Setting Up Overdraft Protection
If you're a US Bank customer, you can easily set up overdraft protection to cover any overages. To do this, you'll log into your online or mobile banking account and go to your checking account. Click on "overdraft protection" and choose which bank accounts to link. You can link up to three.
Once you've linked accounts, US Bank will look to those accounts next if you ever have a debit come through that your checking account can't handle. If the transfer comes from a deposit account, there will be no fee for the transfer.
Deposit accounts include:
US Bank consumer savings account
US Bank money market account
US Bank checking account
You can also link credit accounts, but there will be a fee for those transfers. If US Bank has to transfer money from one of these accounts to cover a debit, it costs you up to $12.50 per transfer.
Eligible credit accounts include:
US Bank Reserve Line of Credit
US Bank credit card
US Bank Premier Line
US Bank Home Equity Line of Credit
Other US Bank lines of credit
How Overdraft Protection Works
Once you've set up your bank account with overdraft protection, US Bank uses those accounts if your checking ever has a deficit of $5.01 or greater. If a debit comes through and your account is $5.01 or more in the red, the bank transfers $50 from the linked account to cover it.
As more overdrafts come through, US Bank continues to transfer from the linked accounts you've specified, in multiples of $50, charging any applicable transfer fees with each transfer. As long as you keep enough money in your savings account, money market account, or secondary checking account (if you have more than one with US Bank), you won't have to pay any fees.
Mobile Banking for Overdraft Prevention
Even if you have your accounts linked, you'll want to make sure you do what it takes to avoid bank overdrafts. Of course, the easiest way to do this is to keep enough of a padding in your checking account to cover all your typical purchases. But as life gets busy, it can still be all too easy to forget about that extra payment that's coming through.
One of the first things you should do as a US Bank customer is to download the mobile banking app. This allows you to keep an eye on your account from anywhere. Most importantly, though, it makes it easy to access your account in an emergency and transfer funds to cover an unexpected debit.
Account Alerts for Overdraft Prevention
You don't have to check your account every day to know what's going on. US Bank allows you to set up account alerts on your checking, savings, credit cards and debit cards. You can customize these alerts so that you're only notified if your account balance drops below a certain level.
Among the alerts you can set up for your checking account are:
When your account is overdrawn
When your balance drops below a certain level
When a deposit or withdrawal exceeds a certain amount
When an overdraft protection transfer takes place
When your account statement is available for review
It's important to note that you can customize which alerts you receive and at what threshold you receive them. If you find alerts are becoming too intrusive, you can dial them back by increasing or decreasing the threshold.
Contesting Overdraft Fees
If you're a US Bank customer with an overdraft fee, you may be able to have it waived. This is especially true if you're a longtime customer and this is your first time being overdrawn. If you didn't know about the overdraft protection and are willing to set it up immediately, you also could try to talk a customer service representative into waiving the fee.
Although overdrafts can happen to anyone, US Bank makes it easy to prevent them. By setting up notifications and linking your savings or money market account, you can avoid paying the fees that come with overdrawing your account.
References
Writer Bio
Stephanie Faris has written about finance for entrepreneurs and marketing firms since 2013. She spent nearly a year as a ghostwriter for a credit card processing service and has ghostwritten about finance for numerous marketing firms and entrepreneurs. Her work has appeared on The Motley Fool, MoneyGeek, Ecommerce Insiders, GoBankingRates, and ThriveBy30.