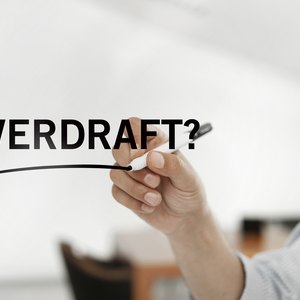 •••
gerenme/iStock/GettyImages
TD Bank is a popular bank with locations primarily on the east coast. As with most financial institutions, TD Bank expects members to maintain a sufficient balance to cover any debits coming through their account. TD Bank, like most financial institutions, charges an overdraft fee for each transaction that overdraws your account, but there are ways you can protect your account against a negative balance due to account activity.
TD Bank's Overdraft Fees
Overdrafts can happen to anyone. Even if you carefully monitor your available balance, a deposit may run late or a payment may clear earlier than expected. When that happens, TD Bank charges $35 per overdraft.
This fee is in line with the average. According to Bankrate, the average overdraft fee is $33.36. The cost of overdrawing your account is on the rise, with the average having increased 19 times in the past 21 years.
TD Bank's Overdraft Policy
Just what are TD Bank's overdraft options? If you have an overdraft on your TD Bank savings or checking account, there is a little leniency built in. TD Bank will cover up to $5 of the shortfall in sufficient funds without penalizing you. TD's $35 fee is limited to five overdrafts per account per day.
When your account is overdrawn, which means it has a negative balance due to a lack of funds, TD Bank takes care of paying the overdraft, then collecting the money plus the fee from you. You're expected to pay the overdraft immediately. If your account is in poor standing or you're regularly overdrawn, TD Bank may not pay the overdraft, at which point the payment you made will "bounce," resulting in fees and penalties on that end of things.
TD Bank's Posting Order
According to TD Bank's account guide, all transactions are processed only on business days, which includes any weekday that is not a federal holiday. If you use your debit card at 2 p.m., it will be processed by the end of the business day at your assigned banking location. Although this varies by location, it's no later than 8 p.m. EST.
Debits are processed in the following order:
Deposits, withdrawals, some fees and pending withdrawals. Fees processed in this step include overdraft, wire transfer, returned deposits and other returned item fees.
Checks that have been written on your account, starting with the lowest check number.
Interest credit, along with all other fees.
TD Bank's Funds Available Policy
You can also overdraw your account by overestimating when your money will be available. Simply depositing money doesn't mean it can be accessible immediately. You can check your account balance online, but it can also help to know how TD Bank processes your deposits.
At TD Bank, the following deposits will be available to you immediately:
Wire transfers
Electronic deposits
Transfers between accounts
Cash deposits made at the ATM or a TD Bank location
Some deposits provide the first $100 immediately, including non-cash deposits made at any TD Bank location or at ATMs. In those cases, the remainder of the balance will be available the next business day. If you make a deposit using TD Bank's mobile deposit option, the full amount won't be available until the next business day.
Preventing Overdrafts
The best way to avoid that $35 fee is to keep an eye on your bank account. TD Bank makes this easy through its mobile banking app. But you can also set up custom email notifications so you'll be alerted any time your account balance drops below a certain threshold.
To set up alerts for your TD Bank account, to to your online banking login and click on the Alerts tab. You can set up alerts for one threshold or multiple ones. If you've gotten carried away with debit card transactions on a specific day, and your balance drops below $500, for instance, you'll know to pull back on the reins before it drops down to the next threshold of $300 or $100.
TD Bank's Overdraft Protection
If you have a money market or savings account with TD Bank, the best way to give yourself peace of mind is to set up overdraft protection on your checking account. This service is free unless you have to use it, and it only kicks in if your balance is negative at the end of a business day. At that point, funds are automatically moved over to cover the overdraft.
Obviously, for this to work, you'll need to have enough money in your savings account to cover any checking shortages. You'll also want to use this service sparingly because there's a $3 fee for each transfer that needs to be made from savings to checking to cover overdrafts. If you don't have enough to cover it, you'll pay the $35 fee as you would if you hadn't set up overdraft protection.
Getting the Fee Waived
If your account has been dinged for insufficient funds, don't assume you can't negotiate the fee away. You may be able to simply pick up the phone and call customer service. If you're paying other fees for your account, note those and use that as leverage. According to C;heese Financial, TD Bank's $15 maintenance fee is higher than many competitors, so if you don't meet the minimum balance to have that waived, politely mention that as you negotiate.
There are instances where TD Bank is more likely to waive the fee. They include:
You're new to TD Bank
This is your first overdraft with TD Bank
Unauthorized transactions caused the overdraft
You failed to set up overdraft protection, but you have a savings account that would have protected it
You had alerts set up but weren't notified as requested
To discuss overdraft charges with TD Bank, call customer service at (888)751-9000. Help is available 24 hours a day, seven days a week, in both English and Spanish.
One great way to avoid overdraft charges is to use a credit card that you pay off each month. If you don't have enough to set up a savings account, you can also look into setting up a line of credit using TD Moneyline Overdraft Protection. If approved, you'll get a line of credit that will cover you when your account is overdrawn.