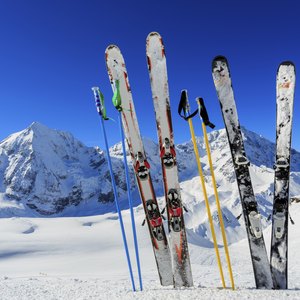 •••
wojciech_gajda/iStock/Getty Images
There are good reasons why passionate skiers travel far and wide for the most challenging slopes and the most scenic snowscapes. This sport is tremendously beneficial to spirit, soul and body. Combining both aerobic and resistance training, skiing also invigorates the mind and emotions as the brisk and exhilarating air slaps the face while the accelerating glide stirs the emotions.
For all the benefits of ski destination vacations, it is often a headache to haul skis to the airport and check them into cargo. Delays, cancellations and unplanned re-routing are known to separate fliers from luggage, skis included. Shipping them ahead is one solution.
When Skis Don't Make It
Airlines have various and sundry policies when they lose or damage your skis. The advocacy group Travelers United contends that certain standards should be adhered to in these instances. They maintain that airlines should be liable for up to ​$3,500​ for any lost or destroyed luggage on a domestic flight. Moreover, the group encourages skiers never to check their boots and to know the airline policies relative to loss and damage well in advance of any flight, domestic or international.
Can't I Just Rent Some Skis?
Renting is not a bad option in some cases. Popular Mechanics magazine observes that decades ago, rental skis were often of poor quality, further diminished by years of use and abuse. Today, resorts and public slopes are more likely to offer solidly built and well-maintained skis and boots to those needing them.
Beginners, especially, find rentals preferable. Yet avid skiers perfect their performance on their own skis. Furthermore, long-term stays that include skiing every day make rentals even pricier. So, the choice really depends on experience and time frame.
Options for Bringing Your Own
If you opt to fly with your skis, some airlines have more generous policies than others. A pair of skis qualifies as one checked item, as do a pair of ski boots. If the airline allows for two free checked bags, you pay only for a suitcase, if too large to place in the overhead.
Another avenue is to employ a reputable courier, e.g. UPS or FedEx, to ship the items ahead.Your local UPS store can arrange for the packing and shipping, though the UPS ski shipping cost will include the purchase of the packing materials. FedEx offers free shipping supplies, but their cost might be baked into the overall cost to ship skis on FedEx.
Whether you take the skis with you or ship them via courier, there is no 100 percent guarantee that the skis and boots will arrive at their destination intact. Mass conveyance of freight, cargo or luggage often involves damage or loss. While this might constitute an argument for renting, it also suggests that your skis may need the tender loving care not typical of traditional shipping methods. Fortunately, atypical means are available to you.
Dedicated Ski Shippers
Unbeknownst to even many skiing enthusiasts, there are businesses that specialize in transporting skis, snowboards and other recreational equipment.
Shipskis.com is one such enterprise that advertises prices well below the traditional courier costs. In addition, ​$500​ worth of insurance is a complimentary service that recognizes the value of your equipment. With affiliated stores around the country, they can receive your shipment or, alternatively, send a representative to collect it.
References
Writer Bio
Adam Luehrs is a writer during the day and a voracious reader at night. He focuses mostly on finance writing and has a passion for real estate, credit card deals, and investing.