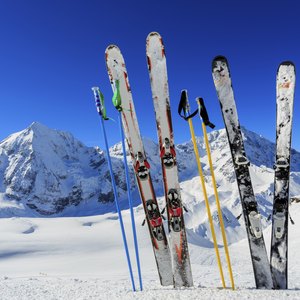 •••
wojciech_gajda/iStock/Getty Images
If you are traveling with skis, too often your gear goes to one location and you arrive in another. This can happen if your luggage is loaded on a flight that is rerouted or canceled, or simply in the case of an error. Arriving at your destination sans gear and having to borrow or rent can put a damper on your ski trip.
Considerations
The best way to ship your skis depends on where you live, where your skis are headed, when they need to arrive and your budget. If you live in the U.S., frequently used shipping carriers include FedEx, Unites States Postal Service and UPS. Planning ahead and allowing plenty of time for your skis to arrive is the best way to get a good price and allow for glitches by the shipper. Call your destination and tell a manager you will be shipping skis. Most hotels and lodges are happy to hold your skis until your arrival. Also, ask your hotel to recommend a carrier it has done business with that has provided reliable service. The hotel may know that, in its area, one shipper is preferential to another.
Cost
Lets say you live in a metro area on the East Coast, you are going to Aspen, Colorado and want to ship your skis. Lets also assume you are budget conscious and want to get the best deal possible. You decide to ship your skis over the weekend to save money. If you ship on Friday end of the day, and use the USPS you will get a better rate if you are willing to have your skis arrive on the following Wednesday. In the interest of saving more money, pack your skis yourself and take them to a local post office or FedEx or UPS drop off site. There are websites available that can help calculate rates and compare by shipper. You can even print out your label online and save more money.
Services
If you need your skis to arrive tomorrow and you are shipping in the U.S., both FedEx and UPS offer overnight services. You can schedule a pick up or drop off your skis at either carrier's office. If you want more help with your gear, services such as Luggage Forward are there to personally pick up your skis, package them if needed and guarantee your skis will arrive on time without a hitch. They offer complimentary insurance as well. The cost is more but it may be worth your peace of mind. In addition to shipping skis, consider sending your boots, poles and even your parka.
Packaging
You've probably paid a lot for your skis and boots and the folks at "Adventure Journal" recognize this. An article titled "When Traveling with Skis or Board, Is It Better to Ship or Carry" discusses the importance of secure packaging for your gear. Many individuals ship their skis in their ski bag. Doing this is probably safe as long as you have insured your gear, but accidents can happen. The magazine suggests a safer option called a Sportube. It is a solid, long plastic box that protects your skis and polls.