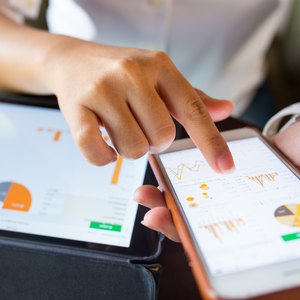 •••
champja/iStock/GettyImages
As people get older, it only makes sense that they'd start thinking about how to invest their money wisely. However, we live in a time unlike any other when almost everything in our world is app-driven. So, why shouldn't that be the case for investments too? Businesses have caught on, and they're coming up with new and unique offerings for users to get on board and start investing with them sooner rather than later. Whether you only have one dollar or $100 to put toward saving for your retirement, here are some apps that can set you on the right path.
1. Acorns
The problem with investing is that too many people think it's only for the wealthy, or those who have thousands of dollars in expendable income. Nothing could be further from the truth. While it's true that you should have an investment goal in mind and aim to save an amount that will help you reach that goal, you can still start off slowly. Acorns is an app that helps with that.
Acorns invests in stocks and bonds for you, based on a predetermined portfolio option that matches the level of risk you're willing to take. Accounts can start with as little as a few dollars up to thousands, but "round ups" are where people tend to save the most. These work by linking to one of your cards and rounding up when you make a purchase. So, if your coffee cost $2.50, Acorns invests the remaining $0.50.
Their fees are simple: one dollar/month for up to $5,000, and 0.25 percent after that. Students with .edu emails can use Acorns for free.
2. Stash
Stash is another website geared towards app-savvy investors, and doesn't require much to get involved. There's a wider array of investment options than there is with Acorns, though their fee model is the same.
With Stash, investors can choose a group of investments that suits the causes they care about, whether it's saving the environment or supporting equality. A big part of what sets Stash apart from its competitors is how much information it provides to its users. There are articles about how to balance portfolios and all other areas of investing. The app only costs five dollars to get started, and can be set up to auto withdraw from your account every month.
3. Robinhood
Want to test out the stock market without paying high fees for each trade? Robinhood may be a good option. This app cuts out the middleman in trading, which passes the savings along to the investor. You simply find the stock you want to buy, and then purchase the desired amount of shares without extra fees. There's a paid version called Robinhood Gold which allows after hours trading, and costs six dollars/month. However, unlike other apps that only require a few dollars to invest (since they offer fractional stocks), with Robinhood you have to buy the whole stock. This means it might be a bit pricier to get started, but if you pick good stocks, you'll receive the full dividends.
The drawbacks of this app are mostly relevant for users who want to do serious investments and trading. There are very limited analytics and data points, mostly only highlighting how the stock has performed over time. If educating yourself about stocks while also investing is important to you, then you may want to try another app. But if you want a free, streamlined investing experience, this is a good option.
4. TD Ameritrade
Some might consider the TD Ameritrade app the opposite side of the coin from Robinhood. Not only can you trade stocks on this platform, users can also buy bonds, futures and Forex as well. This makes it simpler to create a portfolio that's diversified exactly the way you want it, but it's also more expensive. Trades cost $6.95 each, which can add up if investors don't really know what they're doing and are trading without a specific plan in mind.
There's no minimum dollar amount for these accounts, but make sure to tack on an extra $6.95 to each transaction. However, there are some fees that are waived on this app, like no transaction fees or commissions on mutual funds. And, there's a lot of information available about the various investments, too.
5. Betterment
Betterment takes robo-adviser apps to the next level using their three-tiered membership system which starts out with as little as one dollar for their digital plan. This plan costs 0.25 percent annually to manage, and will offer portfolio options based on each investor's age and retirement goals. Their robo-advisers construct the portfolios based on research that won the Nobel prize, which helps set them apart from the rest.
The other two plans available are the plus plan, which costs 0.40 percent annually and requires a $100,000 minimum amount in the account. This plan includes account monitoring from financial professionals and a yearly phone call about the account. The third option is the premium plan, which gives people with accounts over $250,000 unlimited access to their financial professionals for a 0.50 percent price tag annually.
6. Coinbase
Say hello to the top app in the Apple store, Coinbase. It's hard to find any news site that isn't talking about Bitcoin and other cryptocurrencies, which is why Coinbase makes the list of easiest investment apps. Though they only offer four coin options currently, but they make it easy to invest in Bitcoin, Ethereum, Bitcoin Cash and Litecoin, which are some of the largest digital currencies available. Investing in cryptos is still a bit like the wild west, with no one having any real idea about what value they'll receive, and that's got a lot of people looking to invest while prices look fairly low.
Coinbase gives users a digital wallet where they can store their crypto coins for free, but users will be charged transaction and conversion fees when they move their coins around. Those fees are based on the various coins' rates, and are detailed to users before buying and selling them. For those who are looking for a fast, simple way to get on-board the crypto train, then Coinbase is a great option, but keep in mind overall that these types of currency are still very volatile investments.
7. Seedrs
Calling all Shark Tank fans! Seedrs is the investment app for people who want to help fund up-and-coming businesses and get a piece of the cash pie at the same time. This crowdfunding app helps match potential investors with startups who need some seed money. Getting involved on the ground floor doesn't always cost a lot, and with Seedrs, it starts at $10, depending on the campaign.
One difference between Seedrs and other "set it and forget it" apps is that investors should check back for new campaigns from time to time. Business owners have 60 days to meet their campaign goals, which means new opportunities are always popping up. Additionally, Seedrs started a new branch of the business where investors can trade their shares with with each other, like a mini stock market.
Visit Seedrs' website to start investing.
8. WiseBanyan
If five dollars to start and one dollar in fees still sounds too expensive for your wallet, then take a look at WiseBanyan. This is another robo-adviser site that will ask a few questions about your goals and risk appetite, and create a portfolio for you. You only need $1 to start, and there are no annual fees, so you get a basic suite of investing tools for almost free. There are other add-on options that include a more personalized portfolio and tax-loss harvesting.
It still has many of the same free features as the other robo-advisers, like allowing auto-deposits and basic education tools.
9. Vault (Soon-to-Be Acorns Later)
It's becoming more frequent to find people who aren't employed in the traditional workplace anymore, but instead are making their way as freelancers or contractors. That's where Vault (which will become Acorns Later in 2018) comes in. This investment platform closes the retirement gap for people who don't have access to 401(k) plans. Vault is a simple option that offers traditional IRAs, Roth IRAs or SEP IRAs, and will allow you to invest whatever percentage of your income that you like, similar to how an employer-sponsored 401(k) would work. You can either choose to have a specific amount automatically invested into the IRA, or you can choose to use a manual approval method. It's not too expensive, at one dollar/month for accounts under $100,000, and 0.40 percent annually thereafter.
While funds that were invested with Vault are still accessible, it's been acquired by Acorns, and will have a new app launch in early 2018 as Acorns Later.
Visit Acorns Later's website for updates..
10. Stockpile
If Robinhood and TD Ameritrade had an app-baby, it would be Stockpile. This app offers fractional shares in an easy-to-use platform. Each trade costs only 99 cents, it only takes about five dollars to start investing, and there are no monthly fees. However, this isn't even the most popular aspect of Stockpile.
What really gets people excited about this app is their giving feature which makes it easy to gift stocks to other people. So, if grandparents or parents want to set their loved ones off on the right financial path, they can give them either electronic or physical gift cards for stock and/or ETF purchases of their choosing.
References
Writer Bio
Natalie has her BA from University of California, Riverside and has worked in digital media for over a decade. She has been a Bleacher Report featured columnist for Bleacher Report and created content for some of the leading companies in the financial space.