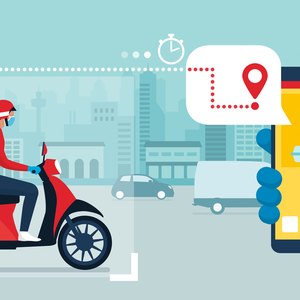 •••
elenabs/iStock/GettyImages
Why cook when you can have a delicious meal dropped off at your front door? As studies show, younger generations have discovered the benefits of having someone else do the cooking. But restaurant delivery can be expensive when compared to grocery shopping. With meal kit delivery services, I've been able to strike a happy medium, enjoying delicious restaurant-like food while saving a little money.
Restaurant Delivery Takes Off
As tough as the COVID-19 pandemic has been on the economy, one area is still thriving: restaurant delivery and takeout. According to the National Restaurant Association, ​66 percent​ of adults reported using takeout or restaurant delivery services in ​Nov. 2020​. Compare this to ​58 percent​ during the last week of ​Feb. 2020​, and you can see the pandemic's impact.
When you narrow the view by generation, the popularity of takeout and restaurant delivery is even more noticeable. Generation Z is enjoying at-home restaurant food ​9 percent​ more than they were before the pandemic, and that number increases to ​17 percent​ more for Millennials. Compare that to Baby Boomers, who are actually doing takeout and restaurant delivery ​2 percent​ less now, and you can see the difference
Eating Habits of Younger Generations
Long before the pandemic, younger generations were taking advantage of services like Uber Eats and DoorDash, with both services seeing significant growth in recent years. But it's perhaps most notable that younger generations are more likely to eat away from home than older generations. It's not that Millennials and Generation Z hate to cook. They simply have more access to easier options than ever before.
Curbside pickup and restaurant delivery may have made takeout easy. But that doesn't necessarily help with the costs. In ​2018​, consumers spent ​$3,459​ eating food away from home. That's ​one-fourth​ the amount spent on basic shelter. That doesn't stop consumers from dining out, though. In ​2019​, ​54.8 percent​ of total food expenditures were on food consumed away from home.
Meal Kit Delivery Services
Restaurant delivery services have some fierce competition these days, though. In an era when consumers are mostly dining at home, meal kits have begun to thrive. But they were already on the rise before COVID. In ​2019​, the global food delivery market was valued at ​7.60 billion​.
With a meal kit delivery service, customers pay a weekly fee and choose a specific number of meals from a selection. The box arrives with all the ingredients needed to make a meal, including spices. Each meal kit includes step-by-step instructions with pictures to make preparation as easy as possible.
Cost of Meal Kit Services
Meal kit delivery services are usually priced per serving. HelloFresh, for instance, one of the most popular brands, ranges from ​$8.99-$12.49​ per serving. The more servings you order, the lower the per-serving price. You'll also pay ​$8.99​ shipping for each week's box. One of HelloFresh's top competitors, Home Chef, is similarly priced. Prices range from ​$8.99-$12.50​ per meal, with shipping based on your order size and location.
Assuming you have a two-person household, and you order two servings twice a week, you'll likely find you're paying about $50 per week for two nights of dinner. That means you'll have to come up with alternative dinner plans the other five nights. You can order three or four nights of meals, but that $50 will obviously increase as your weekly usage goes up.
Delivery Versus Homemade Versus Kit
When you're comparing the three, meal delivery kits can be a happy medium. Depending on the meal, you can eat at home for a few bucks per person per meal. Takeout will always be more than a few dollars per serving, unless you're living on fast food. With restaurant delivery services, though, you're paying even more because there are delivery fees and tips on top of the food cost.
That makes meal kit costs of ​$9 to $12​ per serving a better deal than food delivery apps, even though you're also paying shipping for your kit. My experience with them is that they give me a refreshing alternative to adding long lists of ingredients to my shopping list, bringing them home and making them. Most of these meals simulate the takeout experience without the higher expense.
My Experience With Meal Kits
Honestly, long before the pandemic, takeout was a frequent treat. It's not that I dislike cooking. I simply get tired of making the same few meals over and over, and there are only so many variations of home-cooked recipes you can try.
For a couple of years, we've replaced ​two​ of those weekly takeout meals with meal delivery kits. We alternate between HelloFresh and Home Chef. The cost for both is similar, including delivery fees, but they are each very different services.
My impression of HelloFresh is that the meals are more geared toward "meat and potatoes," while Home Chef has more rice and pasta options. By alternating between the two, I've been able to add even more versatility to our weekly menu.
My Meal Kit Cost Savings
Neither Home Chef nor HelloFresh saved me money on our monthly grocery bill. I used them to replace meal delivery services and takeout, and for us, we save about ​$10 to $20​ a week using meal delivery services. Yes, cooking using grocery-purchased ingredients on those nights could save us ​$10 to $20​ more, but I still cook the same number of nights I did before. I simply switched ​two nights​ of takeout with meal delivery services.
But something even more interesting has come out of my years as a meal kit service user. I've been able to extract a few recipes I really like and add them to my regular cooking schedule. Both services give you all the ingredients and instructions on a card you can keep. I simply buy the ingredients at the store and follow the directions.
For us, meal kit delivery services save money because I used them to replace takeout and restaurant delivery services. If you cook seven nights a week and enjoy it, meal delivery kits will definitely bump up your food costs. But if you rely heavily on takeout and delivery apps, kits are worth a try for ​two to three​ of those nights. Besides, they've helped me improve my cooking skills so that when I do cook, I'm more creative, and that's something money can't buy.
References
Resources
Writer Bio
Stephanie Faris has written about finance for entrepreneurs and marketing firms since 2013. She spent nearly a year as a ghostwriter for a credit card processing service and has ghostwritten about finance for numerous marketing firms and entrepreneurs. Her work has appeared on The Motley Fool, MoneyGeek, Ecommerce Insiders, GoBankingRates, and ThriveBy30.