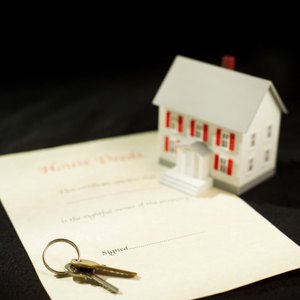 •••
Stockbyte/Stockbyte/Getty Images
A real estate contract is a written offer and legal agreement between a buyer and a seller regarding a commercial or residential property. State real estate associations provide legal contracts on their web sites though basic contracts can be purchase at office supply stores such as Office Depot. It is best to be advised by a real estate agent or an attorney to prepare a contract to prevent legal problems later on. There are a few basics that must be covered in a Texas real estate contract.
The Most Important Aspects of the Contract
Check the local county tax records for a legal description of the property. This can be done online or with the county. The legal description should include the address, subdivision name, block and number, tax number and map book number.
Agree on an offer price. The final offer price will suggest the buyer and seller have come to an agreement on price. If the seller rejects an offer price, a counteroffer can be made by the seller and then the buyer has to accept the price. This price will be above what the buyer initially offered.
Include an option period in the contract. The option period is typically ends seven days after the execution date of a contract. This is the day an offer way made and accepted which is one of the first things that should be done in a contract. The option period time allows a buyer to have inspections done on the property giving them the option to change their minds.
Contact a title company. The title company will need the contract up front and will provide the earnest receipt which is part of a Texas real estate contract. The title company will be able to transfer title and will know whether there are any issues affecting the title such as a lien on a house and so forth. Title companies coordinate with a buyers mortgage company to ensure that funding will be available ensuring a timely closing on a home. Final checks and paperwork transfers are done at title companies on the day of a closing.
Include exclusions in the contract. Contracts should have written exclusions which could be attached fixtures -- anything attached to a wall including bookshelves, pictures, ceiling fans and light fixtures. A seller should make sure this is in the contract so that it is not unclear during the transfer of the property whether something in the property does or does not belong to the buyer.
Include contingencies in the contract. Sometimes a buyers offer is based on the sale of another house which means they cannot buy your property unless another one sales first. This needs to be included in the contract. Conditions of any other agreements between the buyer and seller must also be included in the contract.
Use an escrow agreement. Sellers or buyers that are not using a real estate agent can use an escrow agreement to name a third party such as a title company to hold earnest money and other mentioned deposits. Typically, buyers write checks to title company for $1,000 for earnest money though it really depends on how serious a buyer is and the the final offer price of a contract. These forms can be downloaded online at Audrie.com.
Include a closing date in the contract. Upon approval and acceptance of inspections, title conditions, prequalifications of loans and funding by the buyer and contingencies, the contract should have a smooth closing. A typical closing usually takes about 30 days, allowing enough time for all parties involved in the transaction to get their jobs done.
Real estate contracts are written by lawyers and real estate agents take contract law classes so it is best to contact a professional to help.
References
Resources
Tips
Real estate contracts are written by lawyers and real estate agents take contract law classes so it is best to contact a professional to help.
Writer Bio
Michelle Hooper began writing professionally in 2006 as a Commercial Real Estate Reporter. She wrote for Crittenden Publishing, Inc. covering markets all over the United States, observing investment strategies of pension funds and financial advisers. In 2008 she published a book, "Online Investing: Everything You Need to Know Explained Simply," with Atlantic Publishing Company. Hooper has a bachelor's degree in communications from Mesa State.