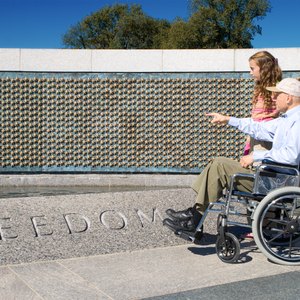 •••
jim pruitt/iStock/Getty Images
Qualified U.S. veterans and active military service members looking to purchase or refinance their homes can take advantage of Department of Veterans Affairs guaranteed mortgages. If you qualify for a VA loan the normal down payment requirement will be waived. VA loans can only be used to purchase a primary residence and are not intended for investment properties. To prevent fraud, you are required to present a statement of service that helps a VA-approved lender verify your military experience.
Meet the VA's eligibility requirements to qualify for a mortgage loan. You must be an active duty military serviceman, a qualifying veteran, a reservist, a National Guard memor a widow of a veteran or a serviceman that died in service or from a service-related injury. Begin by filling out VA Form 26-1880, Request for Certificate of Eligibility, available online or at VA-approved lenders.
Draft an original VA statement of service to establish your identity as a military serviceman or veteran. The statement includes such information as your rank, branch, date of entry into your current military active duty period, Social Security number and any time lost. If you're an active member of a selected reserve unit or a National Guard member you must also include proof you have served at least six years.
Have the VA statement of service you've prepared signed by your personnel officer or unit commander. Once you've had your statement of service signed contact a VA home loan specialist about completing your loan application.
Penalties for VA mortgage-related fraud can be severe. The VA also has strict mortgage underwriting requirements and any missing or incomplete paperwork can delay loan approval.
References
Writer Bio
Marlon Trotsky was born in St. Paul, Minn. and graduated from Mississippi State University with a Bachelor of Arts in Communications, while minoring in sociology. His work has appeared in various print and online publications, including: "The Trentonian," "San Jose Mercury News" and "Oakland Tribune."