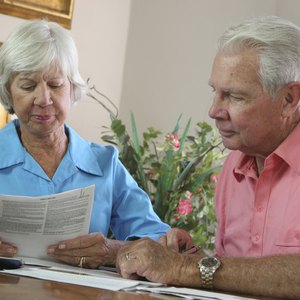 •••
Purestock/Purestock/Getty Images
Just because you already applied for Social Security benefits or began receiving them doesn't mean you can't change your mind. You can withdraw your application, but only have a limited window of time to do so.
Withdrawal Application
Complete form SSA-521, Request for Withdrawal of Application, and list the reason you are withdrawing your Social Security application. Turn in the application to your local Social Security office. If you are receiving Medicare, indicate whether you want to keep or stop your benefits on the application. If you say yes, these benefits will be included in your withdrawal request. If you only want to stop your Part B coverage, you must instead complete form CMS-1763, Request for Termination of Premium Hospital and/or Supplementary Medical Insurance. This must be done in person with a Social Security representative. To schedule an appointment, call (800) 772-1213.
Time and Repayment Considerations
If you are currently receiving Social Security benefits, you have less than one year from the date your benefits began to submit your withdrawal request. If you've been receiving benefits for 12 months or longer, you can't withdraw your application. Once approved, you must repay all of the benefits you received as well as anyone who received benefits based on your application. If you also asked to terminate your Medicare coverage, you must repay any Part A benefits you received. If you are not eligible to withdraw your application, you can elect to suspend your benefits instead. If you can't withdraw your retirement application, the Social Security Administration website says you can ask the agency to suspend benefit payments "if you have reached full retirement age, but are not yet age 70."
References
Writer Bio
Based on the West Coast, Mary Jane Freeman has been writing professionally since 1994, specializing in the topics of business and law. Freeman's work has appeared in a variety of publications, including LegalZoom, Essence, Reuters and Chicago Sun-Times. Freeman holds a Master of Science in public policy and management and Juris Doctor. Freeman is self-employed and works as a policy analyst and legal consultant.