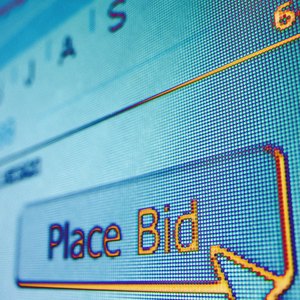 •••
Jason Reed/Ryan McVay/Photodisc/Getty Images
While homes that are owned and offered for sale by the U.S. Department of Housing and Urban Development (HUD) are listed at a certain price, they go to the highest qualifying bidder, who might offer less than the asking price or might offer more. No one wants to overpay for a property, so the trick is finding that magic bid -- the one which secures your home at the lowest reasonable price. With the right real estate agent and a lot of research, you can nail it with that first bid.
Find a real estate agent who is a certified HUD broker. Interview a few agents before making a decision. Ask how many HUD homes the agent has helped clients buy. Ask if she has experience in your preferred neighborhood. Appoint the agent who best knows the HUD bid process.
Find a lender and submit the necessary paperwork to get prequalified for your loan, if you are not a cash buyer. Your sales contract will not be accepted unless you submit a prequalification letter. If the HUD home you are interested is distressed, you'll need a rehabilitation product such as the Federal Housing Administration (FHA) 203(k) Rehabilitation Loan. Your maximum possible bid will be determined by your loan amount, so pay attention to how much you qualify for; however, consider also how much you can comfortably afford to pay, which might be lower.
Make a list of the properties you are interested in and view them. You'll need to take your agent with you, as only HUD-registered agents and the local HUD listing broker can access HUD homes. Inspect the condition of the property. Make notes of anything in need of repair, so that you can cost this.
Have your real estate agent prepare a comparative market analysis for your preferred property. This is a price comparison of similar properties recently sold in the vicinity of your HUD home. HUD homes are listed at fair market value. Many HUD homes are fixer-uppers, and this is reflected in the listing price. The comparative analysis lets you know the likely value of your HUD home post-rehabilitation. If you have to raise your initial offer, the comparative analysis lets you keep track of whether the deal is still favorable and acts as an indicative ceiling value.
Work with your agent to calculate the lowest bid that HUD is likely to accept. HUD publishes bid results for 14 days after an offer is accepted on a HUD home. A good agent will track local bids and know the sort of bid that HUD is likely to accept in your area. You can search accepted bids by case number or state; find the Bid Results tab in the upper right corner of the HUD Home Store Web page. Look at a selection of properties to determine the average appraised value to actual sales price ratio. This will tell you how much below the appraised value HUD is likely to accept in your area.
Have your agent enter your bid using HUD's standard contracts. Your agent will determine the bid cycle you are eligible to bid in; owner-occupants have first priority. HUD reviews all offers received during this period and accepts the highest qualifying bid.
Deliver the signed contract, earnest deposit and prequalification letter immediately upon bid approval. Organize your financing, home inspection and any further appraisal required by your lender before closing, which typically is 45 days after bid acceptance. Your real estate agent will guide you through the process. If you do not adhere to HUD's timetable, you could lose the deal.
References
Resources
Writer Bio
Jayne Thompson earned an LLB in Law and Business Administration from the University of Birmingham and an LLM in International Law from the University of East London. She practiced in various "big law" firms before launching a career as a commercial writer specializing in finance and tech. Her work has appeared on numerous financial blogs including Wealth Soup and Synchrony. Find her at www.whiterosecopywriting.com.