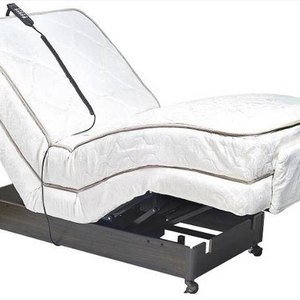 •••
Image Credit: handicappedscootersandmore.com
As you deal with illness or disability, your physician may prescribe an adjustable bed for you. Doctors prescribe these beds for many conditions, including postsurgery recovery; sleep disorders; spinal, circulatory, digestive or respiratory problems; various types of pain; and even restless leg syndrome. For those on Medicare, an adjustable bed may not be the best option unless there is a secondary funding source involved.
Identification
Medicare is health insurance for people over the age of 65. It also covers those under the age of 65 (and over 18) when they've been diagnosed with certain disabilities, and it covers anyone with permanent kidney failure. Since Medicare is mandated by the United States government, you must have lived in the U.S. for a minimum of 5 years and have legally entered the country to qualify. Medicare has several divisions, including Part A Hospital Insurance, Part B Medical Insurance, Part C Medicare Advantage Plans and Part D Drug Insurance. Part B also covers durable medical equipment (DME). Hospital beds are considered DME.
Function
Medicare does not pay for adjustable beds, but they can be billed by your DME provider on a nonassigned basis. This means that you are required to pay the provider for the rental or purchase of the bed, but that the provider will submit a "nonassigned" claim to Medicare on your behalf, including all completed paperwork. This way, if Medicare should choose to pay the claim, it would pay you directly. However, in almost all cases, Medicare won't reimburse for an adjustable bed. Still, for clients who have secondary insurance, a proper denial from Medicare is necessary for coverage to occur.
Considerations
Most durable medical equipment providers who are contracted with their state's Medicaid program will take assignment for adjustable beds if they're able to obtain preauthorization from Medicaid for coverage. "Assigned" means that the provider bills Medicare and Medicaid (or the insurance company) directly and accepts payment directly, writing off any charges above those allowed. Allowed charges are determined by Medicare, Medicaid and the insurance companies and are what these organizations consider "reasonable charges" for certain services. This way, the provider is allowed to bill for and be paid for only the allowed amount. If a provider bills for anything beyond this "allowed" amount, it is considered fraud.
Prevention/Solution
If you or a loved one is on Medicare and a physician has prescribed an adjustable bed, the first step is to determine if your secondary insurance will pay for the bed. If not, you might consider discussing alternative equipment with your physician. For example, a semielectric hospital bed is covered under Medicare's capped rental program. This means that Medicare pays your DME provider for 10 months' rental, and then gives you the option of continuing to rent or purchasing the bed. If you choose the rent option, the provider bills Medicare for the remainder of the predetermined rental period, and then the equipment is placed on a maintenance program. Then, the provider bills Medicare once every 6 months for the cost of 1 month's rent. In return, the provider retains ownership of the bed but is required to keep it in good working order (or replace as necessary) during the entire rental period. When the bed is no longer medically necessary, it must be returned to the provider. If the purchase option is chosen, the provider bills Medicare for a specified amount of time and then converts the rental to a purchase. In this case, the patient owns the bed. The provider may bill Medicare for repairs to the bed when a patient owns it.
Potential
Assuming a semielectric hospital bed is an option for you, Medicare requires that certain requirements be met before it will cover one for a client. That is, the need must be medically necessary under Medicare's standards. To prove medical necessity, your durable medical equipment provider must provide a properly completed Certificate of Medical Necessity (CMN). This must be Medicare's standard form and must be completed in a very specific manner by the prescribing physician, and it must be kept up-to-date by the provider for the length of the rental period and for any repairs if you choose to purchase the bed. A physician may choose to enter "99" for length of need on the CMN, which would indicate a "lifetime" need to Medicare. In this case, the CMN would not generally need to be updated.
References
Writer Bio
Angela Atkinson is a freelance writer, editor and researcher, who has been writing professionally since 1995. Atkinson is the St. Louis Family & Parenting Examiner for Examiner.com and authors "In Pursuit of Fulfillment," a popular self-improvement blog. She co-founded The WM Freelance Connection, a resource blog and community for freelance writers offering writing tips, job listings and more. Atkinson studied journalism at Eastern Illinois University.