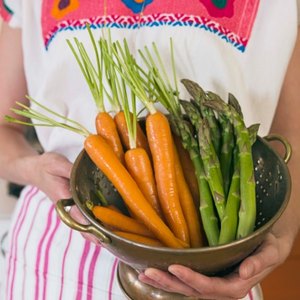 •••
Jupiterimages/Brand X Pictures/Getty Images
Food stamps--also known as the Supplemental Nutrition Assistance Program, or SNAP--and WIC, or Women, Infants and Children, are programs of the U.S. government intended to help poverty-stricken households acquire food. The Food Stamp program began in 1939, and as of June 2009, more than 35.1 million people were receiving food stamps. WIC was designed for pregnant women and mothers of young children to get healthy food, as well as nutrition education, for themselves and their babies or children. It is administered by individual state. Both programs require that applicants meet a set of qualifications.
Food Stamps
Get a Social Security number. If you don't already have one, you can apply to get a Social Security card by mail or by visiting the Social Security Office in your area. Supporting documentation, such as a birth certificate or passport, will be required.
Register for work. If you are between the ages of 18 and 60, you have to let the government know you are able and willing to work. In addition, you may have to take part in a job training program to receive food stamps.
Earn little income. The government sets income limits according to size of household. The limits can change from one year to the next. The online Food Stamp Pre-Screening Tool (see Resources) can help you determine whether your income is within the established guidelines.
Submit an application. You can get an application at any Social Security office and hand-deliver or mail the completed form to your local food stamp office. If your local Social Security office has a food stamp representative on duty, the representative can accept your application.
WIC
Conceive or give birth to a child. Women who are pregnant or postpartum and children up to age 5 may be eligible for benefits.
Live in the state where you apply for benefits.
Get food stamps. If you are eligible for food stamps, Medicaid or Temporary Assistance for Needy Families, you are automatically eligible for WIC.
Earn little income. If you are not eligible for any of the previously mentioned government programs, your income level must be equal to or less than 185 percent of the federal poverty guidelines. The guidelines are subject to change each year. Updated figures are available at the USDA Food and Nutrition Service website (see Resources).
Visit your state or local WIC agency. You can find a list of state agencies and their contact info at the USDA Food and Nutrition Service website (see Resources). Phone or email the agency to set up an appointment. At the appointment, the agency will determine whether you are eligible for the program.
References
Writer Bio
D. Laverne O'Neal, an Ivy League graduate, published her first article in 1997. A former theater, dance and music critic for such publications as the "Oakland Tribune" and Gannett Newspapers, she started her Web-writing career during the dot-com heyday. O'Neal also translates and edits French and Spanish. Her strongest interests are the performing arts, design, food, health, personal finance and personal growth.