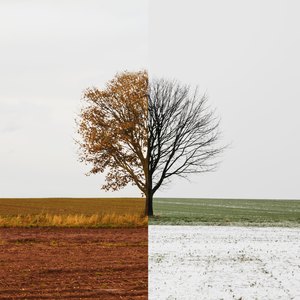 •••
Andrew Bret Wallis/Photodisc/GettyImages
Have you decided to sell your house but aren't sure when is the ideal time?
House hunting is a seasonal event, and each season has its pros and cons. There are certain times of the year when you can get a higher price for your house and have more money available to buy your next house. This doesn't mean that you shouldn't list your house during what might be considered the off-season in your real estate market, but you should be aware of the advantages and disadvantages of each time of the year.
Let's look at seasonality so you can decide when would be the best time of year for you to list your house.
Is Spring the Best Time of Year to Sell Your House?
Most people assume that spring is always the best time to sell a house, but that's not always true.
The coming of spring makes everyone feel good. The grass is turning green, flowers are blooming and trees are getting their leaves back. Your house will have its best curb appeal in the springtime in most local markets.
Spring is the most popular time for people to potential buyers to commit to a house and move. The kids will be out of school soon, and families want to get settled in their new house before the next school year begins.
This homebuyer demand makes spring a good time to put your house on the market
According to ATTOM Data Solutions, a real estate data research firm, sellers get the best prices for their houses in June. ATTOM compares the median home sales prices of houses sold to the median automated valuation model (AVM) prices to calculate seller premiums. June is the best month of the year with a seller premium of ​9.2 percent.​ May is next at ​7.4 percent,​ followed by July at ​7.3 percent.​
Even though sellers get premium prices in spring, there is plenty of competition. Other homeowners also know this and also put their houses on the market. The market could be saturated with too many houses for sale, increasing your competition.
What About Selling in the Summer?
Like listing it in spring, selling your house in the summer has many benefits as well. The weather is good to be outside looking at houses, and families want to have their new house ready before the upcoming school year.
ATTOM finds the seller premiums at ​5.8 percent​ for August and ​4.7 percent​ for September.
One downside of putting your house on the market during the summer is that many people are traveling on vacations, and you may not see as many potential home buyers actively looking. In addition, if your house is in the South or Southwest, the weather may be uncomfortably hot in July and August, further reducing the number of house hunters.
Is Fall a Good Time to Sell Your House?
Unlike spring, there are generally fewer houses on the market during the fall months. This reduces your competition and makes it easier to hold your asking price. You might also see more families who don't have kids in school and are not dealing with the school calendar.
However, if your home is located in a highly rated school district, you'd probably be better off to list it for sale in the spring or summer when the motivated buyers will be families with kids.
The seller premiums calculated by ATTOM for the fall months are ​3.3 percent​ for October and ​4 percent​ for November.
Is Winter a Bad Time to Sell a House?
Generally, winter is not a good time to list your house for sale. Weather conditions are at their worst, and people are not particularly enthusiastic about getting out and looking at houses.
However, you'll have less competition from other sellers, and you might find a buyer who needs to move quickly or before the end of the year for some reason. For example, January and February are big months for corporate relocations, and buyers need to get settled quickly.
Another problem with listing your house during the winter months is not being able to feature some of its strong assets. For example, if one of the key selling points for your house is great landscaping, you won't be able to highlight those features as much during the winter, and your home will have less curb appeal. You'd be better listing your house in the spring when nature is at its best, and you can highlight your home's best features.
Seller premiums are at their lowest for the year in wintertime with ​3.3 percent​ in December and ​3.7 percent​ for January.
What About Interest Rates and the Economy?
Another consideration is the state of the economy in your area. A few regions of the country are attracting new businesses that strengthen the local economy, and more people are moving in, increasing the number of homebuyers.
On the other hand, if your house is in one of those regions, like the Northeast or Far West where people are moving out and the economy is stalling, you may need to take a different approach. You can work with your real estate agent to find a way that makes your house attractive and unique to a smaller group of buyers.
Interest rates have been low for several years and are expected to remain in the ​3 to 4 percent​ range for the near future. This makes it easier for buyers to afford a mortgage and to be able to purchase higher-priced houses. Low interest rates keeps more home buyers in the market.
Are You in a Buyer's Market or a Seller's Market?
How many houses are listed for sale in your market? Is there an oversupply or an undersupply?
The COVID pandemic has upset the housing market, and the normal factors of supply and demand don't apply. As an example, many homeowners are unsure about their jobs and are not looking for another house. As a result, a lot of homeowners are choosing to refinance their mortgages with lower interest rates and stay put in their houses until they have more confidence in the future of the economy.
To compound the problem, in many areas, homebuilders have not been starting new projects, so the inventory of new houses for sale is low. All of these conditions make the supply of houses for sale very low in most markets. The low inventory of houses makes it easier for sellers to get their asking prices.
References
Writer Bio
James Woodruff has been a management consultant to more than 1,000 small businesses. As a senior management consultant and owner, he used his technical expertise to conduct an analysis of a company's operational, financial and business management issues. James has been writing business and finance related topics for work.chron, bizfluent.com, smallbusiness.chron.com and e-commerce websites since 2007. He graduated from Georgia Tech with a Bachelor of Mechanical Engineering and received an MBA from Columbia University.